Discover the Most Beautiful Clear Water Beaches in Florida For a Great getaway
This article may contain affiliate links. Whenever you buy something through one of these links, I may earn a small commission without any cost to you. I really appreciate it as it supports this site and my family. Thank you!
Looking for the most beautiful clear water beaches in Florida? It's a question I get pretty much weekly.
And I understand why. I, too, like to see what is in the water with me as well as look for treasures along the way. Plus I like to see my feet when I'm walking into the water.
Florida is renowned for its stunningly clear and inviting beaches, often with picturesque white sand and crystal-clear waters.
From quiet spots perfect for a day trip to bustling tourist destinations, here are some of the most beautiful clear-water beaches in Florida worth a visit.
Thank you for reading this post. Don't forget to subscribe! This way you never miss an update, travel deals, discounts and more!! Subscribe to the right------>
I do have a long list of Florida beaches with the clearest blue water that you can find here: 25 Best Beaches With The Clearest Blue Water In Florida
Today, however, I have picked my top five clear water beaches in Florida. You might notice they are all on the Gulf Coast.
The beaches on the Gulf Coast of Florida tend to have clearer water than those on the Atlantic side of the state. That is not to say there aren't any clear water beaches on that side of the Sunshine State.
I do tend to gravitate to the Gulf Coast specifically the Florida Panhandle for the white sand and turquoise waters. Find out below which ones they are and why they are worth a visit.
What Makes These Florida Beaches Unique.
Before planning a beach vacation, it is important to keep in mind different beaches offer unique experiences that you can't find anywhere else.
While certain locations like Clearwater or Miami Beach may be popular, they are also crowded especially at certain times of year like Spring Break or during the holidays.
Taking a beach getaway to a lesser-known spot might provide an unmatched sense of privacy and relaxation. Next, before you go, consider what factors will make your beach experience memorable.
Whether it's the vegetation around the beach, nearby attractions or activities, or the crystal waters that draw you, you will find a fantastic getaway in Florida. Each part of the state is truly unique.
Clearwater Beach
Boasting crystal clear water and miles of beautiful sandy beaches, Clearwater Beach is the perfect destination for a beach getaway.
Explore the pier or take a ride on the Ferris wheel. You'll be was undeniably enthralled by the stunning views of the Gulf of Mexico.
Plus, don't miss out on some of Clearwater Beach's best beach dining experiences. Ruskin which is very close to Clearwater is much lesser known but beautiful.
St. George Island State Park
Known for its sugar-white sands and turquoise waters, it's no wonder why St. George Island State Park draws visitors from far and wide. This island is definitely one of my favorites and a great option for a romantic beach vacation.
This hidden gem is tucked away along Florida's Forgotten Coast. It offers 28 miles of undeveloped beaches and boardwalks throughout the nature trails.
Enjoy bird watching, sunbathing, snorkeling and even a bit of fishing at this little slice of paradise.
Caladesi Island State Park
Located on the Gulf side between Clearwater and Dunedin, Caladesi Island is a remote barrier island with one of the most picturesque beaches in all of Florida. It is only accessible by boat.
It's the perfect spot to enjoy peaceful beach combing and shelling while soaking up the Florida sunshine.
The shallow waters are also great for paddling kayaks and stand-up paddleboards, or even taking a leisurely swim in the calm, crystal clear sea.
Siesta Key Beach in Sarasota
One of the most popular spots for tourists, Siesta Key Beach in Sarasota is widely recognized as one of the most beautiful beaches in Florida. It is also quite well known and tends to get crowded during certain times of the year.
Home to sugary white sands and crystal clear water, Siesta Key is perfect for swimming, sunbathing, or just enjoying the views.
Plus, with a wide range of beachfront bars and restaurants close by it's easy to find somewhere cool to relax while watching the sun set over the Gulf Coast.
Panama City Beach and Destin
Rounding out the list are Panama City Beach and Destin. You know how much I love PCB since I am always talking or writing about it.
I could however, keep adding to this list for this area because Fort Walton Beach, Mexico Beach and Miramar Beach are equally beautiful with clear water.
White sandy beaches and miles of coastline to explore makes this part of the Sunshine State perfect for any kind of vacation.
Before I close out, I do need to mention both Sanibel Island and sister island, Captiva. Both are open at this time, however, Sanibel is really not ready for vacation guests.
Sister island Captiva is. Here is the article that I recently wrote about this area that was hit quite hard by Hurricane Ian: Fantastic Places To Stay In Sanibel Island Florida: Current Status
As this area recovers, you will want to add it to your list of clear water beaches in Florida
Upcoming Trip?
I like to use Booking for booking not only my hotels, but my tickets and rental cars as well. Makes life so much easier with only having to log into one location for my information.
Be sure to grab my travel tips to save you time and money. You'll also be entered into the weekly drawings.
Register here: Get 100 Travel Tips EVERY traveler should know PLUS entered into the weekly drawing.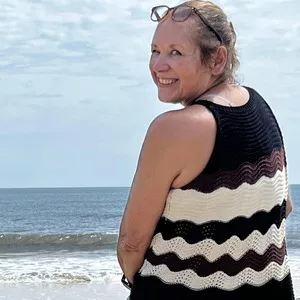 About Denise
Denise Sanger lives a life split between her love for fitness and her passion for travel particularly to the BEACH. Denise also has a love of marketing and lives in beautiful Suwannee County, Florida. You can find out more about Denise here: About Denise