Best Beaches Bradenton Florida: Fun For Your Vacation
This article may contain affiliate links. Whenever you buy something through one of these links, I may earn a small commission without any cost to you. I really appreciate it as it supports this site and my family. Thank you!
When it comes to finding the perfect beach destination in Florida, Bradenton on the Gulf of Mexico offers some of the best options.
Nestled on the beautiful Gulf Coast, this charming city boasts stunning shorelines that cater to a variety of beach-goer preferences.
This beautiful beach town is located in Manatee County which is a short drive from Sarasota. It is roughly an hour or so drive from Tampa Bay and one and one half hours from beautiful Clearwater Beach.
As visitors explore the delightful coastline of Bradenton, they'll be met with soft, sandy shores and crystal-clear waters that invite relaxation and adventure.
Thank you for reading this post. Don't forget to subscribe! This way you never miss an update, travel deals, discounts and more!! Subscribe to the right------>
Each beach in the area has its distinct features, making it easy for travelers to find a spot that suits their personal tastes.
You will find some of the most scenic beaches in this area from serene, secluded spots in dog-friendly parks to bustling, family-friendly locations, Bradenton's beaches have something to offer for everyone.
At the end of this article, I have included additional links to help you plan your trip.
Best Beaches Bradenton Florida: Top Picks for Sun, Sand, and Fun
With so many breathtaking public beaches to choose from, Bradenton has become a popular vacation destination for couples, families, and friends alike.
Throughout this article, we'll take a closer look at some of the best beaches Bradenton has to offer. From award-winning locations to hidden gems, readers will discover a new favorite beach for their next Florida vacation.
Immerse in the sun, surf, and soft sand as Bradenton's beaches create unforgettable memories for everyone who visits.
Best Beaches Bradenton Florida Coquina Beach
Coquina Beach and Coquina Bayside Park are stunning destinations and definitely some of the best beaches Bradenton Florida offers. They are located on the southern end of Anna Maria Island and Anna Maria Beach.
The beach boasts pristine white sand and crystal-clear turquoise waters, which make it a must-visit spot for locals and tourists alike.
When you visit Coquina Beach, you'll notice that it's equipped with excellent amenities, such as restrooms, changing rooms, picnic tables, and grills. These facilities make it easy for families to spend a relaxing day at the beach.
An added bonus is the ample parking available nearby, so you don't need to worry about where to leave your car.
Visitors can indulge in various activities at Coquina Beach. Some of the most popular pastimes include swimming, sunbathing, and beachcombing.
This beach is a great place to find large seashells. The beach is an excellent place for birdwatchers, as many native and migratory bird species can be found in the area.
For those looking for more adventure, there are volleyball nets set up along the beach for a lively game with friends. Kayak and bicycle rentals are available for those who want to explore the island in a more active way.
Coquina Beach also has a unique feature – a pine tree-lined beach promenade. This shaded pathway offers a cool retreat from the sun and a popular spot for shopping.
This beach is located at 2650 Gulf Drive S, Bradenton Beach, FL 34217
Bean Point Beach
Bean Point Beach is a hidden gem located at the northern tip of Anna Maria Island.
Known for its picturesque views, soft white sand, and crystal clear water, this tranquil beach offers a relaxing escape from the city noise and enjoy Old Florida.
There are limited parking spots, and visitors take a short walk to reach the shoreline, but the effort is well worth it. The seclusion of Bean Point Beach makes it an ideal spot for romantic strolls, beachcombing, and
watching stunning sunsets. Wildlife enthusiasts often spot dolphins and seabirds, adding to the beach's allure.
The beach is not crowded, allowing visitors to truly unwind with a good book and soak in the serene environment.
However, it's important to note that there are no lifeguards on duty, so swimming is at one's own risk.
Bean Point Beach is also not suitable for those seeking beach amenities, as there are no restrooms or concessions in the area.
Despite its lack of facilities, Bean Point Beach remains a favorite among those looking for a peaceful retreat.
Its natural beauty and seclusion make it a must-visit destination when exploring Bradenton's beaches. This beach is located at 793 N Shore Dr, Anna Maria.
Best Beaches Bradenton Florida Manatee Public Beach
Manatee Public Beach, also located on Anna Maria Island, offers visitors a picturesque and family-friendly beach experience. Its white sand and clear waters create an idyllic setting for sunbathing, swimming, and relaxing.
The beach boasts numerous amenities, including a large parking lot area with free parking. Visitors can also access public restrooms, showers, and changing facilities.
For those looking to refuel after a day of fun, there's a beachside café that serves delicious food and refreshing drinks.
One of the main attractions at Manatee Public Beach is its outdoor picnic area, equipped with tables and grills, making it an ideal spot for family gatherings and barbecues.
Additionally, the beach features a playground that keeps younger visitors entertained while the adults enjoy the sun and surf.
For those who enjoy beach sports, Manatee Public Beach provides volleyball courts, where visitors can partake in friendly competitions.
There is also a designated area for water sports, such as paddleboarding and kayaking. Lifeguards are on duty to ensure the safety of swimmers and beachgoers.
If you are looking to explore the surrounding area, Anna Maria Island offers a free trolley service that connects to the beach market and to the island's various shops, restaurants, and attractions.
This makes Manatee Public Beach the perfect starting point for a memorable day at the beach and one of my favorite beaches on the West Coast of Florida.
Best Beaches Bradenton Florida: Holmes Beach
Holmes Beach is a beautiful destination located on Anna Maria Island, a barrier island within the Bradenton area. The pristine shoreline offers visitors a relaxing and enjoyable experience.
This beach stretches for about 3 miles and features soft, white sand, which is perfect for taking leisurely walks or sunbathing. The clear blue waters are ideal for swimming, snorkeling, and various water sports activities.
Visitors will appreciate the array of facilities available including public restrooms, picnic tables and grills, playgrounds for children and beach accessible wheelchairs. Another attractive aspect of Holmes Beach is its abundance of wildlife.
Beachgoers often spot dolphins and manatees swimming close to the shore or seabirds resting in the natural dunes. Sea turtles nest on this beach with nesting occuring during certain months.
There are numerous dining options nearby, offering a range of cuisines suitable for different tastes. In addition, many shopping options, art galleries, and boutiques contribute to the charming atmosphere of Holmes Beach.
With its delightful blend of natural beauty and available amenities, Holmes Beach is an ideal destination for a day of relaxation, recreation, and enjoyment on Florida's spectacular Gulf Coast.
Bradenton Beach
Located on Anna Maria Island, Bradenton Beach is a picturesque destination offering visitors a mix of relaxation and outdoor activities.
This stunning white-sand beach boasts crystal clear waters, making it an excellent spot for sunbathing, swimming, and beachcombing.
For those who enjoy water sports, there are several options available, such as paddle boarding, kayaking, and jet skiing. There are plenty of bike racks available throughout the island.
Fishing enthusiasts can head to the Bradenton Beach City Pier, where they can catch grouper, snapper, and more. The pier also features a charming café, perfect for a bit of relaxation after angling.
Bradenton Beach offers more than just water activities like jet skis. Visitors can explore the nearby shopping district on Bridge Street by strolling through its quaint shops and boutiques, or enjoy a meal at some the best restaurants in the Bradenton Beach area.
For nature lovers, head towards the adjacent Leffis Key Preserve, where you can wander through the mangroves and catch a glimpse of native wildlife, such as herons and other wading birds. Plenty of space for you to explore.
To make your visit even more comfortable, the beach is equipped with amenities like restrooms, picnic areas, and beach equipment rentals. Fantastic family, friendly beach.
Best Beaches Bradenton Florida: Cortez Beach
Cortez Beach, located on the southern end of Anna Maria Island, offers visitors a serene and picturesque destination for a day at the beach.
Its powdery white sand shores and calm turquoise waters make it the perfect spot for families, couples, and friends to relax and soak up the sun.
One of the standout features of this beach is its abundance of natural beauty. With lush coastal vegetation, Cortez Beach feels like a hidden gem that allows beachgoers to immerse themselves in a tranquil and idyllic environment.
Its location near the historic Cortez Village also adds to the charm and character of this stunning beach. Activities to enjoy at Cortez Beach include swimming, sunbathing, walking along the shoreline, beachcombing and more.
Parking is available with a short walkt to the beach, making it easy for people to access the area. Dining options can be found nearby, offering a convenient way for visitors to grab a bite to eat after a day in the sun.
Additionally, public restrooms are easily accessible, ensuring a comfortable and practical day at Cortez Beach. This beach is located at 698 Gulf Dr S, Bradenton Beach, FL 34217.
Lido Beach
Beautiful Lido Beach is located on Lido Key. Enjoy a wide, sandy beach perfect for sunbathing, swimming, surfing, and fishing.
The beach is maintained as closely as possible to its natural state. There is also dune system that provides nesting for shorebirds.
Lido Beach is very private and located at north end of the beach at the intersection of John Ringling Blvd. and Benjamin Franklin Drive where you will also find a small parking area. Keep in mind there are limited parking spaces.
Venice Beach
Next is Venice Beach, on Florida's Gulf Coast. This is a popular destination for travelers for many reasons. The sugary white sand and turquoise water make it a great place to relax and enjoy the incredible views.
It is also a Blue Wave Beach which is America's first environmental certification for beaches. Enjoy swimming, sunbathing, and fishing.
From the beach first you will see the "sail" style pavilion, a landmark for this area. You can see Venice Public fishing pier from the beach.
As a reminder, a large number of marine turtle nests between the months of May and October. Free parking, lifeguards, food concession, shelter, two sand volleyball courts, picnic area and boardwalks.
The beach is located at 101 The Esplanade at the west end of West Venice Avenue. It is within the Venice City boundaries but maintained by Sarasota County.
Turtle Beach
Onto Turtle Beach located in Sarasota, also features sugar-white sand beaches and crystal-clear water that is emerald-green. This beautiful beach is a perfect place to relax, enjoy the sun, and take in the stunning scenery.
Enjoy water activities this beach has to offer, including swimming, fishing, boating, and kayaking. Turtle Beach is located at 8918 Midnight Pass Road, Sarasota, FL 34242.
Longboat Key
Longboat Key, located on the southern edge of Bradenton, is a serene and picturesque destination for beach goers. This barrier island boasts pristine white sand beaches and turquoise waters, creating a breathtaking backdrop for a rejuvenating coastal getaway.
Visitors can easily access several public beach access points on the island, such as the popular Longboat Key Beach and Bayfront Park.
These beaches are known for their calm waters and gentle waves, making them ideal for swimming and water sports enthusiasts.
For nature lovers, the island offers a variety of outdoor activities, including birdwatching, hiking and wildlife viewing, as well as kayaking and paddleboarding.
Restaurants and shops are plentiful on Longboat Key, offering everything from casual beachside eateries to fine dining establishments.
Visitors can also explore the island's vibrant art scene by visiting local galleries and studios or attending one of the many cultural events held throughout the year.
Whether soaking up the sun on the beach or exploring its various natural and cultural offerings, Longboat Key promises visitors a memorable and relaxing experience along Florida's exquisite Gulf Coast.
Palma Sola Causeway Park
Palma Sola Causeway Park is a popular destination for both locals and tourists seeking a relaxing day by the water in Bradenton, Florida.
Located between Bradenton and Anna Maria Island, the park offers a serene atmosphere, beautiful views of the bay, and ample outdoor activities.
Visitors at Palma Sola Causeway Park can enjoy sunbathing on the sandy shoreline, or take a dip in the inviting, calm waters.
For those seeking a more active experience, paddleboarding and kayaking are popular activities, with rentals available on-site.
The boat ramps offer easy access for boaters and fishermen, while picnic areas provide a comfortable spot to dine al fresco.
One notable feature of Palma Sola Causeway Park is its pet-friendly atmosphere.
Designated areas along the shore allow dogs to play off-leash, making it an ideal destination for families and their four-legged companions.
Additionally, the surrounding mangroves attract birdwatchers, as various species of waterfowl and shorebirds inhabit the area.
Best Beaches Bradenton Florida offers visitors fantastic beaches to relax, explore and enjoy. Each beach has its own unique characteristics and charm, ensuring that everyone can find their perfect spot on the sand.
For those interested in exploring and taking in the local wildlife, the list of the best beaches of Bradenton above also offer fantastic opportunities to enjoy nature.
From birdwatching, turtle nesting observations, and strolls through nature preserves, you will definitely want to bring your hiking and beach gear.
With plenty of options for both relaxation and adventure, a visit to Bradenton is a fantastic addition to any Florida vacation.
And the good news is you are also within driving distance for a road trip to other nearby beaches including St. Petersburg, Siesta Key Beach and Osprey.
Upcoming Trip?
I like to use Booking for booking not only my hotels, but my tickets and rental cars as well. Makes life so much easier with only having to log into one location for my information.
Be sure to grab my travel tips to save you time and money. You'll also be entered into the weekly drawings.
Register here: Get 100 Travel Tips EVERY traveler should know PLUS entered into the weekly drawing.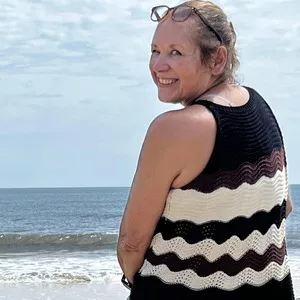 About Denise
Denise Sanger lives a life split between her love for fitness and her passion for travel particularly to the BEACH. Denise also has a love of marketing and lives in beautiful Suwannee County, Florida. You can find out more about Denise here: About Denise