Top Sea Glass Beaches In Florida. What you need To Know.
This article may contain affiliate links. Whenever you buy something through one of these links, I may earn a small commission without any cost to you. I really appreciate it as it supports this site and my family. Thank you!
Florida Beach Glass Guide
UPDATED July 2023. I love sea glass and all the colors you can find of beach glass. I have been asked several times, where could one find the best sea glass beaches in Florida that I thought it was time to do some research and find out.
If you're a sea glass enthusiast looking for the best beaches in Florida to find these beautiful treasures, you're in luck. I've done the research for you and below is a list of the top sea glass beaches in the Sunshine State.
Whether you're a seasoned collector or just starting out, these beaches offer a great chance to find some unique and colorful pieces of sea glass.
There is sea glass or should I say pieces of sea glass on many Florida but not all of them. Below are some of the best places where you may find that elusive shiny piece of glass.
Thank you for reading this post. Don't forget to subscribe! This way you never miss an update, travel deals, discounts and more!! Subscribe to the right------>
How is Sea Glass created?
If you have ever picked up a piece of sea glass, you will notice the rounded edges. Sea glass is created when pieces of glass from glass bottles or even a glass jar are naturally tumbled and weathered by sea waves, currents, and sand. 
This process of tumbling removes sharp edges from the glass and gives it a frosted, organic look. It's believed that sea glass originates from discarded bottles, jars and other artifacts that have been broken apart over time by sea elements. 
The sea glass is often found by beachcombers on beaches, and usually comes in shades of sea green, white, brown and yellow.
Sea glass collectors have also found much more rare colors such as cobalt blue, deep sea green, amber-black and even mulberry red. These unique colors are often sought after by sea glass collectors as they are much harder to find.
Is It Legal to Take Sea Glass from The Beach?
On the beach, sea glass is okay to pick up and take home. Sea Glass in the water or in State Parks, however, may not be legal. Be sure to check prior.
Sea glass is a beautiful reminder of our connection with the sea and can be collected to use for jewelry or other decorative pieces. A beautiful symbol of nature's beauty, strength and power. Traits we all strive for.
Best Places to find sea glass? Best time To Find Sea Glass?
The best time to search for sea glass is roughly an hour before or after low tide versus high tide. A great place to find genuine sea glass is either Fort Bragg Beach in California and Glass Beach in Kauai, Hawaii.
Glass Beach at MacKerricher State Park in California is one of three beaches in Fort Bragg that were official dumpsites in the 1940s. Basically the beach is made up of sea glass not sand.
Some colors of sea glass are rarer than others. You may easily find green or white but sea glass that is orange, turquoise, red and yellow are not so easy to find. If you find one of these colors, you truly have found treasure.
But what about Florida? Can sea glass be found on Florida's beaches?
Which Florida Beach Has Sea Glass? Can sea glass be found in Florida?
Absolutely! Sea glass is often found on Florida's beaches from the Florida Keys to the Panhandle on the Gulf of Mexico.
There are almost 2000 miles of coastline and over 650 beaches in Florida to explore. Some of the best beaches for sea glass collectors are right here in the sunshine state.
You will want to skip the soft, white sandy beaches and choose beaches that have more pebbles and rocks. Low tide is the best time to search and be sure to look where the waves break.
When choosing which beach to start your sea glass search, consider how close they are to very populated areas/cities.
Something you probably have not been told very often is to look for landfills near beaches.
These beaches are where you will have the most luck finding these rare finds:
Jupiter Island
Jupiter Island, a barrier island located on the east coast of South Florida, features miles of shoreline with strong surf and plenty of sand. These things make it the perfect environment for sea glass collecting.
Collectors love this beach because it generally has more colored sea glass than other areas in the state. It is an excellent location to search as it is near a former waste disposal site.
Or to put it bluntly, garbage dumps. The wide variety of colors makes Jupiter Island one of the most popular sea glass collecting spots in the state. Top hotels to stay in to collect sea glass on Jupiter Island: Jupiter Island Hotels
Navarre Beach
Navarre Beach, located on the Panhandle in the northwest coast of Florida. It is also very well known for its sea-glass abundance.
The reason the area is famous for its sea glass jetties is because of huge collections of sea glass that have accumulated here over time from the waves and strong currents.
Sea glass hunters come to Navarre Beach in search of vibrant colored sea glass including brownish green, orange, yellow, and red pieces.
Navarre Beach is one of the best beaches in Florida due to the high wave activity from high winds. Navarre Beach is also known for white sand beaches and clear blue waters perfect for a day relaxing on the beach.
Best beach hotels in Navarre Beach: Navarre Beach Hotels
Siesta Key
Also on the Gulf Coast but south is Siesta Key. It is a barrier island off the coast of Sarasota.
This island has been rated top beach in the United States as well as the world many times. Siesta Key boasts clear waters and white sand making it a great area for beach glass finds.
Sea glass enthusiasts especially love this beautiful beach for its wide variety of sea glass found in the area including blues, greens, and purples.
Early morning is the best time to scour the beach for not only sea glass, but sand dollars as well as many different types of shells. Best vacation rentals in Siesta Key: Siesta Key Vacation Homes on the beach
Hutchinson Island
Hutchinson Island is a sea-glass hotspot in Florida and know by serious collectors.
This island is located on the east coast of south Florida, off the coast of St. Lucie County.
Collectors love this beach for different colors of sea glass. When sea glass hunting, you may find green, orange, and even yellow sea glass on this pretty beach. Top hotels on the beach: Hutchinson Island Beach Hotels
Jensen Beach
Jensen Beach is also a sea-glass hunting hot spot in Florida. The sea glass found here is mostly green, white and brown sea glass, but you may find other colors such as red and orange.
Sea glass hunters come from all over the world to look for sea glass at this beach for many reasons. The main two reasons though is you can usually find a lot of sea glass on this beach as well as rare as well as most common colors.
Top Vacation Rentals On The Beach: Jensen Beach Vacation Rentals
Venice Beach
Located on the west coast of Florida near Sarasota, is Venice Beach. This is another great sea-glass hunting spot.
The beach's white sand and waves attract sea glass hunters from around the world. Sea glass colors here range from blues, greens, browns and purples among other colors.
Beautiful shells as well as sea glass are often found on this beach after a weather even such as the significant impact of a hurricane.
A great time to search is after a storm, or strong winds that churn up the surf. This brings the sea glass to the surface making it easier to find.
Best beachfront hotels: Venice Beach Florida Hotels
Bowman's Beach
Bowman's Beach is located on Sanibel Island and is one of the best sea-glass hunting spots in Florida. This beach did take a direct hit from Hurricane Ian.
It is known for its abundance of sea glass, seashells and sand dollars. Bowman's Beach is also a great spot for sea-glass art lovers and jewelry designers to collect pieces to create beautiful home decor or jewelry pieces.
Best hotels near Bowman's Beach: Bowman's Beach Hotels
Does Sanibel Island Or Captiva island Have Sea Glass?
Sanibel Island as well as sister and neighbor, Captiva Island are great beaches for collectors to search.
As with Bowman's Beach, the best time to search for your prize is after a storm as you never know what the ocean floor will show to you after a storm.
Jacksonville Beach
One of the most famous Florida beaches for shark teeth is Jacksonville Beach. But did you know these beaches are also fantastic for finding blue, white and green sea glass?
Several of the beaches in this area as well as nearby beaches of St. Augustine are good places to search. I know this from personal experience. Blue or green sea glass necklaces are beautiful, and you can find those colors here.
Tip: Try to book a vacation home right on the beach. This way you can walk out right after low tide and start your search. Check here: Jacksonville Beach Vacation Rental Homes
This area of the Florida coastline is known for many different types of sea glass including the easy to find colors of white, blue and green.
When you are in this area, be sure to stop at Fernandina Beach on Amelia Island. In addition to sharks teeth near Fort Clinch, keep your eyes scanning for multicolored pieces of glass.
Fort De Sota Beach
Fort De Soto Beach is probably the best sea glass beach in Florida with its miles of coastline. Located on the Gulf Coast, this beach is known for its large concentration of sea glass and its clear, calm waters.
Collectors report a variety of colors of sea glass including pink, green, blue and brown. Due to its popularity among sea-glass collectors, Fort De Soto Beach also offers special events such as sea-glass treasure hunts and beach glass workshops to learn about identifying sea-glass finds and other sea gems.
Vacation Rentals On The Beach: Fort De Soto Beach Vacation Rentals
The fun activity of collecting sea glass as well as finding plenty of shells on the coast is something the whole family will enjoy.
A great idea is to use the larger pieces you find in your home as decor. Or make sea glass jewelry to wear.
In addition to the state of Florida, visit the states of New Jersey, Hawaii and California specifically Northern California when you are ready to expand your search beyond the miles of beach here in Florida.
Be sure to let me know Happy Hunting!
Upcoming Trip?
I like to use Booking for booking not only my hotels, but my tickets and rental cars as well. Makes life so much easier with only having to log into one location for my information.
Be sure to grab my travel tips to save you time and money. You'll also be entered into the weekly drawings.
Register here: Get 100 Travel Tips EVERY traveler should know PLUS entered into the weekly drawing.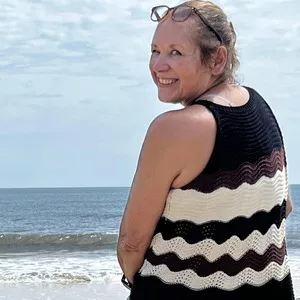 About Denise
Denise Sanger lives a life split between her love for fitness and her passion for travel particularly to the BEACH. Denise also has a love of marketing and lives in beautiful Suwannee County, Florida. You can find out more about Denise here: About Denise