Hidden Things to Do in Florida: Uncover the Sunshine State's Secrets
This article may contain affiliate links. Whenever you buy something through one of these links, I may earn a small commission without any cost to you. I really appreciate it as it supports this site and my family. Thank you!
As a Florida resident, I am always all over the Sunshine State. I love writing about all things Florida especially when I find a surprise on my travels. My favorite things to write about are the hidden things to do in Florida.
Yes, Florida is known for its stunning beaches and world-famous theme parks, but there's so much more to the Sunshine State than meets the eye. Things you will not find elsewhere in the United States.
As you plan your next getaway, get off the highway and check out some of the lesser-known attractions that make Florida the perfect place for a getaway.
If you are looking for a certain place, this table of contents might help. If you are in the beginning stages of planning your vacation, you might want to go through the whole list.
Thank you for reading this post. Don't forget to subscribe! This way you never miss an update, travel deals, discounts and more!! Subscribe to the right------>
At the bottom of this article, I have included other resources to help you plan your getaway.
Overview of Hidden Things To See in Florida
Unique beauty and charm that can only be found in this diverse state. From tranquil parks and vibrant gardens to secret islands and charming seaside towns, these hidden treasures offer a captivating glimpse into the local culture.
The history and natural beauty is what makes Florida such a great place. By venturing off the beaten path, you'll not only escape the crowds, but also discover a side of Florida that few tourists know about.
So let's dive right into these wonderful hidden gems that are worth exploring on your next Florida adventure.
Beyond the bustling cities and popular tourist destinations, you'll find enchanting locations that seem almost untouched by the passage of time.
As we reveal these incredible spots throughout the state, you'll soon realize that your Florida journey has only just begun.
So, get ready to uncover a new side of the Sunshine State that will leave you longing to explore even more of its captivating secrets.
Below, we'll introduce you to some fantastic hidden gems that will add a new dimension to your Florida vacation experience.
Underrated Beaches
If you're looking for less crowded and underrated beaches in Florida, you're in luck. One of the best things about the state are several hidden gems along the coastline worth exploring.
Begin your adventure at Blind Pass Park on Manasota Key, where you can find gorgeous shells and shark's teeth. As a bonus, it's also a nesting site for sea turtles, providing a unique experience for any nature lover.
Next, check out Coquina Beach, where you can enjoy sunbathing, dolphin-watching, and seashell collecting. After a day at the beach, take a stroll down Historic Bridge Street, filled with art galleries, boutiques, bars, and restaurants.
While exploring North Florida, don't miss the chance to visit the lesser-known Apalachicola National Forest. This nature enthusiast's haven is part of the Panhandle, a hidden gem within Florida that many residents and tourists overlook.
On the Florida Panhandle, Navarre Beach on the Gulf Coast in Gulf Islands National Seashore is another underrated spot worth visiting.
Known for its picturesque emerald waters and scenic bike paths, Navarre Beach caters to those looking for relaxation and outdoor activities like swimming and fishing.
You will find some of the beautiful beaches on the Gulf of Mexico. Be sure to check out not only the Florida Panhandle but the west central and southwest beaches including Clearwater Beach, Siesta Key Beach and Caladesi Island State Park on Caldesi Island.
The Florida Keys are heaven on earth. From Key West, you can take a ferry over to Dry Tortugas National Park. This beautiful chain of islands roughly 67 miles from Key West is definitely worth a visit.
As you explore these underrated beaches as part of your hidden things to do in Florida tour, remember to respect the natural surroundings and habitats.
These habitats protect wildlife including sea turtles, West Indian manatees, and other animals and marine life that call the state of Florida home.
Unique Outdoor Activities
Amazing outdoor activities in Florida will leave you with unforgettable memories.
From kayaking through natural crystal clear springs to visiting truly unique architectural gems, these adventures are perfect for those looking to get away from the tourist traps.
Head over to Weeki Wachee State Park to experience the beauty of Florida's natural springs.
Here, you can take a kayaking tour through the crystal clear waters and witness the serene landscapes up close. As you glide down the tranquil waters, you'll gain a deep appreciation for the relaxing Florida lifestyle.
I do want to mention, you will notice a drastic difference in the river after you leave the State Park boundaries. There are groups trying to save this river which is a food source for manatees.
If you're interested in exploring Florida's architectural wonders, make the trip to the Cape Romano Dome Houses in the Gulf of Mexico.
These six dome-shaped, concrete structures are only accessible via water and are now abandoned. Looks kind of spooky out there in the water and sitting on stilts but still fun to see.
For nature enthusiasts that love the great outdoors, consider visiting Bahia Honda State Park, located in the Florida Keys.
This beautiful state park spans over 500 acres and offers a range of unique outdoor activities such as snorkeling, fishing, and hiking.
Can you ride a horse on the beach in Florida? You sure can. Horseback riding is available at several beaches on both sides of the state. Flagler Beach on the Atlantic Ocean side of the state is perfect for groups.
One more I want to mention in Florida is Bok Tower Gardens. Perfect for those seeking relaxation or quality time with family.
The beautifully landscaped gardens, serene ponds, and remarkable Singing Tower make it a must-visit attraction for both locals and tourists alike.
Hidden Gems in Florida for Foodies
If you're a food lover searching for local culinary delights, Florida has a plenty of hidden gems to satisfy your taste buds. These unique foodie spots offer an authentic Floridian experience beyond what the normal chain restaurants provide.
For a truly unforgettable seafood experience, visit Cedar Key, a small seaside town with a historic charm. One of my favorite Old Florida vibe places to visit.
Enjoy fresh, local seafood while taking in the atmosphere of one of Florida's oldest towns. Many restaurants overlook the Gulf and you can see Atsena Otie Key from the shore.
Another hidden gem is the Morikami Museum and Japanese Gardens in Delray Beach. After exploring the beautiful Japanese gardens, enjoy delicious sushi and other traditional Japanese dishes at their in-house café, the Cornell Café.
For a taste of unique local cuisine, head to the Shark Valley area in the Everglades National Park.
The Miccosukee Indian Village offers traditional Native American foods, such as fry bread and Indian tacos, giving you a taste of Florida's rich native culture.
Don't forget to explore some of the lesser-known farmers markets and roadside stands scattered throughout the state. These local spots offer fresh fruits, vegetables, and delicious homemade goods that you won't find anywhere else.
North Florida is where you will find of the best bbq in the south. Whatever you want to try, Florida's hidden foodie gems will surely make your mouth water for more.
Offbeat Attractions Hidden Things To Do In florida
If you're looking for something unique and different while in Florida, these offbeat attractions will surely pique your interest. From quirky restaurants to the best hidden gems, there's something for everyone seeking an extraordinary experience.
One such unique destination is the Bubble Room. This nostalgic, offbeat restaurant located on Captiva Island has been closed for a bit due to damage from Hurricane Ian.
They offer a fun-filled atmosphere with memorabilia. It's a blast for the whole family.
While the food might not be the main attraction, the lively ambiance at the Bubble Room is sure to leave an impression. If you love Christmas, it's Christmas all year long at the Bubble Room.
Florida is also home to some amazing state parks, like Bahia Honda State Park. Located in the Florida Keys, this lush 500-acre park offers breathtaking views, serene beaches, and a chance to escape the bustling tourist areas.
Atlas Obscura, which is a guide to all things offbeat and unique around the globe has these fun things to check out in Miami.
I've been to these when I lived in South Florida, and they are definitely worth the stop.
The Venetian Pool: A historic public swimming pool built in 1924, featuring unique Mediterranean-style architecture and beautiful waterfalls.
The Coral Castle: An impressive hand-carved limestone structure, showcasing the talent and dedication of one man, Edward Leedskalnin.
Wynwood Walls: A vibrant outdoor gallery with large-scale street art by renowned artists, transforming a once-industrial neighborhood into a creative paradise.
One more I absolutely HAVE to mention is Whimzeyland in Safety Harbor. This place is so cool. It's made out of recycled materials including bowling balls!
The colors are insane. Located near Tampa so be sure to stop when you are in that part of the state.
Historical Sites and Stories
As you explore Florida, make time to visit some of its unique historical sites and delve into stories that capture the state's rich and unusual history.
Mickey Mouse and Walt Disney World or beaches might come to mind when you think of Florida, but the history is very fascinating.
Absolutely have to start with St. Augustine and Castillo De San Marcos Fort. Made from coquina shells, this fort built by the Spanish defended Florida and the trade route.
This national historic landmark is located in St. Augustine which is the oldest city continually inhabited since the mid 1500s.
In addition to the fort, enjoy other unique things only this city can offer. Fountain of Youth, other historic buildings like Flagler College, Oldest House Museum and shopping on St. George Street.
Next schedule a visit to Fort De Soto Park, located in St. Petersburg. This beautiful park features 7 miles of waterfront, including several beaches and paved trails, as well as historic forts.
While immersing yourself in the park's captivating history, you'll be surrounded by picturesque views of nature and water.
This park is actually 5 interconnected islands (keys). If you are a history buff, be sure to take the guided historic fort tour.
For an insight into ancient Florida history, explore the Mound House in Fort Myers Beach. This site allows you to see layers of shell mounds left by the Calusa Indian tribe, marking thousands of years of history.
Fort Clinch located on Amelia Island is another one history buffs will want to visit. Enjoy touring the fort and listening to folks in character describe how it was to live back when the fort was thriving.
One more I want to mention is Fort Jefferson. Fort Jefferson is a massive U.S. military fort located in the Dry Tortugas. It is the largest brick masonry structure in the Americas.
Be sure to take a tour of the fort then enjoy the beautiful views from the beach. This is a day trip to enjoy from Key West via ferry.
Local Wildlife Encounters
The wildlife! Florida is home to many ways to explore nature including close up wildlife viewing. If you want to get up close personal with alligators you can do that in Florida.
Families should check out Florida International Teaching Zoo in Bushnell in Central Florida. It is a smaller zoo focused on the conservation of endangered and rare animals. Your visit helps support their cause.
Another rescue I want to mention is near me in the small town of McAlpin in Suwannee County. Mystic Jungle is an educational facility focused on conservation, preservation and the education of the public on all species of exotic animals. Again your donations support this beautiful facility.
And I mentioned alligators! Everglades National Park in South Florida is home not only to alligators but also Florida Panthers, crocodiles, manatees, and exotic birds.
Explore over 1.5 million acres of wetlands, marshes, and forests. A unique and ideal place to take kids.
Three Sisters Springs located in Crystal River is the best place in my opinion to see manatees as well as Blue Spring on the East Coast. This is a refuge where animal lovers will be able to see manatees including their babies in their natural area.
Ocala National Forest is another one to visit. In addition to the crystal clear water of the springs Juniper, Alexander, and Silver Glen Springs, Florida black bear and panthers call this forest home.
Enjoy water activities including swimming, snorkeling, kayaking and more in this forest.
Seeing the manatees, does depend on the temperatures. When it is cold during the winter months, manatees move into the springs where it is a constant 72 degrees which is warmer than the rivers. One of my favorite places.
Authentic Cultural Experiences
As you explore hidden gems in Florida, make sure to dive into the authentic cultural experiences the state has to offer. From museums to historical landmarks, immerse yourself in the unique character that makes Florida truly special.
Florida Caverns State Park blew me away. Enjoy a guided tour through caves accentuated by LED lights. The story behind how these caves were dug literally boggles the mind.
Watch for the local wildlife. We were lucky enough t see bats as we exited the caves.
The caves may feel cool to some as it is about 65 degrees. After the tour, walk one of the many nature trails then enjoy a snack or lunch at one of the several picnic tables and picnic areas in the park.
I mentioned the Keys, but not Bahia Honda State Park This gorgeous park is over 500 acres of beautiful land with a bridge, gorgeous beach and offshore island for you to explore.
Engage in fantastic snorkeling in the coral reefs or indulge in some of the best beachcombing in the region. Close enough to Miami-Dade County to take a road trip.
Devil's Millhopper Geological State Park in Gainesville is one of the coolest secret spots yet. It is a massive sinkhole surrounded by limestone walls fed by a dozen springs that flow down to a pond at the bottom of the sinkhole.
You can walk down the stairs to the bottom and see the whole thing from a different point of view.
Devil's Den in Williston is another not to be missed destination. This spring is underground and accessed by walking down steps to the platform.
Enjoy snorkeling, diving, and swimming. One of the best secret places in Florida.
Kennedy Space Center, Cape Canaveral and the National Seashore is one of the main attractions on the East Coast you will want to put on your list. Just seeing the Space Center puts everything into perspective.
You are greeted by old rocket ships as you walk into the attraction. Definitely I think the best way to experience it all is to include the bus tour that will take you out to the launchpad. Watch for alligators along the way.
From the charming seaside town of Cedar Key to the mesmerizing mangrove forests of Ten Thousand Islands National Wildlife Refuge. Add in the underground world of Devil's Den and the many natural wonders including Devil's Millhopper, there's no shortage of unique and captivating things to do in Florida.
Next time you plan a visit to the Sunshine State, enjoy uncovering remarkable secrets and create unforgettable memories.
With so many hidden amazing things to explore at your fingertips, you're sure to find the right place for your next getaway.
Upcoming Trip?
I like to use Booking for booking not only my hotels, but my tickets and rental cars as well. Makes life so much easier with only having to log into one location for my information.
Be sure to grab my travel tips to save you time and money. You'll also be entered into the weekly drawings.
Register here: Get 100 Travel Tips EVERY traveler should know PLUS entered into the weekly drawing.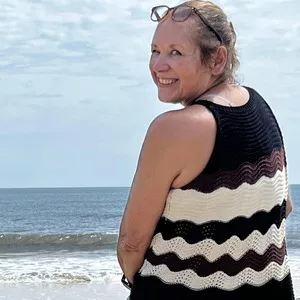 About Denise
Denise Sanger lives a life split between her love for fitness and her passion for travel particularly to the BEACH. Denise also has a love of marketing and lives in beautiful Suwannee County, Florida. You can find out more about Denise here: About Denise