A Weekend At Salt Fork State Lodge
This article may contain affiliate links. Whenever you buy something through one of these links, I may earn a small commission without any cost to you. I really appreciate it as it supports this site and my family. Thank you!
Roughly 45 years ago (we haven't quite figured out exact dates) my family would vacation once a year for a week at Salt Fork State Park Lodge. For a family of six, with a blue collar income, this was a big deal for us.
Dad would save all year long to take our family on this week vacation. Mom had some serious budgeting skills at play also and would start buying extra food to take with us a few months before we were set to leave.
We made this vacation happen by eating most of our meals in our room. Didn't phase us kids though. We probably wouldn't have stopped running, swimming, hiking and boating if we didn't have too.
Fast forward 45 years and the four of us kids and mom (we lost dad in 1979) plus our kids returned to the lodge we all have some wonderful memories from. Did it look the same? Actually we couldn't tell you. None of it looked familiar to any of us! We even teased mom asking her if we really went to this state park on vacation!
Thank you for reading this post. Don't forget to subscribe! This way you never miss an update, travel deals, discounts and more!! Subscribe to the right------>
One thing we didn't remember was the beautiful long winding road through the park to the lodge Absolutely gorgeous. Lined with trees, you get glimpses of the sun shining on the lake through the trees.
Activities
After many turns and twists in the road, there was the lodge. Gorgeous and reminiscent of a ski chalet. We walk in and are immediately greeted by staff who quickly check us in. Walking to our room, we may not remember it completely but we quickly see how gorgeous it is.
The room has two queen size beds, table and chairs, two french doors that lead out to a private balcony with chairs One side of the hall, the rooms overlook the park. Unfortunately, mom and I had a room that overlooked the empty pool.
Definitely worth asking for a room that faces the park because the views are breathtaking. My brother and sister n law were treated to a doe and her fawn grazing early in the morning.
We are there after Labor Day so the outdoor pool is closed but the indoor pool and hot tub are open and the kids playing are having a blast. I do remember having a great time in the outdoor pool so am a little sad it's closed when the temps are in the 90's in September.
Hiking!! With a double exclamation point. Trails, trails and more trails. We aren't avid hikers but we all put on our sneakers and head off in search of the beach and marina. We take the paved trail that was not paved when we were kids and end up down by the marina.
Following the road we find a little beach. Even though it's the third week in September the water is beautiful, clear and the perfect temp for a quick dip. My brother who is always training for his next Ironman or triathlon heads in for a swim and says the water is gorgeous.
Lodge versus cabins?
The cabins are near by so we meander further up the road and take a look. We quickly decide that our next visit, we will be staying in the cabins versus the lodge. There are two levels of cabins. One level right on the lake. The other level is across the road and on the hill or raised so both levels have lake view.
We all quickly tick 10,000 steps off on our Garmin watches by the time we make it back to the lodge. We are all ready to sit and relax a bit so we make our way to the lounge. The juke box is operated from your cell phone so my nephew buys credits. We proceed to sing along to songs new and old until it's time to watch the Buckeyes win!
There is only one thing I can't rave about and its the food. The food in the restaurant is mediocre at best. The first night I ordered a steak which came with garlic mashed potatoes. Steak not seasoned and the mashed potatoes were hard and cold. The second night I ordered the tortellini which honestly tasted like it came out of a frozen meal, heated up and put on a plate.
The Timber Lodge Restaurant
And this wasn't just my experience. Everyone in our party felt the same about the restaurant meals. Top it off with slow service and the majority of the wait staff unfriendly leaves one not wanting to return to this restaurant again. Unfortunately there is very little reason for them to want to improve as they are the only game in town unless you want to get in your car and drive to Cambridge or Canton.
We had an amazing time and are planning to return. Next time though our plan is to stay in cabins, enjoy the beautiful park and everything it has to offer BUT bring our own food to cook.
Let's travel!
Denise
Upcoming Trip?
I like to use Booking for booking not only my hotels, but my tickets and rental cars as well. Makes life so much easier with only having to log into one location for my information.
Be sure to grab my travel tips to save you time and money. You'll also be entered into the weekly drawings.
Register here: Get 100 Travel Tips EVERY traveler should know PLUS entered into the weekly drawing.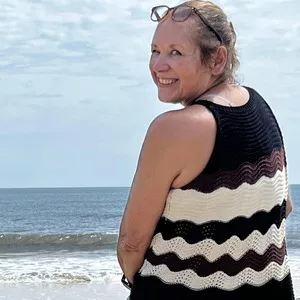 About Denise
Denise Sanger lives a life split between her love for fitness and her passion for travel particularly to the BEACH. Denise also has a love of marketing and lives in beautiful Suwannee County, Florida. You can find out more about Denise here: About Denise