Healthier Peanut Butter Cups
This article may contain affiliate links. Whenever you buy something through one of these links, I may earn a small commission without any cost to you. I really appreciate it as it supports this site and my family. Thank you!
Peanut butter cups are one of the most popular Halloween treats, according to industry experts. But they're loaded with not-so-healthy fats and sugar – a single serving contains 5½ teaspoons!!  Here's my healthier peanut butter cups recipe treat for you.  
HEALTHIER PEANUT BUTTER CUPS
(Makes 12)

Ingredients:

⅔ cup creamy natural nut butter, divided (almond, peanut, walnut – your choice)
4 tbsp melted coconut oil, divided
2 tsp pure vanilla extract
3 tbsp raw cocoa powder
2 tbsp maple syrup or honey
Himalayan sea salt, to taste
Line a 12-muffin tin with muffin liners (you can use a regular or mini muffin tin for this, but the regular tins will be ready sooner!). Spray the liners with cooking spray. Set aside.

In a medium bowl, make the bottom layer by combining ⅓ cup of nut butter, 2 tbsp coconut oil, 1 tsp vanilla, and cocoa powder. Set aside.

In a separate bowl make the top layer by stirring together ⅓ cup peanut butter, 2 tbsp coconut oil, 1 tsp vanilla, and 2 tbsp maple syrup or honey. Taste and adjust seasoning.

To assemble the cups, place about ½ tbsp of the chocolate (bottom) layer into each muffin cup. Shake the muffin tin until the layer is evenly set.

Repeat with the top (peanut butter) layer. Move the tin around till the topping is level.

Sprinkle salt on top of each peanut butter cup. Put the muffin tin in the freezer until the candy is firm, around 30-45 minutes. Remove from the freezer and muffin tin, and place the candy pieces in a covered container. Store in the freezer.

Enjoy!
p.s. Need more low carb recipes? Get them on my fitness site here: HowToStayFitOver50.com You will also love my low carb, grain free Chicken Soup. Get the recipe here:
Thank you for reading this post. Don't forget to subscribe! This way you never miss an update, travel deals, discounts and more!! Subscribe to the right------>
Grain Free CrockPot Chicken Soup
Upcoming Trip?
I like to use Booking for booking not only my hotels, but my tickets and rental cars as well. Makes life so much easier with only having to log into one location for my information.
Be sure to grab my travel tips to save you time and money. You'll also be entered into the weekly drawings.
Register here: Get 100 Travel Tips EVERY traveler should know PLUS entered into the weekly drawing.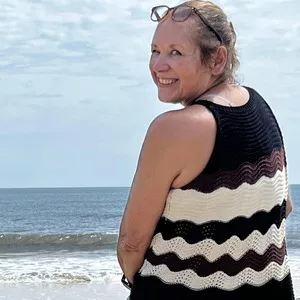 About Denise
Denise Sanger lives a life split between her love for fitness and her passion for travel particularly to the BEACH. Denise also has a love of marketing and lives in beautiful Suwannee County, Florida. You can find out more about Denise here: About Denise