Crockpot Chicken Vegetable Soup Low Carb Paleo
This article may contain affiliate links. Whenever you buy something through one of these links, I may earn a small commission without any cost to you. I really appreciate it as it supports this site and my family. Thank you!
If you know ANYTHING about me, you will know that I do not like to cook. Nope. Not going to happen. I burn water and I'm not kidding about that 😛  However, if there are two appliances that I cannot live without AND I can make a few pretty darn good meals in them. One is my CrockPot and the other is the InstantPot my daughter recently gave me. After a learning curve, I cannot believe how easy it is to use the Instant Pot.  And talk about fast.  (Be sure to grab this recipe for cooking a WHOLE chicken in your crockpot: Easy Way to Cook A Whole Chicken In Your CrockPot)
I've been under the weather the past week and there is nothing better than chicken soup when you're not feeling well right?  I literally tossed the ingredients listed below into my Crockpot and walked away.  6 hours later, I checked on my soup and it was FANTASTIC! And guess what? Nothing burned.  You can use this same recipe in your Instant Pot for days you're running short on time. Enjoy!
Crockpot Chicken Vegetable Soup
Ingredients:
1 pound chicken thighs
Diced medium carrot – 1 or 2
Diced celery – 2 stalks
Diced small onion
5 cups chicken broth
Salt & pepper to taste
Add other veggies you like or have in-house such as zucchini, broccoli, squash, etc.
Ready for the directions? Put everything in the CrockPot and cook on high for 4 -5 hours or low for 7 – 8 hours.
Thank you for reading this post. Don't forget to subscribe! This way you never miss an update, travel deals, discounts and more!! Subscribe to the right------>
Season to taste. Serve up a bowl and enjoy!
Denise
Upcoming Trip?
I like to use Booking for booking not only my hotels, but my tickets and rental cars as well. Makes life so much easier with only having to log into one location for my information.
Be sure to grab my travel tips to save you time and money. You'll also be entered into the weekly drawings.
Register here: Get 100 Travel Tips EVERY traveler should know PLUS entered into the weekly drawing.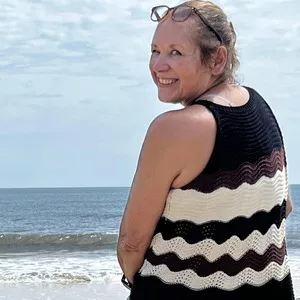 About Denise
Denise Sanger lives a life split between her love for fitness and her passion for travel particularly to the BEACH. Denise also has a love of marketing and lives in beautiful Suwannee County, Florida. You can find out more about Denise here: About Denise