We don't have a healthcare system. We have a sick-care system.
This article may contain affiliate links. Whenever you buy something through one of these links, I may earn a small commission without any cost to you. I really appreciate it as it supports this site and my family. Thank you!
The healthcare system is broke.
One thing that I've noticed over the past few years are the differences in the phone calls I get from longtime friends.  We used to talk about what was going on in our lives. What our families were up to. Plans for the weekend or our next vacation.




Lately the calls seem to be that a friend is in the hospital.  Or that another friend had a heart attack.  And it goes on and on and on.  Sometimes when I hear from someone who I have not heard from in a while, I hesitate to pick up the phone.  And I'm only 56 – will be 57 in a few months.  Yes I said ONLY because I do not think 56 is old.  At the end of the day, it's only a number.
Many people never use their medical insurance until they're ill or have to have an appointment to keep their prescriptions in place.  Why can't we use our healthcare for HEALTH?  Why doesn't the system encourage us to stay healthy – even reward us for living a healthy, happy lifestyle?
This is by no means a bash the system article.  It is simply to bring attention to the fact that the system is broke and we need to take responsibility for our health.  We are the ones that need to take steps to stay healthy.  It is time to get up and take control of our health and not wait until we are sick to make changes for a healthier us.
Thank you for reading this post. Don't forget to subscribe! This way you never miss an update, travel deals, discounts and more!! Subscribe to the right------>
When people ask me how to stay active I tell them simply don't stop moving.  I tell everyone I love and care about from my family to my amazing Silver Sneakers class NEVER STOP MOVING. Think of that saying "a body in motion, stays in motion."  It is harder to restart after stopping than it is to continue no matter what your goal may be.
It is also important to surround yourself with like-minded people and remove toxic folks from your life.  Again going to brag about my Silver Sneakers class – my favorite class. These folks are by far the most supportive, motivating group of people I am proud to have in my life. They support each other. If one is out, someone will check on them. If someone is feeling down, the class comes together to lift them up so that they leave with a smile on their face. The friendships that started by exercising together are some of the strongest I have seen.
Ready to take control of your health? Here are a few simple steps to get you moving toward a healthier you:
Where are you?  If you have not been on the scale and do not know your measurements.  Find out and write it down. That's it – just write it down and put it away for at least a few weeks.  It's just a starting point – that's all.
Are you moving? If you live a sedentary lifestyle, you already know how tired you are – you don't need me to tell you that.  Did you know that when you exercise, your energy level increases?  Today, get up and take a walk.  Nothing more strenuous than a walk but the key is to get up and do it.
Surround yourself with people who lift you up. That support you. That motivate you.
How much crap do you have in your kitchen?  By crap I mean processed foods, unhealthy snacks, sodas and anything else that you already know should not be there – get rid of it.  Now. Today.
Are you drinking enough water?  Your body NEEDS water to survive.  If you are a soda fanatic, replace one soda a day with water.
The most important thing for you to do is first start then follow through.  And you know what?  You CAN do this! I believe in you. Now you need to believe in you. Have a wonderful week.
To your health,
Denise
Upcoming Trip?
I like to use Booking for booking not only my hotels, but my tickets and rental cars as well. Makes life so much easier with only having to log into one location for my information.
Be sure to grab my travel tips to save you time and money. You'll also be entered into the weekly drawings.
Register here: Get 100 Travel Tips EVERY traveler should know PLUS entered into the weekly drawing.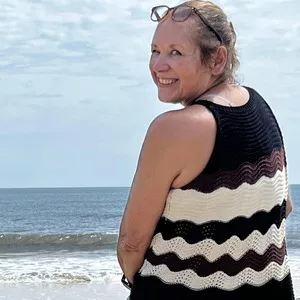 About Denise
Denise Sanger lives a life split between her love for fitness and her passion for travel particularly to the BEACH. Denise also has a love of marketing and lives in beautiful Suwannee County, Florida. You can find out more about Denise here: About Denise