Healthy Living: How To Keep Your Brain Healthy
This article may contain affiliate links. Whenever you buy something through one of these links, I may earn a small commission without any cost to you. I really appreciate it as it supports this site and my family. Thank you!
Is it possible to keep your brain healthy?
The Wizard of Oz is one of my favorite movies of all time and the Scarecrow one of my favorite characters.  The movie would come on one of the few TV channels we would get right around Easter and our family would watch it every year.  Turns out the Scarecrow may not have had a brain but he was a fairly smart fella anyway.
Dorothy: "How can you talk if you haven't a brain?"
Scarecrow: "Some people without brains do an awful lot of talking, don't they?"




We make sure to watch our weight and exercise but is that enough for a healthy brain? The good news is yes it definitely helps.  People who exercise regularly have a lower risk of developing Alzheimer's Disease. The reason is because exercise promotes blood flow and improves memory.
What else should we be doing to make sure our brain is healthy?  In addition to exercise, eating healthy nutritious food and eliminating processed foods is another important factor to brain health.  Bottom line is you are what you eat.  Just like our bodies, our brains are exposed to stress from toxic chemicals and stress from lifestyle choices.  Real food – meaning food close to its natural source – include more vitamins and antioxidants which will help our bodies fight the negative effects.
Thank you for reading this post. Don't forget to subscribe! This way you never miss an update, travel deals, discounts and more!! Subscribe to the right------>
Next as sleep is important for our bodies to rejuvenate, it is equally important for our brains to do the same. In addition, take time to relax and meditate or pray which helps the body manage stress and could help reduce the effect of age-related decline in body and brain health.
Socialize!  Leading an active social life also helps keep the brain healthy.  Engaging with family and friends even when you disagree, stimulates the brain.  Studies have shown that folks that have an active social life experience the slowest rate of mental decline.  Go ahead. Go to that church function, party, or other event and have fun chatting it up with people you have not seen in a while. Your brain will thank you.
And probably most important?  Challenge your brain.  You have heard the saying use it or lose it. That also applies to our brains.  Read, complete puzzles or word searches to keep your brain healthy and fit. These brain exercises may improve the functioning of your brain and helps promote new brain cell growth. Super important as we age.
Here are a few stats about your brain to get you thinking (Source Cleveland Clinic):
Your brain weighs about 3 pounds.
Your brain is a workaholic! It works 24 hours a day, seven days per week.
Your brain generates enough electricity to power a light bulb.
Your brain processes 70,000 thoughts per day.
Most important? Your brain gets better the more you use it.
Take care of your brain and your brain will take care of you.
To your health,
Denise





Upcoming Trip?
I like to use Booking for booking not only my hotels, but my tickets and rental cars as well. Makes life so much easier with only having to log into one location for my information.
Be sure to grab my travel tips to save you time and money. You'll also be entered into the weekly drawings.
Register here: Get 100 Travel Tips EVERY traveler should know PLUS entered into the weekly drawing.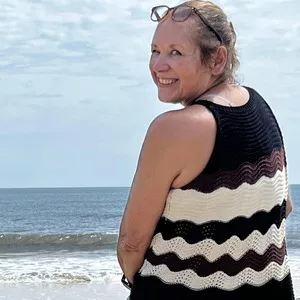 About Denise
Denise Sanger lives a life split between her love for fitness and her passion for travel particularly to the BEACH. Denise also has a love of marketing and lives in beautiful Suwannee County, Florida. You can find out more about Denise here: About Denise