Healthy Living: Tips for a healthy, happy holiday season.
This article may contain affiliate links. Whenever you buy something through one of these links, I may earn a small commission without any cost to you. I really appreciate it as it supports this site and my family. Thank you!
Again? Already? Yes it's true.  We are heading into the busy holiday season and again I am shaking my head trying to figure out where in the world the year went.   Summer seemed to end too soon and the calendar tells us winter begins December 21.  So it seems like this week would be the perfect time to chat about things we can do for healthy, happy holiday season especially since Taste Suwannee is this week and I will be there enjoying it all.
For me, enjoying the holidays with family and friends trumps everything else. A few years ago, I would have been so worried about what I was eating that it would take away from what the holidays are all about.  Maybe I'm getting wiser as I get older – we can hope right?


People come in all shapes and sizes and what works for one won't necessarily work for another. There are, however, a few things that may work for most of us.  Here are some holiday friendly tips to help you have a happy AND healthy holiday season:
When it comes to Thanksgiving, Christmas Eve, Christmas and New Year celebrations, eat as you normally would during the day.  When you try to save your tummy for that big meal, you tend to significantly overeat.  Simply eating your normal breakfast, lunch, and snacks will help you keep your hunger in check allowing you to eat a little bit of everything without overeating.
Divide your plate into quarters or four sections. Now fill three of the four sections with vegetables and protein such as turkey, ham, roast beef or whatever you're enjoying that meal.  That gives you 1/4 of your plate that you can use for rolls, cornbread, stuffing or whatever your favorite item is without going overboard.
Before reaching for seconds, get up and take a little walk. It may be only walking to the couch to check the score of the football game, but it will get you away from the table.  Why? Because it may take up to 20 minutes for our brain to realize that our bellies are full.  That will save you from eating a second plate of food that kicks you into a food coma and sleeping in the recliner.
If you usually exercise, do it before your family and friends arrive. Exercise may also help you stay on track with your food choices.  For me, exercise makes me feel better which means I can enjoy every moment of the day.
After dinner, get a kickball game or tag football game going. Watch how fast folks will join you outside for some serious fun. If that is not your style, how about take a nice walk through the neighborhood. Say hi to folks you pass and share the holiday spirit.
Most important? PUT THE PHONES DOWN.  Not to yell but I have been noticing more and more faces stuck to the phone than actually talking to the people around them. It's even more important to be fully present when you're spending time with the people that mean the most to you. Show them how important they are by putting the phone down and really listening to what they have to say. You may learn something new.
A few simple steps will have you feeling fantastic through the holiday season. And? You won't have to unbutton that top button of your pants. That's a win in my book!
Have a great week.
Thank you for reading this post. Don't forget to subscribe! This way you never miss an update, travel deals, discounts and more!! Subscribe to the right------>
To your health,
Denise
Upcoming Trip?
I like to use Booking for booking not only my hotels, but my tickets and rental cars as well. Makes life so much easier with only having to log into one location for my information.
Be sure to grab my travel tips to save you time and money. You'll also be entered into the weekly drawings.
Register here: Get 100 Travel Tips EVERY traveler should know PLUS entered into the weekly drawing.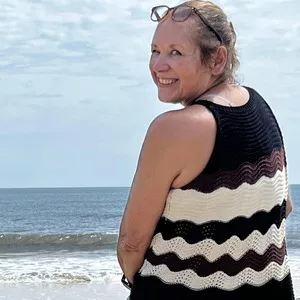 About Denise
Denise Sanger lives a life split between her love for fitness and her passion for travel particularly to the BEACH. Denise also has a love of marketing and lives in beautiful Suwannee County, Florida. You can find out more about Denise here: About Denise