Healthy Living: Good friends for good health.
This article may contain affiliate links. Whenever you buy something through one of these links, I may earn a small commission without any cost to you. I really appreciate it as it supports this site and my family. Thank you!
"A good friend is like a four-leaf clover; hard to find and lucky to have."  — Irish Proverb
I am really lucky when it comes to having amazing friends. These friends include best friends from childhood that span 50 years to those I have made in the past 10 years. Good friends that I cannot imagine living my life without them in it.  I also will never take them for granted.  It is equally important that I be as amazing of a friend to them as they have been to me.




As we get older, we tend to be a bit more selective about who we choose to spend our time with.  We are wiser and know when to fish or when to cut bait.  I love that saying because it makes so much sense.  In other words, we want to spend time with people that we LIKE versus those that bring drama to our lives.  Some times you  need to walk away from those people.
Good friends can help you live a healthier life too.  They may stop you from doing things you shouldn't like drinking and driving or nag us to quit smoking.  In our hearts, we know we shouldn't do these things, but sometimes it is that little tap on the shoulder from a friend that keeps us from doing them when our will power isn't enough.
Our friends also help us stay on track with good habits like exercise.  The morning fitness class for seniors I teach – Silver Sneakers – has the most amazing group of people I have ever met. And I am very proud to call them all friends.  This class continues to grow larger and larger every week. Why? Many of these amazing people bring their friends with them to class. Those friends continue and bring their friends to class. Friends supporting friends.
Thank you for reading this post. Don't forget to subscribe! This way you never miss an update, travel deals, discounts and more!! Subscribe to the right------>
Morning classes, both Silver Sneakers and Water Aerobics, are some of the largest classes I have seen not only in the small town I live in but in many gyms. That's a powerful thing. Do you know what contributes to these large classes?  We are social creatures and that includes friends keeping friends accountable.
Taking the importance of friendship even further, study after study after study has shown that good health and strong social support are connected. Great reason to value friendships.  Here are a few others:
Friends may extend your life.  Why?  People who have friends are less likely to die early than those who are isolated.  Friends check on us to make sure we are okay.
Friends influence us – both good and bad.  Did you know that if you have active friends, you are more likely to be active?  Unfortunately, the flip side is also true. If your friends tend to put a few pounds on, you may too.
Friends will help you get through tough times.  "Lean on me. When you're not strong. And I'll be your friend. I'll help you carry on." ~ Bill Withers.  Love that song.  Friends are there to help you pick up the pieces and move forward.
It's never too late.  Reconnect with old friends, make new friends and strengthen those friendships you have.  Not only will you reap the social benefits, you may have better health in the future.
Have a great week!
Denise
Upcoming Trip?
I like to use Booking for booking not only my hotels, but my tickets and rental cars as well. Makes life so much easier with only having to log into one location for my information.
Be sure to grab my travel tips to save you time and money. You'll also be entered into the weekly drawings.
Register here: Get 100 Travel Tips EVERY traveler should know PLUS entered into the weekly drawing.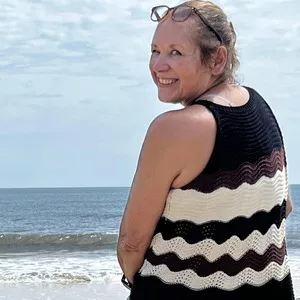 About Denise
Denise Sanger lives a life split between her love for fitness and her passion for travel particularly to the BEACH. Denise also has a love of marketing and lives in beautiful Suwannee County, Florida. You can find out more about Denise here: About Denise