Why you need to take care of your skin.
This article may contain affiliate links. Whenever you buy something through one of these links, I may earn a small commission without any cost to you. I really appreciate it as it supports this site and my family. Thank you!
Ah the good old days when we didn't know what we were doing could seriously affect our health in the future and we simply lived our lives.  Slathering ourselves with baby oil and baking on the roof of the garage with Sun-In bleach in our hair. All for the perfect summer "look" and tan. Knowing what we do now, how crazy were we?  We know so much more now than we did then right? Or do we?




Last weekend, my mother and I took a trip to the Gulf Coast for some R&R with my best friend that I've known most of my life.  If you know me at all, you know I LOVE THE BEACH and even have a vibrant Facebook page and community of beach lovers.  I can literally sit on the beach from sun up until sun down.  But we know that sitting on the beach for hours without protection is not a smart thing to do.
Before hitting the sand, we slathered ourselves with sunscreen.  On to the beach, with an umbrella over our chairs.  Reapplied sunscreen several times while on the beach. Sounds like we took the appropriate precautions to prevent getting burned right? Yet some of us still got burned.
Our skin is our bodies largest organ and it works hard to protect us.  It is the first line of defense between us and the environment we live in.  So what are the best ways to protect it?
Thank you for reading this post. Don't forget to subscribe! This way you never miss an update, travel deals, discounts and more!! Subscribe to the right------>
Sunscreen. Sunscreen. Sunscreen.  By far the most important thing to do for our skin is to slather on the sunscreen. Not once, not twice but several times throughout the day as it will wear off.  Choose sunscreen with at least 30 SPF which means it will protect you 30 times more than if you do not wear sunscreen.
When outdoors, look for shade.  The hottest time of the day is between 11 a.m. to 3 p.m.  Either avoid the sun or look for shade not only during the day but especially during these peak times.
Wear clothing that protects you.  Choose clothing that not only protects your arms and legs but also your head and face.  A wide-brimmed hat will help keep the sun off your face and scalp.
Don't smoke.  We already know smoking is not good for our health, but it's equally as bad for our skin because it  reduces the oxygen being delivered to our skin through our blood vessels.  Even more reasons to give up the habit if you haven't yet.
Eat a healthy diet.  Choose lean proteins, fruits and vegetables and add plenty of water to keep your skin functioning as it is designed to.
Manage stress. Best way to manage stress? Take time in your day to exercise and relax.
Do you see a pattern?  If you do you would notice that living a healthy lifestyle is not only good for our skin but crucial to a healthy body.  Get started today.  Have a great week!
To your health,
Denise
Upcoming Trip?
I like to use Booking for booking not only my hotels, but my tickets and rental cars as well. Makes life so much easier with only having to log into one location for my information.
Be sure to grab my travel tips to save you time and money. You'll also be entered into the weekly drawings.
Register here: Get 100 Travel Tips EVERY traveler should know PLUS entered into the weekly drawing.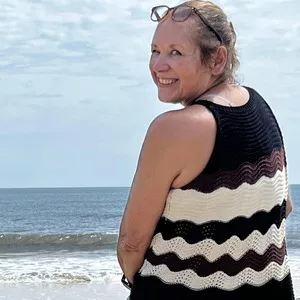 About Denise
Denise Sanger lives a life split between her love for fitness and her passion for travel particularly to the BEACH. Denise also has a love of marketing and lives in beautiful Suwannee County, Florida. You can find out more about Denise here: About Denise