This article may contain affiliate links. Whenever you buy something through one of these links, I may earn a small commission without any cost to you. I really appreciate it as it supports this site and my family. Thank you!
Are you busy?  Do you eat right?  Have zero time to exercise?  Never sleep more than a few hours at night? Have a list of things to do as long as your arm?  Don't shoot the messenger but it's time to BE selfish. Yes you read that correctly. Start being selfish.




Are you wondering what I'm talking about? You give every minute you have available to your family right?  Or you go above and beyond at work.  How about all the volunteer hours you give to your community or to your church? What about you?  How much time are you giving to yourself?
You never seem to have a moment to take care of yourself.  Know what that makes you? Not the sharpest tack in the box.  Why?  Have you taken a moment to think who is going to take care of your family if you can't?  Or how about that job that you poor your blood, sweat and tears into?  Who's going to do it as well as you do? Or the volunteer hours to your community or to your church?  If you are not able to volunteer, do you think it will be easy for them to find a replacement for you?
The answers are no.  No one does things the way you do.  You are uniquely designed with gifts that only you have to offer.  Why are you not taking care of yourself along with everything else you manage to get done in a day?
Thank you for reading this post. Don't forget to subscribe! This way you never miss an update, travel deals, discounts and more!! Subscribe to the right------>
Let me ask you a few questions:
Why is it important to be sure your kids eat healthy meals yet you grab something on the run?
Why is it important for everyone else in the family to get a good night's rest yet you are often running on four hours sleep?
Why is it important that you never miss ANY event, yet you never rest until you are so sick that you literally cannot get out of bed?
You understand the importance of healthy food, exercise and rest for everyone but you.  Don't feel bad.  We all do it.  We all put everyone else's needs ahead of our own especially when it comes to our families.  But how long do you think you can run on an empty tank of gas?
Show your family that you truly care about them – by taking care of YOU. Here's the thing. You don't need to spend hours at the gym or in the kitchen. Simply find easy healthy recipes you can prepare and eat together as a family.  Take a few minutes to head outside and play with the kids or dogs. Learn to let the small things slide.  It's okay if the laundry isn't done today or there are a few dishes in the sink.  Set a bedtime and stick to it.
I love hearing from you all each week so thank you for not shooting the messenger with today's message. Mother's Day and Father's Day are right around the corner. The greatest gift you can give anyone is a healthy, happy you.
Have a wonderful week!
To your health,
Denise
Upcoming Trip?
I like to use Booking for booking not only my hotels, but my tickets and rental cars as well. Makes life so much easier with only having to log into one location for my information.
Be sure to grab my travel tips to save you time and money. You'll also be entered into the weekly drawings.
Register here: Get 100 Travel Tips EVERY traveler should know PLUS entered into the weekly drawing.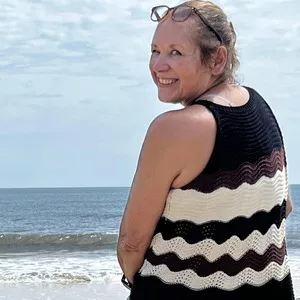 About Denise
Denise Sanger lives a life split between her love for fitness and her passion for travel particularly to the BEACH. Denise also has a love of marketing and lives in beautiful Suwannee County, Florida. You can find out more about Denise here: About Denise