This article may contain affiliate links. Whenever you buy something through one of these links, I may earn a small commission without any cost to you. I really appreciate it as it supports this site and my family. Thank you!
How much attention do you pay to your calves?  You know.  Calf muscles that are located in your lower legs?  Chances are you don't think too much about them at all.  I didn't either UNTIL my first half marathon but after that event, I am grateful for everything my calves do for my body.




I was excited about my first half marathon.  Not sure what it is about me but all the events I have completed were not even a thought for me until I hit my 50's. Let that be a lesson – age should never deter you from reaching your goals.
Flew into Washington D.C. two days before the event which was Nike Women's We Run DC.  Probably the best event I have ever attended as far as organization and support.  I like half marathons because it allows me to see a city from the ground up versus as a tourist.  Running through the monuments and next to the Potomac is something I will always remember.
Super fun event UNTIL the evening of the day I completed the event.  I went to stand up and literally could not walk because my calf muscles had tightened so much that they felt locked.  Yes I did training. Yes I was doing strength training but like many people, but I did not devote the time to training my calf muscles that I should have.
The importance of our calf muscles goes well beyond any event you may participate in.  Sheila, in my Silver Sneakers class, told me her doctor said it's extremely important that we pay attention and train our calf muscles. Why? Our calf muscles are often called calf muscle pump or secondary heart.
Thank you for reading this post. Don't forget to subscribe! This way you never miss an update, travel deals, discounts and more!! Subscribe to the right------>
It takes one heart beat to pump the blood from our heart to our legs BUT it takes quite a few strong heartbeats to push the blood back up the leg to the heart. Why?  Your blood is going against gravity to return to the heart.  The return process is a combination of blood pressure from the heart's pumping, the valves and muscle movement from the calves that pumps the blood back to the heart.
Not only do our calves help to stabilize our body but they are also extremely important for the circulation in our legs.  Pretty good reasons to spend some time on our calf muscles.  How hard is it to train your calves?   The most difficult part as in any exercise program in general is actually doing it.
The exercises we do in a Silver Sneakers class can easily be done at home.(As always, please check with your doctor before beginning an exercise program.)  Simple calf raises in which you raise your heels off the ground, then lower your heels back to the ground strengthens the entire calf.  For balance, you can hold onto the wall or a chair.  As you get stronger, try to repeat this exercise with your heels together to work the calf muscles in a different way.
Get up and get moving. Yes you CAN! Have an amazing week.
To your health,
Denise
Upcoming Trip?
I like to use Booking for booking not only my hotels, but my tickets and rental cars as well. Makes life so much easier with only having to log into one location for my information.
Be sure to grab my travel tips to save you time and money. You'll also be entered into the weekly drawings.
Register here: Get 100 Travel Tips EVERY traveler should know PLUS entered into the weekly drawing.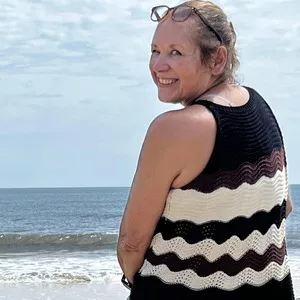 About Denise
Denise Sanger lives a life split between her love for fitness and her passion for travel particularly to the BEACH. Denise also has a love of marketing and lives in beautiful Suwannee County, Florida. You can find out more about Denise here: About Denise