Can our friends make us smarter?
This article may contain affiliate links. Whenever you buy something through one of these links, I may earn a small commission without any cost to you. I really appreciate it as it supports this site and my family. Thank you!
Why you should value your relationships with your friends.
Driving back and forth to town from where I live gives me about 45 minutes to catch up on my podcasts but occasionally I flip on the radio.  My two favorite stations are the local country station (98.1) and a blend station (94.3).  If you see me singing along as I'm driving or if you see my dog howling from the passenger seat, you'll know I'm singing. My dog always howls when I'm singing. Must be because I'm so good!




A few days ago as I was running over to a neighbor's house to let her dog's out, I was listening to the 94.3 blend station.  In between songs, they have segments about living a healthier lifestyle and John Tesh's segment in particular "Intelligence for your life" always has a few great nuggets.  The healthy lifestyle nugget shared by a female anchor was how your friends can help to strengthen our brains as social interaction exercises the gray brain matter.
That really got me to thinking how important my friends are in my life.  I thoroughly enjoy the time spent with my girlfriends.  Yes my husband is my best friend but when you work with your spouse, there are days when you REALLY want to hang them (him) from a tree out back because they (he) is getting on your (my) last nerve. Many times my girlfriends have talked me off the ledge and my hubby lives to see another day.
What really came to mind, though, is that all relationships are a two-way street. I try to make sure my friends know how much I appreciate them but I am going to make it a higher priority going forward after listening to that radio segment.  Something as simple as texting your friends or picking up the phone for a brief "how are you doing" chat benefits you and your friends.
Still not convinced you should reach out to a friend? Here are a few reasons to help you pick up your phone:
Thank you for reading this post. Don't forget to subscribe! This way you never miss an update, travel deals, discounts and more!! Subscribe to the right------>
Positive, supportive friendships help you have more birthdays.  A ten-year Australian study (Journal of Epidemiology & Community Health) found that strong social networks were beneficial to survival of older people.  Another good reason to get out and get involved with our communities especially as we age.
Our friends provide us with the support we need to reach our goals.  If you would have told me 30 years ago, I would run the Marine Corps Marathon I would have told you to check what was chasing me.  Yes I have run on and off throughout the years but 26.2 miles?  My thoughts were not in this lifetime.  My brother and my friends are what got me through that event even when I wanted to quit.  I am proud to say I completed that event with blood, sweat and tears but I would never have made it without my friends.
Cardio exercise is not only good for the body but also for the brain. In addition, if you have fit friends, you are more likely to stay fit. But it gets better.  Research has found that SAME-sex friends have a bigger influence on you when it comes to living a healthy lifestyle. Another reason to thank your friends.
We focus on keeping our spouses and children happy but maybe we should also focus more on our friendships. As Professor Karen Roberto of Virginia Tech reports, "People with stronger friendship networks feel like there is someone they can turn to. Friendship is an undervalued resource."
The answer is yes, your friendships make you smarter.   Have a wonderful week my FRIENDS.
To your health,
Denise
Upcoming Trip?
I like to use Booking for booking not only my hotels, but my tickets and rental cars as well. Makes life so much easier with only having to log into one location for my information.
Be sure to grab my travel tips to save you time and money. You'll also be entered into the weekly drawings.
Register here: Get 100 Travel Tips EVERY traveler should know PLUS entered into the weekly drawing.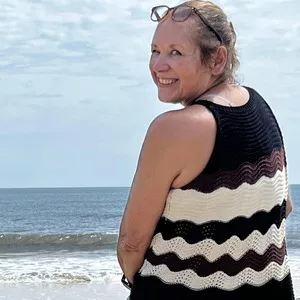 About Denise
Denise Sanger lives a life split between her love for fitness and her passion for travel particularly to the BEACH. Denise also has a love of marketing and lives in beautiful Suwannee County, Florida. You can find out more about Denise here: About Denise