Want to be happy? Be grateful.
This article may contain affiliate links. Whenever you buy something through one of these links, I may earn a small commission without any cost to you. I really appreciate it as it supports this site and my family. Thank you!
It's not happiness that brings us gratitude. It's gratitude that brings us happiness.
There is quite a lot going on right now in the world. News that I never thought I would hear on a daily basis seems to be quite common.  If you are like me, you try not to let the disturbing news affect you but some days it can be tough. I try to keep updated with a general overview of world events but other days, I have to shut it off. This essay is not making light of any of these events.  It is about making a choice to live in the present moment and with gratitude.
Each morning, I make a conscious decision to start and end my day with gratitude. When I choose to be grateful,it makes my day smoother.  When you take a moment in the morning then again in the evening to be grateful, it puts things into perspective. We realize what is important in our lives and what is not important.  The smile on your daughter's face? Priceless.  The traffic you sat in waiting for the train to pass? Not so important.
When you look back at what you are grateful for each day, will usually find that what you most treasure are people, experiences and choices – not things.  The Thanksgiving and Christmas holiday season is the perfect time to take a moment and really think about what you are grateful for.  Take it a step further and when you sit down to dinner, go around the table and ask each person what they are thankful for. Be ready though. Some of the answers you may receive from the littles at the table can be hilarious!
If you have been having a tough time dealing with day-to-day stress, these tips that work for me may help you put things back in perspective. And before I forget to mention it – I'm grateful for all of you too.
Thank you for reading this post. Don't forget to subscribe! This way you never miss an update, travel deals, discounts and more!! Subscribe to the right------>
Look at your world through the eyes of a child.  We tend to forget the newness of each day and the simple joys that can be had by smelling a fresh flower or digging our toes in the sand. A great video to watch is "A Good Day" by TedxSF.
Keep a journal. Every morning I write 10 things I am grateful for in my journal. Most days the list goes well beyond 10 things.
When you find yourself thinking negatively, literally give yourself a mental shrug by stopping that thought dead in it's track with a grateful thought. Almost like a mental shift. This will get easier the more you do it.
Smile at people you pass throughout the day. You never know how much that smile might mean to the person receiving it. Also we feel better when we smile too.
Right now, choose to go through your day without complaining, whining, gossiping or judging another.
Volunteer your time to a cause you are passionate about. Those that volunteer their time are among the happiest folks I know.
Next time you find yourself feeling stressed, annoyed, frustrated, or even angry, stop. Simply stop whatever you are doing, take a deep breath then remember everything you are grateful for.
Wishing you a Happy Thanksgiving.
To your health,
Denise




Reprinted from an article I wrote for MinimalismIsSimple.com
Upcoming Trip?
I like to use Booking for booking not only my hotels, but my tickets and rental cars as well. Makes life so much easier with only having to log into one location for my information.
Be sure to grab my travel tips to save you time and money. You'll also be entered into the weekly drawings.
Register here: Get 100 Travel Tips EVERY traveler should know PLUS entered into the weekly drawing.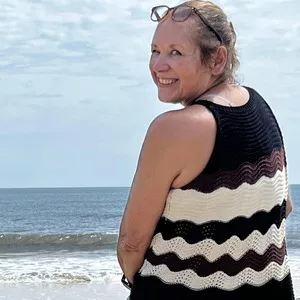 About Denise
Denise Sanger lives a life split between her love for fitness and her passion for travel particularly to the BEACH. Denise also has a love of marketing and lives in beautiful Suwannee County, Florida. You can find out more about Denise here: About Denise