What one thing will you change this week?
This article may contain affiliate links. Whenever you buy something through one of these links, I may earn a small commission without any cost to you. I really appreciate it as it supports this site and my family. Thank you!
Have you ever noticed the busier you are the busier you are? When you think you can not add one more thing to the list of things you have to get done in a day, here comes something else. What happens to everything already on that list? They get knocked down a few notches.
After running around in circles trying to get everything done and keep everyone happy, I decided there HAS to be a better way. When I reach that point, I always seem to return to K.I.S.S. – Keep It Simple Silly – no matter what I am trying to change.

I have been working for some time to get my nutrition on track. What used to work in my 30's is not working in my 50's  so it's a matter of making adjustments until things start moving in the right direction.
The problem for me is I usually try to do 10 things at one time which makes it difficult to figure out what helped and what didn't.  What I can tell you is that following the latest fads, lotions and potions, does not work for me and always puts me worse off than when I started.
Thank you for reading this post. Don't forget to subscribe! This way you never miss an update, travel deals, discounts and more!! Subscribe to the right------>
Exercise is a given for me. No matter where I am in life, from the time I was a child, I have always been active. Not only does it help with weight management, it keeps me sane since I have a Type-A high-strung personality. So exercise is in my "what works" column.
Next on the list for me is to figure out how many calories are needed to maintain my BMR – basic metabolic rate. Your BMR is the number of calories your body needs to maintain it's resting rate. Meaning how many calories it uses to keep your body functioning including breathing,your heart beating and pumping blood. Knowing this number helps you make better food choices for your body. (You can easily calculate your BMR by doing an online search for BMR calculator.)
Over 1,000 calories for one meal?
For example, when you eat a Big Mac upsized, fries and a coke for lunch, you have consumed 1,140 calories. If your BMR is 2,000 calories per day, you have just taken a huge chunk of those calories for this one meal. Now multiply that amount by three – breakfast, lunch and dinner. 3,420 calories. And this does not take snacks and drinks into the equation.
When you look at your nutrition from this perspective, it makes it easier to understand why many of us are gaining weight. And I will share. My BMR is less than 2,000 calories per day and I am very active. This little experiment shed a light on the big picture for me too. Find out why it is so important to be aware of what you eat here: What you eat matters.
Back to K.I.S.S. the one thing I plan to change is to journal everything I eat during the day. Keeping a journal helps me ensure I am monitoring the calories I intake to stay within a healthy range. What one thing will you change this week for a healthier you next month?
Have a wonderful week.
To your health,
Denise
Upcoming Trip?
I like to use Booking for booking not only my hotels, but my tickets and rental cars as well. Makes life so much easier with only having to log into one location for my information.
Be sure to grab my travel tips to save you time and money. You'll also be entered into the weekly drawings.
Register here: Get 100 Travel Tips EVERY traveler should know PLUS entered into the weekly drawing.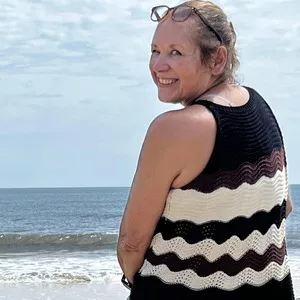 About Denise
Denise Sanger lives a life split between her love for fitness and her passion for travel particularly to the BEACH. Denise also has a love of marketing and lives in beautiful Suwannee County, Florida. You can find out more about Denise here: About Denise