Healthy Living: Walk YOUR journey.
This article may contain affiliate links. Whenever you buy something through one of these links, I may earn a small commission without any cost to you. I really appreciate it as it supports this site and my family. Thank you!
Your journey is your journey. Don't compare your journey with someone else's journey. Walk your journey.
I listen to a lot of podcasts when driving back and forth to town.  It's amazing what you can find out when you're locked in a car by yourself for 20 minutes without interruption.
One of my favorite podcasts is Joyce Meyer and I was listening to her on my way to church this past weekend. Basically what she was talking about in her podcast is that we all have been given certain gifts.  We do not all have the same talents so comparing yourself to someone who can grow prize winning tomatoes when you have a black thumb (that be me!) is worthless. I may not have the ability to grow amazing fruits and vegetables but I am able to connect to people in different ways.
Of course this got my mind going and a big old bell went off in my head.  I am 56 and as you know it's been a rough year for me with my weight.  Luckily I ended up with answers being found at a doctor's appointment. Before that appointment though, I did have thoughts go through my head like why is "she" not gaining weight?  Or why is that "person" able to stay so slim with what appears to be zero effort.  Yes, we all have those negative comparing thoughts that can sneak in when we least expect them too.
I truly wish I had been able to listen to that podcast sooner but the message was still loud and clear. Embrace YOUR gifts.  Translating it into health and wellness, walk YOUR journey and don't worry about someone else's journey.  They may be struggling with something that isn't apparent on the outside.
Thank you for reading this post. Don't forget to subscribe! This way you never miss an update, travel deals, discounts and more!! Subscribe to the right------>
But that is easier said than done correct?  So how do we "let it go" as the Frozen song recommends?   The first step is to become aware that we are doing it.  If you hadn't read this article, would you be aware that you may be comparing yourself to someone else your age, size, or maybe you work with it?  We do it unconsciously but are better able to control those thoughts when we are aware they're happening.
One you become aware of these thoughts, lock them up and throw away the key.  How? Think of something positive about yourself.  For me, even though I was dealing with unwanted weight gain, I never stopped going to the gym. That helped me to feel better about the whole scenario.
Count your blessings and be grateful for what you do have.  If you're healthy – be grateful. Have a wonderful family – be grateful. Have a roof over your head – be grateful.  When we're grateful for what we do have, it takes the focus off what we don't have.  After all in life is it really that important to be 1/2 smaller than what you are or is it more important that you're healthy?
Keep your focus on the journey.  Life is a one great big journey and we will have peaks and valleys.  Celebrate your strengths and accomplishments and be kind to yourself when you stumble.  Dust yourself off and get right back up and keep moving forward. You GOT this!
Have a wonderful week,
To your health,
Denise
Upcoming Trip?
I like to use Booking for booking not only my hotels, but my tickets and rental cars as well. Makes life so much easier with only having to log into one location for my information.
Be sure to grab my travel tips to save you time and money. You'll also be entered into the weekly drawings.
Register here: Get 100 Travel Tips EVERY traveler should know PLUS entered into the weekly drawing.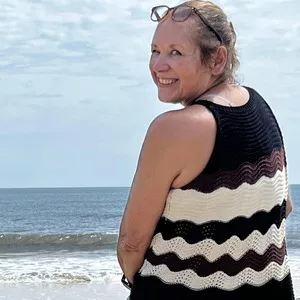 About Denise
Denise Sanger lives a life split between her love for fitness and her passion for travel particularly to the BEACH. Denise also has a love of marketing and lives in beautiful Suwannee County, Florida. You can find out more about Denise here: About Denise