Step away from the phone.
This article may contain affiliate links. Whenever you buy something through one of these links, I may earn a small commission without any cost to you. I really appreciate it as it supports this site and my family. Thank you!
Put it down. Now back away slowly. Slowly. You can do it. Breathe. Good for you. Keep walking away. You're almost far enough away. What are we walking away from? Our phones.
This weekend was my 35th wedding anniversary. Not sure WHERE the time went but all I know is 35 years ago, we said "i do", had two daughters along the way and here we are. Still together. It wasn't all peaches and cream but we made it. In my opinion, married life gets easier after ten years because you stop trying to change each other.
Also this weekend on Saturday, my friend, Emi, and I attended an event in Jacksonville called Stay Gorgeous Girls. SGG is hosted in part by Live Oak local Michelle Harrison and her husband. SGG has a mission to help girls build confidence and self-esteem and I was honored to be a part of it this weekend.
Since my usual Saturday in the office was spent in Jacksonville, I needed to bust butt and catch-up Sunday. As Sunday was also my anniversary, I completely focused on what I had to finish so that I could spend the rest of the day with the hubby.
Thank you for reading this post. Don't forget to subscribe! This way you never miss an update, travel deals, discounts and more!! Subscribe to the right------>
Mission accomplished. Except one problem. When I walked out of my office, I automatically grabbed my phone. My husband has complained a time or two (or 150 times) that I need to put the phone down and be present with him. When you're self-employed as I am, that can be hard to do but I committed to doing that on Sunday.
I have no idea when or why it's become so hard to walk away from the phone but it is. When I was a kid, we had a "party" line at our house. Actually I think most families did. We shared the phone line with several other families. You'd pick up the phone, hear someone talking, put it back on the hook and walk away. You didn't stress out because you couldn't make that call right then. It was okay to make it later.
We've become an instant gratification culture and that includes how we are with our phones. Is this hitting a nerve with you like it did me when I realized I automatically grabbed my phone?
It's time to put that phone down not only for the sake of our relationships, but for our health as well. Our brains need a break. It might be hard because it seems the phone is literally attached to our hands but we can do it. If you find it very difficult, tell yourself you are not going to touch it for 10 minutes. Then stick to it. We can all survive without pick up our phones for 10 minutes.
But be ready for what might happen. You might have an amazing conversation with your spouse and children. You might notice the birds chirping or the buzzing of the bees. You may see how blue the sky is mid-day. In other words, you will be free to notice the many beautiful things in our world. Enjoy them. Have an amazing week!
To your health,
Denise
Upcoming Trip?
I like to use Booking for booking not only my hotels, but my tickets and rental cars as well. Makes life so much easier with only having to log into one location for my information.
Be sure to grab my travel tips to save you time and money. You'll also be entered into the weekly drawings.
Register here: Get 100 Travel Tips EVERY traveler should know PLUS entered into the weekly drawing.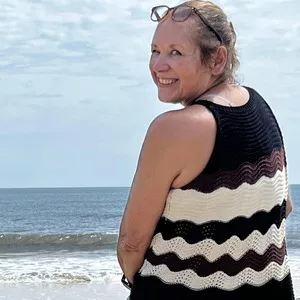 About Denise
Denise Sanger lives a life split between her love for fitness and her passion for travel particularly to the BEACH. Denise also has a love of marketing and lives in beautiful Suwannee County, Florida. You can find out more about Denise here: About Denise