Good things that happened in the travel world last year.
This article may contain affiliate links. Whenever you buy something through one of these links, I may earn a small commission without any cost to you. I really appreciate it as it supports this site and my family. Thank you!
2020. What a year right? I mean to me the year 2020 is like the picture of that cat with his fur all over the place looking like "what just happened?" It's been even worse for the travel world.
But there were also some good things to come out of the travel world in 2020 and I hope they continue. The travel industry has taken a beating and some industries like cruise lines, amusement parks, etc. have along road to recovery.
I bet you're thinking "what good things Denise? My trips were canceled. I couldn't see my family during the holidays. What can you think was possibly good about 2020?" Okay I admit it. I am definitely a half glass full type of gal. But looking back, I may not have been able to get on a plane, but I saw a whole lot of new places I've never been able visit before.
These are the reasons I think 2020 was not as bad of a travel year as most of us might think:
Thank you for reading this post. Don't forget to subscribe! This way you never miss an update, travel deals, discounts and more!! Subscribe to the right------>
Local travel. Do you know I've lived in Florida now almost 30 years and there is SO much I've not experienced yet? This year I was able to explore not only our beautiful Florida beaches, but also many rivers, crystal clear springs like Three Sisters Springs, plus our beautiful state parks and state forests. I traveled someplace different every single week from the time we no longer were required to quarantine. Yes the coronavirus is a very real thing and we took precautions including wearing our masks when necessary. But at the end of the day, it didn't stop me from traveling AND writing about my travels. The beauty that is literally in our own backyards if we take the time to look.
Kindness. Many struggling travel industries still made it a point to give back. The Hilton and United Airlines gave hotel rooms and flights to First Responders. Those on the front lines are feeling the direct impact of the virus and we all need to be thankful for their sacrifice. I will definitely keep these companies in mind when booking my future trips.
Zoos, museums, and other attractions got creative. Not only were we missing these attractions, they were missing us. Many animals are used to people visiting them. That's not happening in a lot places so folks are getting creative. I read a story about kittens visiting the Georgia Aquarium and I know I'm a fan of the Sea Otter Cam at the Monterey Bay Aquarium. Could watch it for hours!
We've been able to spend quality time with our loved ones. We may not be able to physically visit them but technology has made it possible for us to see them. That is something that was not possible even 20 years ago. I know that Facetime on my Iphone has been a life saver when talking to my mom in Ohio.
Airlines dropped their change fees and donated over 200,000 pounds of inflight meals to those that desperately needed it.
And my favorite? The story of the 93 year old grandmother who posted a sign holding a Coors Light can saying she needs more beer. She got it too! Coors Light delivered!
In life we have choices. And you're free to make whatever choices are best for you. As for me? I choose to do what the travel world is doing. Keep on keeping when it comes to traveling – one beach at a time. I hope you do too.
Upcoming Trip?
I like to use Booking for booking not only my hotels, but my tickets and rental cars as well. Makes life so much easier with only having to log into one location for my information.
Be sure to grab my travel tips to save you time and money. You'll also be entered into the weekly drawings.
Register here: Get 100 Travel Tips EVERY traveler should know PLUS entered into the weekly drawing.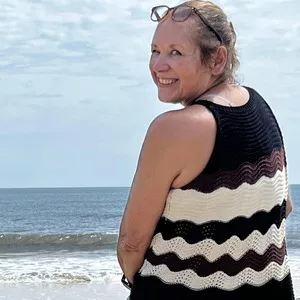 About Denise
Denise Sanger lives a life split between her love for fitness and her passion for travel particularly to the BEACH. Denise also has a love of marketing and lives in beautiful Suwannee County, Florida. You can find out more about Denise here: About Denise