This article may contain affiliate links. Whenever you buy something through one of these links, I may earn a small commission without any cost to you. I really appreciate it as it supports this site and my family. Thank you!
After Halloween, we are wide open heading into the holidays. For me Halloween kicks things off, but it's Thanksgiving I really look forward to each year. There is something to be said about family and friends gathering around a table heavy with our favorite foods. Foods we often get only on this special holiday.
Unlike Christmas which to me has become very commercialized, Thanksgiving is the time to reflect back over the year. We are thankful for what we have come through, grateful for where we presently are and optimistic about the future.
Being grateful has many benefits to us physically as well. There is good reason why our mothers would tell us to stop feeling sorry for ourselves. Yes it can be hard to let go of what has hurt us, but when we choose to focus on the positive even with a simple thank you, we can transform our lives. (Read this next: If this is you STOP.)
There are scientifically proven benefits to being thankful. Here are a few:
Thank you for reading this post. Don't forget to subscribe! This way you never miss an update, travel deals, discounts and more!! Subscribe to the right------>
Gratitude improves physical health. Grateful people experience fewer aches and pains. They exercise more often and tend to have a positive outlook on life.
Gratitude improves mental health. When you focus on what YOU are thankful for, you reduce feelings of envy and resentment. Gratitude increases happiness while reducing depression.
Grateful people sleep better. Taking a few moments to write in gratitude journal improves sleep, according to a 2011 study published in Applied Psychology: Health and Well-Being. Try spending ten minutes jotting down a few things you're grateful for as part of your bed time routine.
Being thankful can benefit us all. Instead of complaining about what you lack or what you think you deserve, take a few moments to be thankful for what you HAVE. When you are focused on the positives in your life, your overall feeling of well-being will improve.
This week, I want to take a moment to thank all of you for being in my life one way or another and wish you a very happy Thanksgiving.
To your health,
Denise
Upcoming Trip?
I like to use Booking for booking not only my hotels, but my tickets and rental cars as well. Makes life so much easier with only having to log into one location for my information.
Be sure to grab my travel tips to save you time and money. You'll also be entered into the weekly drawings.
Register here: Get 100 Travel Tips EVERY traveler should know PLUS entered into the weekly drawing.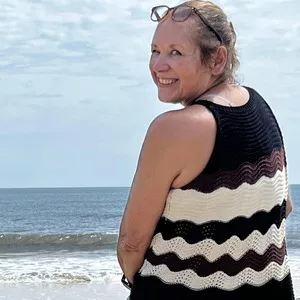 About Denise
Denise Sanger lives a life split between her love for fitness and her passion for travel particularly to the BEACH. Denise also has a love of marketing and lives in beautiful Suwannee County, Florida. You can find out more about Denise here: About Denise