8 tips to avoid gaining weight during the holidays.
This article may contain affiliate links. Whenever you buy something through one of these links, I may earn a small commission without any cost to you. I really appreciate it as it supports this site and my family. Thank you!
We survived Thanksgiving! Yay, time to get back on track. Wait. Are those Christmas cookies? That's right! We may have made it through Halloween and Thanksgiving but we still have Christmas and New Year's on the calendar. How can we possibly stay on track and avoid gaining weight during the holidays?
Unfortunately, holiday weight gain happens to the best of us. But it doesn't have to. Following are a few simple tips that can help you breeze through the holidays at the same weight you started. Ready? Let's begin:
Stay active with family and friends. There are so many fun activities to choose from at this time of the year. My friends and I usually complete a 5K the Jingle Bell Jog 5K which coincides with the Christmas Tree lighting downtown followed by Christmas on the Square. Both will keep us moving while having a great time. Don't want to go to the gym? I invite you to join me online. One on one via zoom for all levels from beginner/senior to advanced including my very popular Gentle Flow Yoga. Message me.
Stay on track with your meals. Many of us think that if we "save" calories by skipping a meal, we'll be okay. What actually happens though is we tend to overindulge when we do sit down to eat. It's better if we stick to our regular meal routines.
Drink the water our bodies need. During the cooler months, it's not as easy to stay on track with keeping our bodies hydrated. Make a conscious effort to drink half your body weight in water every single day. What I have found works best for me is to either use a larger water jug or to know how much water is in my bottle and how many times I need to refill it to reach my goals.
Snack smartly. Not all snacks are created equal so make smart choices. Reach for more fruits and nuts and less cookies and cakes. Save the sweets for a special dessert so you don't feel deprived.
Watch your portion sizes. It is VERY easy to over do portion sizes especially when it comes to our favorite foods we only eat once a year. So that you eat all your favorites without overindulging, stick to a single portion of each one. This way you'll still enjoy all your favorites without feeling stuffed like that turkey you just ate.
Be present when you eat. During the holidays, we rush, rush, rush from one thing to another often shoveling food in our mouths when we get the time. No matter how busy you are, make it a priority to sit down and eat your meals.
Make sure you eat protein with every meal. Holiday meals tend to be carb heavy so we need to make sure we are including protein with each one as it will help us to feel full. Good sources of protein include meat, poultry, fish, and some plant foods like beans and quinoa.
Limit liquid calories. Yes you know exactly what calories I'm talking about. We should never "drink" our calories whether they are the adult variety to sugary sodas or the holiday virgin eggnog. When you're trying hard to stay on track, it's best to limit your intake of high-calorie beverages. I recommend you read this next: What Happens When You Stop Drinking Soda
It may seem extra hard to stay on track during the holidays, but when you are getting plenty of exercise and following the eight tips above, it makes it a little easier to avoid gaining weight. And always remember the holidays are about memories, not things. Enjoy!
Upcoming Trip?
I like to use Booking for booking not only my hotels, but my tickets and rental cars as well. Makes life so much easier with only having to log into one location for my information.
Be sure to grab my travel tips to save you time and money. You'll also be entered into the weekly drawings.
Register here: Get 100 Travel Tips EVERY traveler should know PLUS entered into the weekly drawing.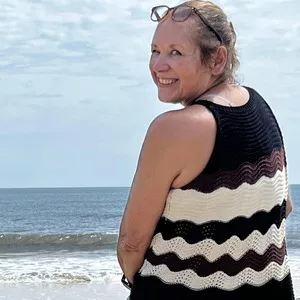 About Denise
Denise Sanger lives a life split between her love for fitness and her passion for travel particularly to the BEACH. Denise also has a love of marketing and lives in beautiful Suwannee County, Florida. You can find out more about Denise here: About Denise