This article may contain affiliate links. Whenever you buy something through one of these links, I may earn a small commission without any cost to you. I really appreciate it as it supports this site and my family. Thank you!
I want to take better care of myself, but….. love to take a fitness class if only I could….. planned to go to the gym today, but…… it's time to STOP making excuses
A few years back, I talked about a condition called excusitis. I was reading a book I carried with me while travelling and thought to myself, "I know people with this disease!" And it doesn't only affect our health, it afflicts many different aspects of life including career, marriage, school and others.
EXCUSITIS: Derived from the word "Excuse". It is the tendency/Disease/Regular behavior of making excuses for every poor performance. In simpler words, giving excuses for everything and trying to back their faults.
If you are the queen or king of excuses, it's time to give up your crown and STOP making excuses.
If you are the king or queen of making excuses, it's up to you to do something about it. After all we can only change what WE do – not what other people do. Next time you feel an if or coming out of your mouth, STOP and remember these tips:
Thank you for reading this post. Don't forget to subscribe! This way you never miss an update, travel deals, discounts and more!! Subscribe to the right------>
Don't talk about what ails you. Why? Because the more you talk about it, the worse you seem to feel. Talking about what ails you not only harms you because your body hears everything your mind "says." It also bores your family and friends. Don't get me wrong. If you are ill, you need to see the doctor, and you should make that appointment right away and follow the treatment until you are well. However, if you are complaining about your bad health as an excuse not to eat right or exercise, it's time to stop. Health is 80% nutrition and 20% exercise – pencil eating clean and exercise into your daily schedule. If you haven't been exercising recently, start with a walk and build from there.
Second is if you have made an appointment to see your doctor and he/she tells you that there are things you should do to improve your health, but that overall you're okay, stop worrying. Worrying and stress are very harmful to our overall health and well-being.
Be grateful for the health you do have. Have you heard the saying that "I felt sorry for myself because I had ragged shoes until I met a man who had no feet." When you find yourself complaining that you are not feeling well, remember to think about the positive things about your health. For example, your feet might hurt, but you can walk. You can go to church. You can do the grocery shopping. Likewise, you can pick the kids up from school. Being thankful and focusing on what is right in your life is very powerful. Even better? At the end of the day after you climb in bed, take a moment and think of three things you are grateful for. I always recommend tracking your nutrition and exercise. You can do it free with this app: MyFitnessPal App
Finally, this was my favorite part of the whole chapter "It's better to wear out than rust out." Life has been given to you to enjoy and live to the fullest. Don't waste it. If you need ideas for outdoor adventures, get them here: Outdoor Adventures
Next time you find yourself coming up with an excuse that stops you from doing something you want to do, take a moment. Regroup and remember how grateful you are that you are ABLE to get up and walk out your front door. Many others are not as lucky as you are.
To your health,
Denise
Upcoming Trip?
I like to use Booking for booking not only my hotels, but my tickets and rental cars as well. Makes life so much easier with only having to log into one location for my information.
Be sure to grab my travel tips to save you time and money. You'll also be entered into the weekly drawings.
Register here: Get 100 Travel Tips EVERY traveler should know PLUS entered into the weekly drawing.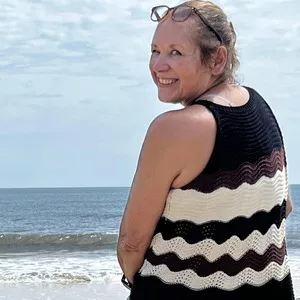 About Denise
Denise Sanger lives a life split between her love for fitness and her passion for travel particularly to the BEACH. Denise also has a love of marketing and lives in beautiful Suwannee County, Florida. You can find out more about Denise here: About Denise