This article may contain affiliate links. Whenever you buy something through one of these links, I may earn a small commission without any cost to you. I really appreciate it as it supports this site and my family. Thank you!
Here we go! Memorial Day officially kicks off the summer swimsuit season. Believe it or not I do know some people that prefer snow to sand – blasphemy I tell you. I am not one of them. The sunnier the day, the better my mood.
Summer draws us in with long, lazy days much of which is spent outside. The beach and the river call to us even on days we're at work or simply can't take time off.
This past weekend and into the week, has our neck of the woods reaching 100+ degrees during the day. I don't care where you live that's hot as in HOT for the end of May. Looks like we are in for above normal temps this year so it's important that we take a few moments to talk about summertime health.
Summer Health Tips
The following health tips will help you enjoy every moment of summer:
Thank you for reading this post. Don't forget to subscribe! This way you never miss an update, travel deals, discounts and more!! Subscribe to the right------>
Probably the most important thing we need to remember not only during hot summers but pretty much every day is sunscreen. Slather it on before you even think about leaving the house. Yes the sun's rays are the strongest during summer, but we don't escape them simply because it's cold outside in December. Put it on.
Next be sure you are staying hydrated. It doesn't seem to matter what time of the year it is most of us have a tough time drinking the water our bodies need. Rule of thumb is half our body weight in ounces of water daily. So that means if you weigh 160 pounds, you need to drink 80 ounces of water each day. Staying hydrated is increasingly important during hot summer months to keep heat exhaustion or heat stroke at bay. Keep that bottle of water with you wherever you go. p.s. water can help you lose weight too. See why click here: What Happens When You Stop Drinking Soda
Protect yourself and your family against mosquitoes and ticks. They're out there and they bite. Matter of fact, I got bit the other day by a yellow fly and man that sucker hurt! Moved too fast or he would have been a dead yellow fly. That was a first hand reminder that when temps go up, so do the bugs. Not only can they spread disease, they leave bite marks and itch. When you know you will be spending time outdoors, apply bug protection lotion before you head out.
Wear sunglasses. Sounds like a simple thing right? After all, the sun is bright. But more than 28% of us do not wear sunglasses. Just as our skin needs protection from the sun, so do our eyes. When you don't shade your eyes, you put yourself at risk of cataracts and eyelid cancer. Slip on your shades.
Simple? Yes. Sometimes the simplest things can provide the biggest results. These four simple tips are not only a must during summer months but all year. Have an amazing week!
To your health,
Denise
Upcoming Trip?
I like to use Booking for booking not only my hotels, but my tickets and rental cars as well. Makes life so much easier with only having to log into one location for my information.
Be sure to grab my travel tips to save you time and money. You'll also be entered into the weekly drawings.
Register here: Get 100 Travel Tips EVERY traveler should know PLUS entered into the weekly drawing.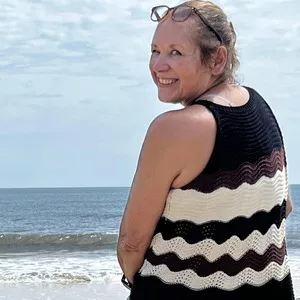 About Denise
Denise Sanger lives a life split between her love for fitness and her passion for travel particularly to the BEACH. Denise also has a love of marketing and lives in beautiful Suwannee County, Florida. You can find out more about Denise here: About Denise