3, 2, 1 Happy New Year…..resolutions?
This article may contain affiliate links. Whenever you buy something through one of these links, I may earn a small commission without any cost to you. I really appreciate it as it supports this site and my family. Thank you!
Should auld acquaintance be forgot, and never brought to mind?
Hard to believe another New Year's Eve has come and gone. And what always comes to mind when we think of New Year's Eve? New Year's Day resolutions!
When we think of the end of one year and the beginning of another, we think of all the positive things we want in the coming year while leaving other things behind.
More than 40% of people make resolutions for the coming year and number one on the list? Better health. That's why gyms are packed the first few weeks of January. Unfortunately, most people fall off track by the end of the month.




If better health is on your resolutions list, there are a few things you can to do to successfully reach your goals and not be one of the quitters. The following tips will help you stay on track to a healthier you in 2018:
Thank you for reading this post. Don't forget to subscribe! This way you never miss an update, travel deals, discounts and more!! Subscribe to the right------>
Find someone or a group of people to exercise with. People are social creatures. That's why Silver Sneakers for seniors is based not only on physical exercise but socialization too. When you have a friend or a group of people waiting for you at the park or in fitness class, you are more likely to go. After all we don't want to let our friends down.
Choose small goals that lead to your larger goal. For example, if you want to lose weight, start with a goal to lose 1/2 to 1 pound per week. A goal of 1/2 to 1 pound per week sounds achievable versus a goal to lose 50 pounds with no end date. When you think of it, if you lose 1/2 pound per week you will have lost 26 pounds in the coming months. If you lose 1 pound per week, you will reach your goal of losing 50 pounds. You will reach your larger goal by focusing on small stepping stone goals.
Keep smiling. No matter what you are doing, you have more fun when you're smiling and laughing. Even better? You are more likely to stick with an exercise program when you're having fun. After all, if it's not fun why do it? Try a new fitness class. Join a group of people who meet at the park twice a week. When it's fun, you will make sure you show up.
Pay attention to your body. If you have not been active, don't try to run 10 miles the first time you meet your walking or running group. Take your time and allow your body to adjust to the activity. Know the difference between soreness and pain. I also say sore is okay, pain is never okay. If you find yourself in pain, stop what you're doing and take a few days to rest. If you find the pain continuing after a few days or you are modifying the way you move, it's time to make a doctor's appointment.
And the most important tip of all? You've read it in my articles before: KEEP MOVING. Every day, keep putting one foot in front of the other. When it's cold? Move. When it's warm? Move. When you're tired? Move. Use your determination to keep moving and once you start moving, it's almost impossible to stop because you will feel so much better!
As we welcome in 2018, let's also welcome taking steps to reaching goals to be the healthiest we can be. Happy New Year friends!
To your health,
Denise
p.s. If you are SICK & TIRED of trying program after program that DOES NOT WORK, I know exactly how you feel. I have probably tried every single program out there but have never had long term results. But that's changed and I see the light!
You see, those programs don't work if you they don't fit YOUR lifestyle. If you are ready to make a change that will NOT INCLUDE:
counting points.
measuring foods.
calculating macros.
eating every 2 hours.
never eating bread again.
and any other painful bullet I may have missed
I invite you to take control of your health & wellness. The program I follow is easy, simple and as one client said "it just makes sense." Simply fill out this form and I'll send the info via email. AND I will be with you every step of the way. Do it for YOU. Do it for YOUR FAMILY. Do it for your HEALTH. Just do it.
Upcoming Trip?
I like to use Booking for booking not only my hotels, but my tickets and rental cars as well. Makes life so much easier with only having to log into one location for my information.
Be sure to grab my travel tips to save you time and money. You'll also be entered into the weekly drawings.
Register here: Get 100 Travel Tips EVERY traveler should know PLUS entered into the weekly drawing.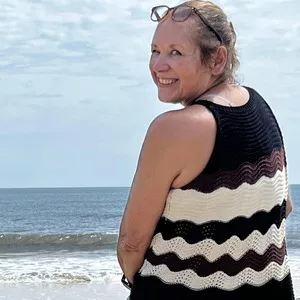 About Denise
Denise Sanger lives a life split between her love for fitness and her passion for travel particularly to the BEACH. Denise also has a love of marketing and lives in beautiful Suwannee County, Florida. You can find out more about Denise here: About Denise