3 Morning Habits For A Healthy Day
This article may contain affiliate links. Whenever you buy something through one of these links, I may earn a small commission without any cost to you. I really appreciate it as it supports this site and my family. Thank you!
Your morning habits are what keep you on track during the day.
My thoughts were wandering to so many different things as I was sitting on the porch after the Thanksgiving holiday.  Our daughters and their significant others along with my grandpuppies were all able to join us this year which made the holiday that much more special. Does not matter how old your children are. The holidays seem better when you are together as a family including our four-legged family members.
There was one thing in particular that popped into my head during my porch sitting time.  The days that I stayed true to my morning routines, were the days I stayed on track as far as my healthy habits.  The mornings I did not stay on schedule ended up being the days my jeans felt too tight. BLECK! I hate when that happens because you feel so sluggish from overindulging. (This is exactly why I now follow a Paleo program. Find out how to get the Paleo Beginner's Guide FREE – click here.)
Thank you for reading this post. Don't forget to subscribe! This way you never miss an update, travel deals, discounts and more!! Subscribe to the right------>
It can be hard to stay on track during the holidays especially as we are traveling or we have a houseful of guests.  For me, I am a creature of habit and do the same things in the same order every single morning from my quiet time to feeding all the dogs and horses, to my breakfast.
As we move toward Christmas and the New Year, I thought I'd share the three things I do every morning to jump-start a healthy day. Let's stay on track together this holiday season with these three habits:
The first and most important thing that I do every morning before I even get out of bed is quiet time.  I listen to my podcasts, read my devotional and set the intention for a wonderful day. It's so easy to jump out of bed and get caught up immediately in the craziness we call life that it's important to take a few moments and simply be quiet.  This is actually a fairly new part of my morning schedule that I've added over the past year but it is the most important.  When I feel rushed in the morning, I tend to feel rushed all day.  Take a moment and refresh your soul before doing anything else.
Drink a large glass of water.  That's right. As simple as it sounds, it's important to hydrate first thing in the morning.  One of the best things you can do for your body is to drink 16 ounces of water every morning before you put anything else in your body.  This glass of water hydrates you, fires up your metabolism, flushes out toxins and gives your brain the fuel it needs.
Eat a healthy breakfast.  We all know that when we try to survive on a cup of coffee, we are STARVED by the time lunch rolls around.  You know what I mean.  You're at work with a grumbling belly, wondering what you can grab out of the snack machine.  Before you know it, you've gone through cookies, crackers, a candy bar and soda and it's not even 10 a.m.  Been there. Done that.  I learned a long time ago that for me to stay on track with my nutrition, breakfast is not negotiable.  Simple scrambled eggs and fruit is quick and easy but on the days I do have to get out the door quickly, a protein shake is easy and nutritious.
Getting control of your day before it gets out of control is by far the best thing you can do.  You cannot go wrong when you start your day with quiet time and your nutrition on track.  Start tomorrow.
Have a wonderful week,
To your health,
Denise
Upcoming Trip?
I like to use Booking for booking not only my hotels, but my tickets and rental cars as well. Makes life so much easier with only having to log into one location for my information.
Be sure to grab my travel tips to save you time and money. You'll also be entered into the weekly drawings.
Register here: Get 100 Travel Tips EVERY traveler should know PLUS entered into the weekly drawing.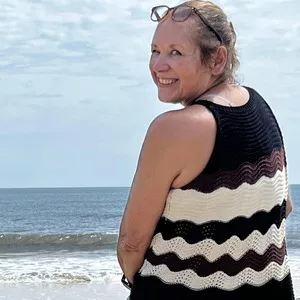 About Denise
Denise Sanger lives a life split between her love for fitness and her passion for travel particularly to the BEACH. Denise also has a love of marketing and lives in beautiful Suwannee County, Florida. You can find out more about Denise here: About Denise