Healthy Living: Tips For Raising Healthy Kids
This article may contain affiliate links. Whenever you buy something through one of these links, I may earn a small commission without any cost to you. I really appreciate it as it supports this site and my family. Thank you!
Raising Healthy Kids
Ask any parent what they want for their children and they will tell you they want them to be happy and healthy.  Easy to say but possibly not quite so easy to do  in today's world. What we place today on our tables is dramatically different from what we put on our tables 50 years ago.  Think about the transformation our food has gone through in the past 50 years.  No longer is it normal to go from farm to table.  Manufacturing advances over the years has made it okay to eat food out of a box, can, or package. Food past generations would not recognize.




Life was definitely much simpler 50 years ago.  Mom often stayed home which meant meals were prepared at home.  Part of the annual school supply shopping list included a lunch box.  When kids arrived home from school – which they often walked to – the first thing they did after homework was change out of their "school clothes" into their "play clothes."  Outside they went until called for dinner.
Quite a different scenario from today's families where both parents often work out of necessity. The easiest way to get the kids fed after a hectic day is to run through a fast food restaurant and order burger meals or chicken strips.  Once home, the whole family is exhausted. Who wants to go out to play when you can simply pick up a remote and play video games or watch movies? After all, playing outside means you have to actually to walk out of your house.
Is it possible to raise healthy kids in today's high-tech, fast paced world? Sure is but you will have to make a few changes to how your days normally flow.  These tips will help you get started.  After all happy, healthy kids mean happy, healthy families – something we all want.
Let your kids simply play.  What I mean by that statement is let your kids go outside and just play. It's okay for them to use their imagination instead of having to be occupied by a tablet or movie. It's okay for them to get dirty – simply give them a bath when they come in.  The bath will also signal it is time to start winding down and getting ready for bed.
Keep in mind your kids are watching EVERYTHING you do. Are you a good role model? Are you telling them to eat their vegetables while you're munching on chips before dinner?  Do you take the time to eat breakfast before rushing out of the house in the morning?  If you eat a balanced nutritional program, your kids will also because they want to be just like you.
Limit the use of chemicals in your home. Fumes from household chemicals, insecticides, paints and other common items used in homes are not healthy for anyone. Children are much more sensitive to these items as they are still growing.  Better late than never. I now use only essential oils to clean my home.  You can view the line I offer at LiveLoveLifeOils.com
Do not use food as a reward.  Your son or daughter received straight A's on their report card or hit a home run at today's baseball game?  Talk to them and tell them how proud you are of them and their accomplishments. Spend additional time with them instead of heading to the nearest cupcake shop or candy store.  They will remember the time you spent with them over the jawbreaker you bought them.
Live in the moment.  As stress negatively effects adults, it also negatively effects kids.  Kids are not worried about some future event, they are focused on what they are doing now. Join them by slowing down and enjoying the moment you are in and not worrying so much about what has to be done next week.
When you are with your children, be WITH your children.  Put down the I-pad. Turn off the ringer on your phone.  Don't jump up and check your emails every five minutes.  All your kids want is to spend time with you – not your gadgets.
Your children are not mini versions of you, an adult.  They are kids. Let them be kids.
Thank you for reading this post. Don't forget to subscribe! This way you never miss an update, travel deals, discounts and more!! Subscribe to the right------>
To your health,
Denise
Upcoming Trip?
I like to use Booking for booking not only my hotels, but my tickets and rental cars as well. Makes life so much easier with only having to log into one location for my information.
Be sure to grab my travel tips to save you time and money. You'll also be entered into the weekly drawings.
Register here: Get 100 Travel Tips EVERY traveler should know PLUS entered into the weekly drawing.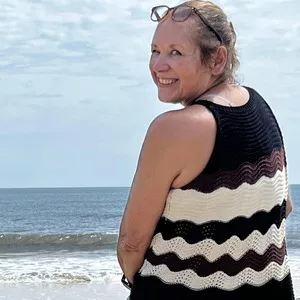 About Denise
Denise Sanger lives a life split between her love for fitness and her passion for travel particularly to the BEACH. Denise also has a love of marketing and lives in beautiful Suwannee County, Florida. You can find out more about Denise here: About Denise