Healthy Living: Why We ALL Need To Cross-train
This article may contain affiliate links. Whenever you buy something through one of these links, I may earn a small commission without any cost to you. I really appreciate it as it supports this site and my family. Thank you!
To cross-train or not to cross-train – that is the question.
Last Thursday, I had an absolute blast with the Suwannee High School Bulldogs Football Team. The team attended football camp held at Dog Pound Health and Fitness and I was blessed to be able to join them.
This is one amazing group of kids.  My fellow Zumba instructor, Dena Miller, and myself had smiles on our faces the whole time we did Zumba followed by yoga with this crew.  You may be wondering why a high school football team is doing Zumba or yoga and I have an answer for you. They have smart coaches that are cross-training the team for success on the field.
The secret to becoming better physically at any activity you may be doing? Cross-training.   Unfortunately for many athletes, they believe taking time to cross-train will hurt them on the field when actually the complete opposite would happen. They would IMPROVE on the field.
As cross-training helps athletes improve, it will do the same for you even if your activity is a walk in the morning, attending a fitness class three times a week or you are a weekend-warrior.
Thank you for reading this post. Don't forget to subscribe! This way you never miss an update, travel deals, discounts and more!! Subscribe to the right------>
Cross-training helps you:
Prevent overuse injuries.   When you train in ways that are different from what you normally do, you may prevent overuse injuries that come from using the same muscles and joints repeatedly. Back to running or walking. If you run or walk daily as exercise, your lower body continually moves in the same direction.  You need to add in strength training, yoga or another type of exercise to use your body in a way that is different from your normal activity to strengthen your muscles and joints.
Helps you come back from an injury faster.  This happened to me when I was training for the Marine Corps Marathon in that I injured my hip from the training schedule I was following. However temporarily backing off exercise and adding in rest, allowed me to return to my normal schedule quicker than many because I had been cross-training with my marathon training.
Change is good!  When we perform the same activity over and over, we tend to get bored. Cross training, especially in another sport, helps to keep injury AND boredom at bay. That is why I love triathlon.  I love to bike and swim. Running not so much.  Alternating between the three keeps me excited and on track. The same thing happens with my fitness classes.  Because I don't like to do the same thing over and over, I look forward to a different class every time I head to the gym whether I'm teaching or participating. Keeps things interesting along with helping to prevent injury.
You may be thinking cross-training does not apply to you but you would be wrong.  Whether you are training for a specific sport or you are a weekend warrior, I ask that you keep an open mind.  Think outside the box when it comes to the term cross-training.
If you normally run daily, try swimming.  You may be pleasantly surprised how much of a cardio workout you will still get with swimming but without the pounding on your joints. If biking is your thing, give kayaking a try.  You may find yourself a wee bit sore from the serious upper body workout.
Should you try cross-training? Absolutely! Change is GOOD and cross-training is great for your body! Have a wonderful week.
To your health,
Denise
p.s. PLEASE SHARE YOUR FAVORITE WAYS TO CROSS-TRAIN I AM ALWAYS LOOKING FOR NEW IDEAS.
Upcoming Trip?
I like to use Booking for booking not only my hotels, but my tickets and rental cars as well. Makes life so much easier with only having to log into one location for my information.
Be sure to grab my travel tips to save you time and money. You'll also be entered into the weekly drawings.
Register here: Get 100 Travel Tips EVERY traveler should know PLUS entered into the weekly drawing.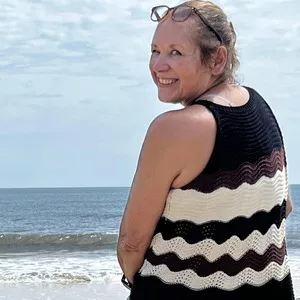 About Denise
Denise Sanger lives a life split between her love for fitness and her passion for travel particularly to the BEACH. Denise also has a love of marketing and lives in beautiful Suwannee County, Florida. You can find out more about Denise here: About Denise