Enjoy the journey to a healthier lifestyle.
This article may contain affiliate links. Whenever you buy something through one of these links, I may earn a small commission without any cost to you. I really appreciate it as it supports this site and my family. Thank you!
Why you should enjoy your journey to a healthier lifestyle.
This past 4th of July, my husband and I decided to hop into the car and take a drive over to Keaton Beach. Many folks have mentioned that it's one of the closest beaches so we thought we would check it out for ourselves. We are glad we did.




There were very few people there when we arrived so I was able to get some great photos and videos for my Beach Lovers community.  After spending a couple of hours on the beach and looking around the area, it was time to mosey back home.
Sometimes I wonder about how the GPS routes because we were on some serious back roads heading into Suwannee County. The good thing about visiting places you have never been before is that you find new places along the way.  
That's exactly what happened when we found Peacock Springs State Park. We spotted the sign, hit the brakes, made a right into the park in search of the springs. Well let me tell you, I should have been wearing my sports bra because the road into the springs was seriously bumpy.
Thank you for reading this post. Don't forget to subscribe! This way you never miss an update, travel deals, discounts and more!! Subscribe to the right------>
Around turn after turn, bumping along and right as we start to wonder where exactly we are going, we come to a clearing with a small parking lot.  What is that my eyes see? One of the most gorgeous springs I've yet to visit in Suwannee County.
Enjoying the springs that day was a small family and a few divers. I was surprised that this beautiful gem had less than 8 people there on the 4th of July.
This spur of the moment right turn got me to thinking about how living a healthy lifestyle is a journey. Yes there will be bumps in the road.  Yes there will be hard right and left turns. But the reward at the end will be worth all the ups and downs you'll experience along the way.
Small changes can add up to big results.  If you haven't started yet, here are a few tips to get you moving:
Set your date to start.  Some people like to start new things at the beginning of the week on a Monday – after all new day, new week. If that doesn't work for you, choose another day.
Focus on making one change a week.  As an example, the first week, focus on eating clean for 80% of your meals or that you will replace one beverage a day with water.  When the next week arrives, choose your next goal to focus on such as exercising three times a week.
Find a change of scenery.  As we did when we decided to take that right turn into Peacock Springs, choose another way to or from work, grocery store or any other errand you may run. Why? When we do the same things over and over, it becomes monotonous.  Something as simple as a change in what we see each week can be uplifting.
Get social.  No I don't mean jump on Facebook.  Get out there and meet new people. Try new things. No matter what your age, social activities not only keeps a smile on your face, it keeps your brain active.
If you make one healthy change each week, imagine how far along your healthy lifestyle journey you will be in one year. Remember, you CAN do it!
Have an amazing week.
To your health,
Denise
Upcoming Trip?
I like to use Booking for booking not only my hotels, but my tickets and rental cars as well. Makes life so much easier with only having to log into one location for my information.
Be sure to grab my travel tips to save you time and money. You'll also be entered into the weekly drawings.
Register here: Get 100 Travel Tips EVERY traveler should know PLUS entered into the weekly drawing.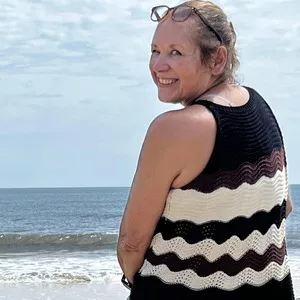 About Denise
Denise Sanger lives a life split between her love for fitness and her passion for travel particularly to the BEACH. Denise also has a love of marketing and lives in beautiful Suwannee County, Florida. You can find out more about Denise here: About Denise