Ultimate Guide to Ghost Tours in Orlando And Florida Paranormal Hotspots To Discover The Unknown
This article may contain affiliate links. Whenever you buy something through one of these links, I may earn a small commission without any cost to you. I really appreciate it as it supports this site and my family. Thank you!
I will NOT set foot in anything haunted. So you may be wondering why I'm writing about haunted places and Orlando Ghost Tours as well as haunted destinations throughout Florida right? 
The short answer. People have asked me about several of these places, so I did a little research. I have visited quite a few, but I have never stayed overnight in any of them. Nope. Nada. Not going to happen.
Flea Across Florida is a gigantic flea market along US 90 from Jacksonville to Pensacola. A few years back, my friend and I started in the center of the state in the little town of Live Oak. Jumped in the truck and headed west.
We knew we were going to pull off at some point to spend the night when she told me that she was going to book us at a haunted hotel. I looked at her like she had two heads.  
Thank you for reading this post. Don't forget to subscribe! This way you never miss an update, travel deals, discounts and more!! Subscribe to the right------>
That got me to check into how many haunted places there are in Florida. The answer is a lot including quite a few ghost tours in Orlando in the center of the state.
Don't have time to read the whole article? Check for updated information and tours here: Orlando Ghost Tours
There are quite a few haunted cities located throughout Florida which makes sense if you think about it. Several of these cities are among those that are the oldest in the country.
Even though I refuse to stay in a haunted anything anywhere in the United States or throughout the world, I kept a list of the top haunted places in Florida including Orlando.  
Starting with ghost tours in Orlando and the Central Florida area then branching out from there.
Orlando Ghost Tours
Orlando is a city with some spooky history. If you're looking for a fright, then a ghost tour is the perfect way to explore the city's dark side.
These are the top ghost tours you will want to visit in the Orlando area:
American Ghost Adventures
Starting with the American Ghost Adventures ghost tour – one of the hot spots or should I say haunted spots you will want to visit.
It is the longest-running ghost tour in Orlando, and it is open year-round not just during spooky season. 
You have your pick of ghost tours including walking tours, bus tours, and even a haunted pub crawl. Their guides are experienced paranormal investigators who will share their knowledge of the city's haunted history.
This ghost tour is ranked in the top 10 around the world and top 5 in the USA. These guided tours are either 2 hours or 4 hours long.
These tours also include a history of Orlando haunts, haunting stories, and the equipment you will need to hunt inside a haunted building.
They offer different locations, but the location in downtown Orlando is the one open year-round. This is not a haunted house but a legit ghost tour.
While they cannot guarantee you will interact with the ghosts of Orlando, many who have enjoyed this tour say they did indeed hear knocking or feel movements. 
Check current rates and availability here: American Ghost Adventure Tours
US Ghost Adventures
Orlando Haunts: Ghouls and Ghosts Tour
US Ghost Adventures offers ghost tours throughout the USA which includes Orlando tours. The interactive tours include first-hand ghost stories and tours at Old Orlando Railroad Depot and Strand Hotel, Cheyenne Saloon, and the Rodgers Building.
The old train depot was built in 1899 and this public transportation system brought in a lot of foot traffic to this area. It has had many different occupants throughout Orlando's history from department stores to restaurants to a gas and electric company.
Cheyenne Saloon is a hotspot in Orlando, but it's after hours that things start to heat up. Folks who have reported seeing the ghosts say they seem to be friendly.
Finally, the Rodgers Building. This historic building is a famous landmark with a haunted past. A beautiful Victorian-inspired building constructed more than 130 years ago in the heart of Orlando by Gordon Rogers.
This building is easily recognized by its bright colors and is still in use today. It is business as usual during the day but at night, it is reported that spirits visit the Clubhouse including Gordon Rogers' wife.
Orlando was settled quickly when Walt Disney arrived in town and built one of many theme parks but before that time, the underground tunnels held secret societies and murderers.
US Ghost Adventures guides you through the history. There are also reports of UFO sightings that are talked about during the tour. You will want to visit all three of these tours with US Ghost Adventures.
Check current rates and availability here: Orlando Haunts Ghouls and Ghosts Tour
Mickey Mouse and Walt Disney World's Not-So-Scary Halloween Party
Traveling with kids but want to still celebrate a little bit of Spooky Season? Disney is your destination. Yes, Disney may be the happiest place on earth, but they get into the spirit when Halloween rolls around.
From Cinderella's castle to the haunted mansion, Disney pulls out all the stops for a different perspective on Halloween. Rumor has it that the hatbox ghost will be arriving sometime this year before October 31st.
Keep in mind, that these are often also rides in Magic Kingdom. If you have heart problems or back problems, you may want to skip the ride portion of the attraction.
The best thing to do, honestly, is staying at a Disney resort. This gives you access to many things you won't get off site. Get current rates and availability for resorts here: Disney Resort
Maitland Ghost Tours
J. André Smith's black & white etching of the Haunted House was part of his estate, and today you can purchase it as a print.
He was traveling to Miami when he made a stop in Maitland and loved it so much, that he would build a house and studio on the property. 
Today it is the Maitland Art Center. American Ghost Adventures previously offered tours of the Maitland Art Center and the Haunted Waterhouse. I am not seeing anything for this year but will work to get more information.
The downtown tour meets near the Church Street Station in the downtown area.
Check current rates and availability here: American Ghost Adventure Tours
Mount Dora Ghost Tours
Beautiful, old town Mount Dora has a spooky side as well. American Ghost Tours also offers guided tours in this town.
You have several options with knowledgeable tour operators to choose from including:
2-hour interactive ghost tour of the Mount Dora Lakeside Inn where you will be provided with EMF detectors to help detect paranormal activity.
Mount Dora Express walking tour where you can explore the history of the city.
4-hour Ultimate Ghost Tour which allows you 4 hours to explore the Mount Dora Lakeside Inn.
3-hour Pub Tour also in the lobby of the Lakeside Inn.
Plenty of haunted tours to choose from. Tours operate rain or shine so be prepared. Also, some of these tours require a minimum number of travelers in the tour group. 
Check current rates and availability here: American Ghost Adventure Tours
​Sanford Ghost Tours
Near Orlando in the heart of downtown Sanford, will guide you through the various haunted houses and buildings in the city. The historic ghost walking tour is about 1.5 hours long and ends at a haunted building.
This ghost tour explores the streets of downtown Sanford daily with knowledgeable guides. In good weather be sure to bring a bottle of water to stay hydrated. In poor weather such as rain, the tour will continue, but you will need to bring an umbrella.
Check current rates and availability here: Sanford Ghost Tours
Other Haunted Ghost Tours throughout Florida
St. Augustine Lighthouse. Now you know I've been to this lighthouse BUT I've not been inside for one reason or another. It seems every time I've tried to go inside it was closed. Probably a good thing I didn't either.
I pick up vibes when I'm in places that are haunted which is probably why I don't like to be near them. St. Augustine was founded in 1565, so you know it's full of history and several haunted places.
The lighthouse is the most well so if you're in one of my favorite cities –  St. Augustine – be sure you go check it out!
This is not on my list of things to do any time soon in my top 5 things to do in St. Augustine though. I told you I'm scared!
Check current rates and tours here: Paranormal Encounter in St. Augustine
Biltmore Hotel, Coral Gables.  Heading south toward Miami, you'll find the little city of Coral Gables. It's very pretty in Coral Gables so definitely worth the visit.
The Biltmore was built in 1926 and is really a massive hotel.  It is located at 1200 Anastasia Ave, Coral Gables, FL 33134.  
From celebrities to the mafia, many have stayed in this hotel over the years. It's reported that lights will turn on and off, elevators will take you to the wrong floor, and you'll find messages written on the bathroom mirrors.
Um. No, thanks, but you can get hotel information here:  Biltmore Hotel.
Robert the Haunted Doll, Fort East Martello Museum, Key West.  Built during the Civil War, this building is on the National Register of Historic Places.  
Also home to Robert The Haunted Doll thought to be the creepiest of all dolls. It is said to not take a picture of Robert, or you'll have years of bad luck. Enough said for me. No selfies with Robert. Noted.
Get information and rates here: Key West Haunting Tours
The Devil's Tree, Oak Hammock Park, Port St. Lucie.  Heading over to the West Coast and the little town of Port St. Lucie, you'll find Devil's Tree.  
Back in the 70s, this was the site of several horrific murders and is today believed to be possessed by evil spirits.  Visitors have claimed to see ghosts on the tree and other rituals being performed at this site.
You can also enjoy a Zombie Scavenger Hunt while in town. Get current rates and information here: Zombie Scavenger Hunt
These links will help you plan your Orlando Ghost Tours Adventures
Upcoming Trip?
I like to use Booking for booking not only my hotels, but my tickets and rental cars as well. Makes life so much easier with only having to log into one location for my information.
Be sure to grab my travel tips to save you time and money. You'll also be entered into the weekly drawings.
Register here: Get 100 Travel Tips EVERY traveler should know PLUS entered into the weekly drawing.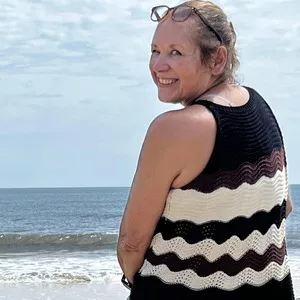 About Denise
Denise Sanger lives a life split between her love for fitness and her passion for travel particularly to the BEACH. Denise also has a love of marketing and lives in beautiful Suwannee County, Florida. You can find out more about Denise here: About Denise