Love To Be Scared? Ghostly Encounters Plus The Haunted Asylum In Florida
This article may contain affiliate links. Whenever you buy something through one of these links, I may earn a small commission without any cost to you. I really appreciate it as it supports this site and my family. Thank you!
Are you ready? Brace yourself for a spine-tingling experience! You are in the right place. In this article, we will first dig into the haunted asylum in Florida as well as other scary places that ghost hunters love to visit.
From a haunted hospital to the Biltmore Hotel. From the St. Augustine Lighthouse to haunted theaters and more. The Sunshine State has some of the scariest experiences of your life as well as white sandy beaches.
We are going to start with the Asylum Haunted Hospital in Ocoee, Florida. It is showing closed today, but the history is too good not to at least mention in this article. I do have a call-out to see if in fact it is permanently closed to all visitors.
This is one creepy location that is known for ghost stories. Ghostly encounters have left visitors literally shaking in their boots.
Thank you for reading this post. Don't forget to subscribe! This way you never miss an update, travel deals, discounts and more!! Subscribe to the right------>
Let's start with the history of this psychiatric hospital. Also in this article, will be the top-haunted destinations to visit in Florida as well as information for planning your spooky visit at the end.
Check rates & current availability for the tours here: Ghostly Tours
The History of the Haunted Asylum in Ocoee.
The haunted asylum in Florida has quite a scary, dark history along with its eerie reputation. This insane asylum was built in the 1800s and intended to provide care for the mentally ill.
However, over the years, reports of mistreatment and neglect began to surface in this hospital and many mental institutions throughout the United States including the haunted asylum in Florida.
Patients with mental illnesses were subjected to inhumane conditions and experimental treatments. This led to high mortality rates at the asylum. As the years went on, the building fell into disrepair and was eventually abandoned. 
Check rates & current availability for the tours here: Ghostly Tours
Ghostly Encounters: Personal Stories and Testimonials.
Many visitors to the haunted asylum in Florida have reported paranormal activity when visiting. They heard voices, saw shadowy figures, and felt cold spots throughout the building.
Some have even reported being touched or pushed by unseen forces. These stories make you wonder what happened in the hospital's small rooms.
Paranormal Investigations: What Experts Have Discovered.
Many paranormal investigators have explored in depth this haunted asylum in Florida plus many others in the country. They have used various tools and techniques to try and capture evidence of the supernatural.
Some of the findings include EVP (Electronic Voice Phenomenon) recordings, where voices and sounds not audible to the human ear are captured on audio devices.
Other investigators have captured strange orbs of light or shadowy figures on camera. Many do not believe these urban legends, but those on these ghost tours say their experiences are quite real. 
Check rates & current availability for the tours here: Ghostly Tours
Other asylums said to be haunted include Danvers State Hospital in Massachusetts; the Trans-Allegheny Lunatic Asylum in West Virginia; Rolling Hills Asylum located in New York.
Outside the USA, the Old Changi Hospital in Singapore, Severalls Hospital located in the United Kingdom; Whittingham Hospital also located in the UK and the Tranquille Sanatorium which is located in Canada.
In addition to the Haunted Asylum in Florida located in Ocoee mentioned above, I have found several other locations throughout the state to put on your list.
St. Augustine Lighthouse.
The nation's oldest city also has its share of haunted houses, mansions, cemeteries, and more. Considered one of the most haunted buildings in St. Augustine, is the famous St. Augustine Lighthouse.
This lighthouse has a tragic history. Built in 1874, the lighthouse has witnessed the deaths of several keepers and their families, adding to its reputation as a haunted attraction and paranormal destination.
Check rates & current availability for the tours here: Ghostly Tours
This lighthouse has stood as a beacon to guide sailors since 1824. Over time, it has become a popular tourist attraction for visitors seeking spine-tingling experiences.
There are many stories of unexplained occurrences within the lighthouse's walls that captivate not only paranormal experts but those looking for a good scare The lighthouse was placed on the national register of historic places in 1981 which allowed restoration of the building to begin.
History tells us that the lighthouse light was relit after the Civil War but work needed to be done on the land and the tower before it could be completely functional. Superintendent of Lighthouse Construction, Hezekiah Pittee, moved his family from Maine to Florida to oversee the construction.
His three daughters along with the children of other workers would play on the construction site. One day as they were riding in the supply cart as they often did, the board that would usually stop the cart rolling into the water was not in place.
The three girls as well as an unknown black girl also playing with them, rolled in the water with the railway cart on top of them. 
Check rates & current availability for the tours here: Ghostly Tours
A worker, seeing what happened, was able to get the cart off of the four girls but by that time, three of the girls had drowned. The only surviving girl was Pittee's youngest Carrie, who was four.
Since that time, many strange occurrences started happening and continue happening to this day. If you would like to experience everything this spooky sight has to give, I recommend you book a tour especially if you will be in St. Augustine during the Halloween season. My favorite for the city is: Haunted Trolley Tour of St Augustine
To see the lighthouse by water, this tour is outstanding: Sunset Cruise of St. Augustine
Royal Hope Hospital/Spanish Military Hospital
Also in St. Augustine, Royal Hope Hospital also known as the Spanish Military Hospital has quite an interesting and scary past.
This hospital was originally known as Our Lady of Guadalupe and treated while they treated soldiers, they also experimented on them with new, unproven techniques.
It was demolished in the early 1800s after serving as a military hospital for 40 years. Served by this hospital were casualties from Seminole wars as well as many other battles.
On The Travel Channel, there were reports of people marching down the hallways. Perhaps ghosts of soldiers who served in the military.
Beneath the hospital, they found thousands of bones. Human bones. Originally no one knew who or where these bones were from, but it was later discovered it had been another Indian tribe that was killed by the Timucuan tribe.
On top of that, there was another burial discovered at what today is the Fountain of Youth which was later confirmed to be the burial ground of the Timucuan tribe.
Check rates & current availability for the tours here: Ghostly Tours
When visitors today visit the "mourning room", the room people would when someone passed, they are said to hear screams and moans.
Spanish Military Hospital Museum is a replica of the hospital that once stood on these grounds. Rumors started when the workers tore down the old building and also when breaking ground for the new location.
St. Augustine Old Jail
It should not come as a surprise how many places are said to be haunted in St. Augustine. The Old Jail, which today is a museum, is one of these.
It, too, is listed on the National Registry of Historic Places. Many scary events have been reported including orbs, cold spots, barking dogs, strange smells, banging noises as well as laughing and sobbing sounds.
This is another great tour to take for those that like to walk: Check rates & current availability here: Ghost Tour of St. Augustine: The Original Haunted History Tour
Sunland Hospital
Moving to the center of the Sunshine State, Sunland Hospital in Orlando was the largest mental hospital treating as well as treating for tuberculosis that opened throughout the state in the early 1950s.
The hospital treated tuberculosis patients as well as suffering from mental health disabilities. Unfortunately, as years passed, the hospital was found to be mistreating patients in horrid conditions as well as performing medical experiments on them as well.
After closing its doors in the 1980s, the abandoned hospital quickly became the source of many urban legends as well as an attraction for those fascinated by the reported mysterious voices and dark shadows that reportedly lie there today.
Many of the children that died while in the hospital are buried in Greenwood Cemetery. Most in the section called Babyland which was for children under the age of 5.
Greenwood Cemetery is another very haunted destination. You will notice when you look at the children's graves, there is only one day. Many were born and died on the same day.
Check rates & current availability for the tours here: Ghostly Tours
The original building was demolished in 1999, leaving the old administration building. The former site of the hospital is now a playground, and it said that you can hear the spirits of the children that once resided in one of the most haunted locations in the state.
In total, Sunland and the Sunland Training Centers would operate several locations throughout the state of Florida. As more became known about mental illness, the inhumane treatment of patients would no longer be tolerated. Today only the Marianna Sunland continues to carry the Sunland name.
For an in depth tour of Orlando haunted locations, I recommend: "Let's Have a Spooky Time in Orlando" Tour
The Haunted Cuban Club
The Cuban Club built in the early 1900s, was the town of Ybor City's hangout destination. In this building, you were able to find medical services, a bowling alley, theater, gym and pool.
Today it is one of the top 10 haunted buildings in the country. The Cuban Club provided many memories for many folks. Folks that have since gone on but are said to have an attachment to this building.
There were also several deaths in this building including that of an actor that committed suicide on stage, a board member that was shot during an argument, and a young boy, 8 years old that drowned in the pool.
Jimmy, the young boy who died, is said to communicate with visitors through flashlights turning on and off. When you visit, let me know if he communicates with you too.
Check rates & current availability to see this haunted house here: The OFFICIAL Ybor City Ghost Tour
Villa Paula, Miami
Meanwhile in South Florida, Villa Paula, tells stories of Cuban spies and more. Built-in 1926, it is the only Cuban Consulate in the United States and is one of very few houses on the register of historic places.
This beautiful building was set to be demolished in the 1970s as it was in disrepair, graffiti written all over the beautiful building and its stained-glass windows blown out by gunshots. It also was said to be haunted by a Cuban woman with one leg.
Truly a beautiful home well before its time as it was built in an agricultural community. After Cuban consul Domingo Milord moved into the home, his wife died from – you guessed it – complications related to her leg amputation.
Villa Paula stopped serving in a formal capacity when tensions began with the Cuban government. Luckily Cliff Ensor bought Villa Paula in 1974 and began to bring the home back to its glory.
He is also the one that began to relay stories of strange happenings inside the home including seeing a woman with one leg floating down the hallways. He also reports smelling coffee brewing, smelling roses where there are none, hearing music playing and high heels clacking on the back porch.
In addition, he reports dishes being thrown to the floor as well as a chandelier mysteriously crashing to the ground. A gate would close on its own ad would kill all three of Ensor's cats.
It would later be found that Villa Paula was not Miami's first Cuban Consulate. It would be noted that was actually Watson Building that has since been demolished.
Check rates & current availability to see this tour here: Miami Haunts
Pensacola Lighthouse
St. Augustine Lighthouse is not the only lighthouse haunted in Florida. Over on the Florida Panhandle, the Pensacola Lighthouse waits for you to visit.
This lighthouse sits at the entrance to the Pensacola Bay. It is said to be haunted by six spirits, one of which was Ellen Mueller who grew up in the area. It is said she died during childbirth and bled to death in a room in the lighthouse.
In the basement of the lighthouse, the spirits of Thomas and Raymond, runaway slaves, were said to be hanged and buried on the property.
Lizzy and Joey, two children that also lived on the property died from yellow fever. It is said they wander all over the property and will give you quite a scare.
Check rates & current availability here: Ghosts and Graveyard Tour of Pensacola
Tampa Theatre
There are several locations in Tampa said to be haunted but none like the Tampa Theatre. From a chain-smoking projectionist to a mystery ghost known simply as fedora man," be ready for a thrill when you visit.
Employees have reported seeing smoke coming from a room in the theater, but when check the room would be empty. Rosa Rio, a gifted musician who would play the organ in theater, passed away in 2010, but visitors say more than once they have heard organ music playing but no one is at the keyboard.
Definitely visit this haunted building in Tampa when in town. Check rates & current availability here: The Official Downtown Tampa Ghost Tour
Key West
And this list would not be complete without Key West, home to some of the country's most haunted hotels. You can actually book a room in these hotels today including the first luxury hotel La Concha Hotel that sits right on Duval Street.
This hotel stands today and is known by locals for the many deaths and suicides that occurred in the building. Guests have reported seeing a shadowy figure that likes to snatch drinks from guest's hands to a staff member that accidentally backed into an open elevator door resulting in his instant death.
These are the suggested haunted Key West hotels that you can stay in today in order from 1 through 4 – if you dare:
Check rates & current availability for Curry Mansion Inn here: Curry Mansion Inn
Check rates & current availability for Marrero's Guest Mansion here: Marrero's Guest Mansion BNB
Check rates & current availability for Artist House here: Artist House
Check rates & current availability for La Concha Hotel here: Crowne Plaza Key West-La Concha
Other helpful information for planning your spooky visit
Upcoming Trip?
I like to use Booking for booking not only my hotels, but my tickets and rental cars as well. Makes life so much easier with only having to log into one location for my information.
Be sure to grab my travel tips to save you time and money. You'll also be entered into the weekly drawings.
Register here: Get 100 Travel Tips EVERY traveler should know PLUS entered into the weekly drawing.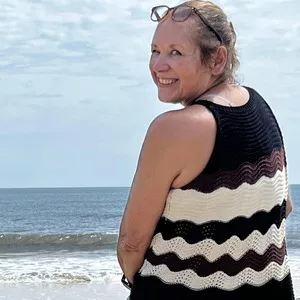 About Denise
Denise Sanger lives a life split between her love for fitness and her passion for travel particularly to the BEACH. Denise also has a love of marketing and lives in beautiful Suwannee County, Florida. You can find out more about Denise here: About Denise