How To Get Paid To Travel
This article may contain affiliate links. Whenever you buy something through one of these links, I may earn a small commission without any cost to you. I really appreciate it as it supports this site and my family. Thank you!
One of the best decisions I have EVER made was to make travel – especially beach travel – a priority in my life. I'm a much calmer, more zen girl when I see the waves hitting the shore.

I know you're thinking that's nice Denise. You can afford to travel but I can't. But let me tell you it wasn't always this way. There were years that would go by where I didn't take a vacation that meant leaving my house. Most of my time was spent earning a living to take care of my family. Vacation days? Those were used to take care of my girls when they would become ill.

About 25 years ago, I decided enough. I was going to make sure I traveled somewhere out of my state at least once a year and made it to the beach at least every 3 months or so. And I have met this goal tenfold every year since.
Yes the beach part was easier for me because when I made this decision, I was already living in south Florida – near Hollywood Beach. But you know as well as I do that if I didn't MAKE it happen – literally packing up the girls and driving to the beach – I wouldn't GET to the beach. And you won't either until you MAKE it happen.

It's easy to SAY you're going to do something. What's not as easy? DOING IT. Can I get an amen here? As we head into a new decade – can you believe it's going to be 2020 – it's time for us all to take a moment to reflect and CHANGE what we want to be different in the New Year.

If travel is one of the things you want to make a priority in your life, let me help you. First get out your calendar and pick a weekend that you are going to take off and go somewhere. ANYWHERE. It may not be the beach. It may not involve leaving your city. What it will involve is you picking the weekend and taking the time OFF.

After you've picked the weekend, decide where you'll go. If you are able to spend the night away, book your hotel. If your budget is a little tighter, decide where you'll go for the day. As an example, my mom is here until end the March. She's a snowbird from Ohio. With my crazy schedule, it's hard to take a week off right now between my fitness clients and my marketing business. But what I can do is take a weekend break and that is exactly what we're doing the MLK holiday weekend and it's already jotted in pen on my calendar. We are heading to Amelia Island (if you haven't read about my last trip to this beautiful island, here it is: 8 best things to do at Amelia Island Florida)

I'm looking forward to spending Saturday out and about on the island and waking up to the sound of the waves hitting the shore Sunday morning before having breakfast and heading home. Just what the doctor ordered.

Finally, if you'd like to travel more often like I do, consider doing what I do – travel writing. It literally pays for ALL my vacations and many are comped by the hotels/resorts I stay at. What is better than paying nothing for a week at the beach? I can't recommend this course enough for those that truly want to pay for some or ALL of their travel and vacations as I do: How to get Paid to Travel The World

Make this your year to travel – AND get paid to do it. Grab this course on sale via my link here: How To Get Paid To Travel The World.

Chat soon!
Denise "The Beach Lover" Sanger
Upcoming Trip?
I like to use Booking for booking not only my hotels, but my tickets and rental cars as well. Makes life so much easier with only having to log into one location for my information.
Be sure to grab my travel tips to save you time and money. You'll also be entered into the weekly drawings.
Register here: Get 100 Travel Tips EVERY traveler should know PLUS entered into the weekly drawing.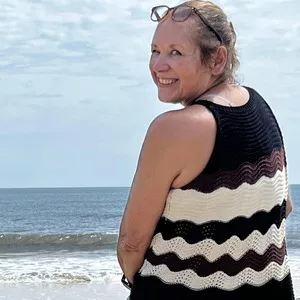 About Denise
Denise Sanger lives a life split between her love for fitness and her passion for travel particularly to the BEACH. Denise also has a love of marketing and lives in beautiful Suwannee County, Florida. You can find out more about Denise here: About Denise