Must Have Beach Essentials For A Girls Trip
This article may contain affiliate links. Whenever you buy something through one of these links, I may earn a small commission without any cost to you. I really appreciate it as it supports this site and my family. Thank you!
I will go to the beach with ANYONE that wants to go. Say the word. But there is something special about girls beach vacations. My BFF and I have been hitting the beach since our late teens starting with Edgewater Beach and Huntington Beach both on Lake Erie in Cleveland,Ohio.
Girls beach trips – or girls trips in general – are all about letting our hair down and having fun. No worries about the hubby or kiddos and simply enjoying much needed girls time. So that your next girls trip is easy breezy like my last trip with my BFF (see pic to the right), I've jotted down a beach essentials to be sure to pack in your beach bag.
At this point in our lives, we've raised our families and have taken many family beach trips. It's time for us to have some downtime. So when we plan our beach trips, we're focused on catching up and relaxing. In our beach bags are (Click here for my: Top 3 Beach Bags):
Sunblock. I used to be a Hawaiian Tropic kind of gal but my favorite these days is Sun Bum. Paraben free and cruelty free which is important to me. AND it stays on.
Big old sun hat. I like the floppy cotton ones that can get crushed in my suitcase and still be ready to go with a good shake like the one to the right.
Sunglasses. In my case, I pack my prescription sunglasses so I can see the waves. If you don't have that problem, grab as many cute sunglasses as you can find and toss them in your bag.
Super cute beach cover-up. I have both a Boho inspired tunic AND black sarong that I toss into my bag to switch things up.
Super cute flip flops. You know my go to are Haivanas. I have four pairs now and love the first pair as much as the last pair. And they will last forever!
Kindle or a good book. To me, there is nothing better than wave and people watching while lying on the beach. When I start to feel like dozing, I usually grab my Kindle and read a bit. I soon find that I've dozed off and wake refreshed and ready for the rest of the day.
And most important? A super cute beach bag. This one right now is my favorite: Womens Travel Overnight Beach Bag – see below. Perfect for the beach AND easy to slip over my luggage when traveling. Big enough to put EVERYTHING on the list above in too.
There you have it. My MUST HAVE beach essentials for a girls trip to the beach. As far as what's in our luggage? That's fairly simple: toiletries, cute sundresses, shorts, tees, tanks and of course several swimsuits, undies and MINIMAL make-up. I'll write about that next but everything goes into one easy to carry travel bag. After all, it's not about looking like a celebrity, it's about having a fantastic time with your girls.
Thank you for reading this post. Don't forget to subscribe! This way you never miss an update, travel deals, discounts and more!! Subscribe to the right------>
Chat soon friends,
Denise "the Beach Lover"
Upcoming Trip?
I like to use Booking for booking not only my hotels, but my tickets and rental cars as well. Makes life so much easier with only having to log into one location for my information.
Be sure to grab my travel tips to save you time and money. You'll also be entered into the weekly drawings.
Register here: Get 100 Travel Tips EVERY traveler should know PLUS entered into the weekly drawing.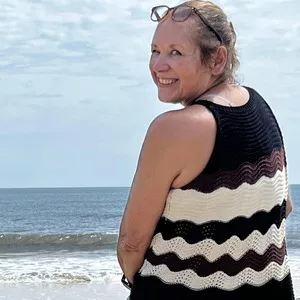 About Denise
Denise Sanger lives a life split between her love for fitness and her passion for travel particularly to the BEACH. Denise also has a love of marketing and lives in beautiful Suwannee County, Florida. You can find out more about Denise here: About Denise