Hidden Places In Jacksonville Florida You Must Visit
This article may contain affiliate links. Whenever you buy something through one of these links, I may earn a small commission without any cost to you. I really appreciate it as it supports this site and my family. Thank you!
Just returned from a wonderful day road trip visiting hidden places in Jacksonville most people do not know about. This is one of the main reason I love to take back roads when traveling.
If you are planning a trip to Jacksonville, Florida, you may want to venture off the beaten path like I do and discover some hidden gems.
From secluded beaches to unique museums, there are plenty of secret spots and activities to explore in this vibrant city.
This guide will help you uncover the best hidden treasures that Jacksonville has to offer. At the bottom of this guide, I have also included links to other attractions near Jacksonville.
Thank you for reading this post. Don't forget to subscribe! This way you never miss an update, travel deals, discounts and more!! Subscribe to the right------>
Visit Boneyard Beach And Black Rock Beach
You know about Jacksonville Beaches, but all beach lovers must make the time to visit Boneyard Beach and Black Rock Beach. (NOTE: Cover photo is Black Rock Beach. Photo Credit to my brother. D. Shroka)
The beauty of these beaches are they not like white sand beaches everyone flocks too. They're better.
Boneyard Beach, located on Big Talbot Island, is known for its eerie beauty with driftwood and fallen trees scattered along the shore.
Black Rock Beach, located on Little Talbot Island, is a secluded beach with black rocks and stunning views of the Atlantic Ocean.
Both beaches offer a peaceful escape from the crowds and are perfect for a relaxing day in nature.
If you are driving north on A1A from Jacksonville, you will arrive first on Little Talbot Island then the next island is Big Talbot Island.
Explore the Kingsley Plantation And Fort George Island
Truly a step back in time with your first glimpse of this magnificent plantation. Unfortunately, the history of the plantation is based on slavery.
The Kingsley Plantation is a historic site located on Fort George Island in Jacksonville. It was once a thriving plantation and home to Zephaniah Kingsley, a slave trader and owner who married a former slave and granted her freedom.
Today, visitors can tour the plantation and learn about its history, including the lives of the enslaved people who lived and worked there.
The site features a trail that is near the still standing slave quarters made of coquina shells. It also features a scenic nature trail and beautiful views of the St. Johns River.
The Kingsley Plantation is part of the National Park Service. You will find at 11676 Palmetto Ave, Jacksonville, FL 32226.
Treaty Oak Tree
Jacksonville's oldest resident hidden downtown. People driving by probably do not pay any attention to this park with this magnificent tree.
The Treaty Oak Tree is a hidden gem in Jacksonville, Florida. This majestic tree is estimated to be over 250 years old and is considered a symbol of peace and unity.
Legend has it that in 1937, a man attempted to poison the tree, but it survived and has since been a beloved landmark in the city. Visitors can take a stroll around the tree and enjoy a picnic in the nearby park.
You will find this sprawling Oak Tree at 1207 Prudential Dr, Jacksonville, FL 32207
Underground Tunnel Tour
If you're looking for a unique and off-the-beaten-path activity in Jacksonville, consider taking the Underground Tunnel Tour.
This tour takes you beneath the city streets to explore the historic tunnels used to house bank vaults and connect downtown Jacksonville. You cannot access these on the weekend.
The best way to see these tunnels is by taking a walking tour where you'll learn about the city's fascinating past and see some of the original artifacts from the era.
The tunnels are under several bank buildings but Atlantic National Bank is usually where the tours begin. It is located at 121 West Forsyth Street.
Other buildings with vaults and tunnels underground include the Marble Bank Building as well as the Barnett Building.
Art Sculptures Throughout The City Giant Human Head Sculpture
Another hidden gem in Jacksonville is the giant human head sculpture located in Hemming Park. This impressive art installation is over 30 feet tall and is a must-see for any art lover visiting the city.
More a curiosity it is something to see and get a pic with. Sadly it's been vandalized with graffiti as well as damage to the sculpture itself.
The Giant Head is located in a pretty park with an area for children to play, a fountain, and men playing chess, checkers or dominoes. There are other sculptures and cool paintings around the park.
The park is located at 117 W Duval St, Jacksonville, FL.
Craft Breweries To Visit
Honestly? I'm not sure how many craft breweries there are in Jacksonville. Someone mentioned 30 but I'm not certain.
I have visited several located throughout the city and on the beaches. This visit we were at Ruby Beach Brewery as well as Ink Factory Brewing. Loved both of them.
I love to try several of the beers so usually order a flight which are small glasses and usually of four beers.
Diners Dives & Drive-Ins, Guy Fieri And Food Network
Foodie? Then you will definitely want to hit Maple Street Biscuit Company. Featured on the Food Network, this out of this world, ooey gooey deliciousness has several restaurants in/around Jacksonville and a total close to 30 restaurants.
Guy Fieri of Diners Dives & Drive-Ins has visited several spots in Jacksonville. Put these on your list as must visit: Culhane's Irish Pub in Atlantic Beach, Singleton's Seafood Shack in Mayport, The Sun Dog in Neptune Beach, The Fox in Avondale, and Blackwater Grill and Southern Soul restaurants on St. Simons Island, Ga.
Sweet Pete's Candy Shop
And wrapping up the list, cannot forget those with a sweet tooth. Sweet Pete's is a must-visit candy store which has a restaurant included.
Fizzies & Faires offers breakfast, brunch, burgers and more in a very fun environment. Kids love this place!
And let's not forget the handmade chocolates, ice cream, and other treats that provide you with such a sweet welcoming smell as you enter the shop.
This is near the park and Human Head Sculpture I mentioned above, so you can tick two off your list at the same time.
Slowing down and enjoying your trips and travels makes it that much more memorable.
Be sure to bookmark this page as well as the Back Roads Travel Section as I will be adding additional hidden gems in cities not only in Florida but throughout the country that will you want to make time to visit.
Upcoming Trip?
I like to use Booking for booking not only my hotels, but my tickets and rental cars as well. Makes life so much easier with only having to log into one location for my information.
Be sure to grab my travel tips to save you time and money. You'll also be entered into the weekly drawings.
Register here: Get 100 Travel Tips EVERY traveler should know PLUS entered into the weekly drawing.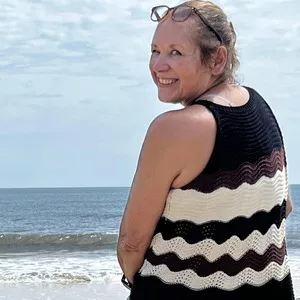 About Denise
Denise Sanger lives a life split between her love for fitness and her passion for travel particularly to the BEACH. Denise also has a love of marketing and lives in beautiful Suwannee County, Florida. You can find out more about Denise here: About Denise