Best Florida Beaches in April for Spring Break this year.
This article may contain affiliate links. Whenever you buy something through one of these links, I may earn a small commission without any cost to you. I really appreciate it as it supports this site and my family. Thank you!
Enjoy a stop at one of Florida's beautiful Beaches for Spring Break this year.
Spring in Florida is one of my favorite times of year and the best Florida beaches to visit in April range from the Panhandle to the Florida Keys.
We all love beach vacations, but there truly is so much to explore in all parts of Florida you should take advantage of.
Florida is not only beach vacations it's a great place to get outside to view the native wildlife as well as other sports and activities.
The wild and wonderful swamps including the Florida Everglades and Everglades National Park as well crystal clear springs to snorkel are equally amazing as the beautiful beaches the Sunshine State has to offer.
Thank you for reading this post. Don't forget to subscribe! This way you never miss an update, travel deals, discounts and more!! Subscribe to the right------>
If you're thinking about a vacation in Spring, April is a great month to shoot for. Most of the State of Florida will have an average temperature for daytime in the upper 70s to low 80s.
Water temperature though will range in the 60s to 70s depending on where in the state you are visiting.
Even though that may sound chilly, Florida is still generally warmer than most of the United States at this time of year.
From the Gulf Coast to the Atlantic Coast. North Florida to the southernmost point of Key West, there is something for everyone which is why you will find the best Florida Beaches in April for Spring Break this year.
April a great time to visit the state and enjoy not only the gorgeous beaches but everything else as well.
Options. One thing that makes Florida one of the best places for vacations are the options you have to choose from. Below I break it down by location to make it easier for you to see what works best for you.
Florida Panhandle.
I'm a north central Florida girl living in the rural country, but my favorite jaunt by far is to head west over to the Florida Panhandle for some much needed R&R. These are some of the best beaches in the world!
The best Florida beaches to visit in April in this area are first my favorite which is Panama City Beach, but nearby Destin along with Santa Rosa Beach, Rosemary Beach, Fort Walton Beach and Pensacola Beach are all great options for an April Beach Vacation.
There are few crowds on the Panhandle during spring. This part of the Gulf of Mexico is chillier than the rest of the state. But don't let that stop you from visiting the white sand beaches and emerald water.
Take time and venture away from the beach and explore the many Florida State Parks especially Florida Caverns State Park. You can see pics from my trip there this year here: Florida Caverns State Park Marianna
North Central Florida.
These are my stomping grounds and most well known for the crystal clear springs of Little River Spring, Royal Springs, and especially Itchetucknee Springs. Our northern friends will find the year round temp of the springs at 72 degrees absolutely balmy.
For us Floridians, we wait til summer to hit the springs for tubing and swimming. There is plenty to see and do in the inland areas of Florida. Gainesville to the east and Tallahassee to the west makes it an easy day trip for exploring.
North Central Florida is also a great pic for those that like to enjoy outdoor activities on vacation. Explore this area by hiking, kayaking, paddleboarding biking, boating and more. Many of the state parks have camping available as well as several private campgrounds.
Closest and best beaches to this area are Keaton Beach and Cedar Key both with Old Florida vibes.
Northeast and East Central Florida.
Fewer crowds make this area the best Florida beaches in April for Spring Break this year. In this area there is quite a lot to do in both Jacksonville and St. Augustine.
Also most spring breakers choose the warmer areas of the state like South Florida or the Panhandle area of Panama City Beach.
That leaves the northeast section on the Atlantic Ocean for those that prefer few crowds.
While you are in the area, be sure to visit Amelia Island with Fernandina Beach, Ponte Vedra Beach, St. Augustine Beach as well as these fantastic beaches right in Jacksonville, Jacksonville Beach, Neptune Beach, Mayport Beach and Atlantic Beach.
Outstanding restaurants, bars and breweries within Jax then hop in the car and venture to one of the islands or south to St. Augustine for more fun and activities including surfing, kayaking, hiking, shopping, and dining out.
Be sure to take time to see the St. John River which you can catch at Riverfront in the city. I am also going to slot Daytona Beach into this section even though it's farther south.
April's sunny days makes it a wonderful time to explore not only Daytona Beach but the Daytona International Speedway, Kennedy Space Center and Cape Canaveral as well.
Be sure to include New Smyrna Beach and Cocoa Beach on your list. Most of these are a short drive from either Jacksonville, Orlando and even south from Palm Beach.
If you have an extra day, Savannah, Georgia is a quick drive north up I-95. Get more information here: Jacksonville Vacations
Central Florida
Continuing to move our way south, we have to make a stop in Central Florida, the amusement park destination for many families on spring break.
You may not find a beach out your window, but you will find some of the best Florida beaches to visit in April nearby in either West Central or East Central Florida
Yes this is a great time to visit, but it is also one of the most crowded times right after the Thanksgiving and Christmas holidays.
Often called the happiest place on earth, theme parks like Magic Kingdom and Universal Studios, the good news? Even though these parks are packed through late March, April is one of the least crowded times of the year for Orlando.
That allows you and your family to enjoy all the fun things to do at Walt Disney World, Sea World Orlando and even Busch Gardens over in Tampa.
Keep in mind though that this popular tourist destination will always seem more crowded than in other parts of the state.
Don't forget the water parks! If you are not a Floridian, the 70s and 80s temps will feel like warm weather to you. Enjoy Typhoon Lagoon, Discovery Cove, Aquatica and more.
You can find out everything you need to know about planning your perfect theme park getaway here: Orlando Theme Park Planning
Now that Mickey Mouse is out of the way, let's talk about the other amazing vacation destinations in the center of the state. Along with some of the best shopping and great restaurants in the state, there are a lot of outdoor activities to enjoy as well.
Nature lovers will want to check out the swamp tours, botanical gardens and state parks as well as nearby Ocala National Forest. It is the perfect time to enjoy hiking trails, biking and canoeing or kayaking
You will definitely want to check out beautiful Juniper Springs, Alexander Springs, Salt Run in the Ocala Forest as well as the absolutely gorgeous Silver Springs and Silver Springs State Park a short drive away. Before anyone asks, yes there are alligators in Ocala National Forest and Orlando as well as black bears, deer, panthers, bobcats and more.
There are alligators all over Florida where there's water. Don't let that stop you. Be smart and stay away from them, and they won't bother you either. Fewer crowds mean you have a better chance at seeing these Florida animals.
Love to golf? This part of the state has some of the top golf courses in the country and April is a good time to plan a golf trip.
Southwest and West Central Florida.
I'm not even sure where to start because there are so many amazing places and white-sand beaches here that definitely put this area on the top of the best Florida beaches to visit in April list.
Some of my favorite beaches by far are Clearwater Beach, barrier island Anna Maria Island, Siesta Key, Fort Myers, Bonita Beach, Marco Island, Sanibel Island and Captiva Island.
Unfortunately, many of these may not be an option this year as the area recovers from last year's hurricanes. Be sure to do your research before planning a trip to this area.
Each beach and island is a popular destination as well for seashell and sand dollar collectors. Siesta Key is a top pick for favorite beach year after year, but I find it's becoming too crowded for me.
I prefer quieter Bonita Springs Beach. After you enjoy the day on the white sandy beach with the turquoise water, head out to explore the many beautiful gardens and museums on this part of the west coast of Florida.
Dining and shopping are both options for a rainy day.
And did I mention water sports? Paddleboarding, kayaking, boating, snorkeling, scuba diving and more.
One of the best things about the Gulf of Mexico are the clear waters making it the perfect place for all water activities and the ability to see the marine life like sea turtles, dolphins, rays and more.
Southeast Florida Beaches To Visit In april.
My old stomping grounds and another top destination for the best Florida beaches to visit in April!
I lived in Miramar, Florida for about 11 years and actually made the venture north right around the time the last hurricane took a direct hit on this part of the state.
Can't keep Floridians down though. Within a few weeks, everything was back and operational.
So many great places to explore in this part of the state and the best time is now not during summer months when it gets quite hot! The average high for early April in Southern Florida are the low to mid 80s.
Biscayne Bay. Miami Beach with South Beach and Lincoln Road are fantastic for those that love entertainment. You will find outstanding restaurants and bars many with live music to enjoy.
Moving a bit north over to Hollywood Beach (my favorite in this part of Florida), a popular beach for spring break, Fort Lauderdale Beach, and Delray Beach will keep you busy with fun things to do.
Palm trees swaying in the wind while you first a day on the beach then enjoy a shopping spree down Las Olas Boulevard.
Explore. Dine. Shop. Golf. Boat. These are some of the best spring break destinations for those that prefer a more lively time. These are popular places though and you will need to plan ahead.
Florida Keys.
I cannot forget the Florida Keys. Meander down from Miami and enjoy the many small towns on these islands. Sunny weather and a warm climate most of the year, you will also find the warmest water in the Keys as well for April.
Keep in mind high season for the Florida Keys is from Christmas through March. June through October are the cheapest times to visit but these months are also the hottest and smack in the middle of hurricane season as well as the rainy season.
I absolutely love Key Largo and always recommend folks pay a visit to John Pennekamp Coral Reef State Park. Take the guided boat out to snorkel the coral reef. It is magnificent! Then enjoy a leisurely paddle through the mangroves.
From Key Largo, continue south and stop off in Marathon. Be sure to try some key lime pie on one of these islands if you have enjoyed it yet.
Eventually you will make your way to Key West. This southernmost city in the USA has a rich history you will want to explore.
Stop at the Hemingway House and enjoy watching folks stroll by as you eat dinner or catch a drink at a lively Duval Street establishment like Sloppy Joes.
And there you have it. Not only the best Florida beaches to visit in April, but also fantastic stops and cities as well.
Road trip? If you are driving to Florida for your getaway, take time to get off the freeway. Florida is packed with nostalgic diners, shops, train depots, historical towns, and more that you will not be able to see for I-75, I-95 or the Florida Turnpike. Enjoy!
Thinking about exploring more of Florida's beaches? Click here and grab the list of 190+ Florida Beaches: List Of All Beaches in Florida 190+ Reasons To Relax
Upcoming Trip?
I like to use Booking for booking not only my hotels, but my tickets and rental cars as well. Makes life so much easier with only having to log into one location for my information.
Be sure to grab my travel tips to save you time and money. You'll also be entered into the weekly drawings.
Register here: Get 100 Travel Tips EVERY traveler should know PLUS entered into the weekly drawing.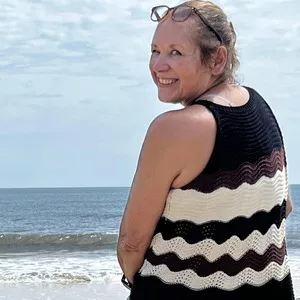 About Denise
Denise Sanger lives a life split between her love for fitness and her passion for travel particularly to the BEACH. Denise also has a love of marketing and lives in beautiful Suwannee County, Florida. You can find out more about Denise here: About Denise