Ultimate List Of Florida Springs: Where to go and fun things to do.
This article may contain affiliate links. Whenever you buy something through one of these links, I may earn a small commission without any cost to you. I really appreciate it as it supports this site and my family. Thank you!
Best Natural Springs In Florida You Must Visit
Florida is home to some of the most beautiful springs in the world. I know I live in Northern Florida near quite a few of these springs, some first-magnitude springs where water flows at a rate of 748 gallons per second. And Florida Springs are stunning!
With crystal clear waters, lush vegetation and abundant wildlife, Florida's springs are a must-visit destination for nature lovers and outdoor enthusiasts alike.
Freshwater springs are quite refreshing especially during the summer when the temperatures rise, but the springs remain a constant 72 degrees year round even during the winter months.
Enjoy a swimming area where you can swim and snorkel or scuba diving in underwater caves. Florida Springs truly offer something for everyone when it comes to exploring these natural wonders.
Thank you for reading this post. Don't forget to subscribe! This way you never miss an update, travel deals, discounts and more!! Subscribe to the right------>
I am partial to a few especially since I live in North Florida. The prettiest springs in my area include Itchetucknee Springs located in Ichetucknee Springs State Park, Madison Blue Springs in Madison Blue Spring State Park, Little River Springs and Royal Springs in Suwannee County as well as Ginnie Springs nearby in High Springs.
I truly believe Florida has the best natural springs and everyone should try to visit at least one.
Depending on where you plan to visit in the Sunshine State, you may have one of these crystal-clear water springs nearby. I am breaking down my must-visit of Springs below by where they are in the state.
In addition, many of these springs are located in Florida State Parks and offer nature trails, picnic areas with picnic tables, volleyball courts, and more including kayak or canoe launches.
Which ever location of these crystal clear water springs you choose, you can expect an amazing time at a great place to visit in Florida. Let's dig in.
North Florida Springs
Many of these springs may sound familiar to you. I have written about them in the past. I have not, though, put together a list of all the Florida springs until this article.
Let's dig in!
Ichetucknee Springs. This spring is by far my favorite. It was also the first I visited when I moved from South Florida to North Florida.
Located in Fort White, Ichetucknee Springs State Park, you will find a pristine, spring fed river as well as several swimming holes.
This spring is well known by not only those that kayak the river but those that tube it as well. Some days when I drive by, the line to enter the park for those tubing is well up the road on US 27.
After tubing the river, you can snorkel in Blue Hole Spring or hike the nature trails located throughout the park. Pack a lunch and sit at a picnic table under the live oak trees.
Little River Springs. This spring is located in Suwannee County in the small town of O'Brien near Branford. Branford's welcome sign reads the diving capital of the world.
This gorgeous spring is very popular with divers and feeds into the Suwannee River. It is also one of the best springs for families to enjoy.
When the river is low, you can actually see how far the spring flows showing the difference between the clear water and the tannic color of the majestic Suwannee.
The cave system underneath is approximately 1200 feet and very popular with scuba divers.
I want to give this warning. There is a drop-off into the Suwannee and it can be dangerous. I always told my girls and now friends to stay away from that part of the spring for their safety.
Royal Springs. Up the road from Little River off 349, you will find Royal Springs. This spring is truly a beautiful swimming hole. It, too, flows into the Suwannee.
My last trip here, we launched our kayaks and paddled over to Little River. There is a nice boat ramp and also a platform for those that wish to jump into the spring.
Peacock Springs. One more in Suwannee County to mention is Peacock Springs State Park. This spring run does not flow into the river. There are several spring holes to enjoy, but this is one of the best places for diving.
There is a hiking trail with a boardwalk that follows the cave system underneath. It is definitely worth a stop.
Lafayette Blue Springs. Moving over to Lafayette County, you will find Lafayette Blue Springs, located in Lafayette Blue State Park. This first magnitude spring also flows into the Suwannee River.
You can paddle the Suwannee Paddle Trail or swim or dive in the spring. Before you leave, be sure to take a hike on the Green Sink Trail.
Madison Blue Spring. This spring located in Madison Blue Spring State Park is in the town of Lee. It has been designated America's number one swimming hole in the past. And it is breathtaking.
One of the most outstanding Florida Springs to visit with plenty of activities to keep you busy. Swim in the spring. Paddle the Withlacoochee River or hike Twin Rivers State Forest.
Gilchrist Blue Springs. This spring is a second-magnitude spring located in High Springs. There are a few other springs in the park in addition to the Blue Main Spring.
Be sure to stop at the other springs in the park which are Little Blue Spring, Naked Spring, Kiefer Spring and Johnson Spring.
Ginnie Springs is also located in High Springs. This is a very popular destination especially during the summer. Ginnie Springs feeds into the Sante Fe River (Santa Fe River).
Float, camp, kayak and more. This is a privately owned park but the river that it feeds into is not. You can kayak but in the summer be prepared for a wave of floating tubes.
Very fun camping destination and the perfect place for a natural Florida getaway.
Central Florida Springs
There are more springs located in North Florida, but I am going to move on to Central Florida starting with the springs in the Ocala National Forest. This forest is a United States National Forest not a Florida Forest.
The springs! My favorite by far is Silver Glen Springs. It is out of this world. The blue colors in Silver Glen are breathtaking. Perfect for snorkeling and swimming. Diving is not allowed.
Next in the forest is Juniper Springs. Another natural beauty. This spring has a concrete wall surround it and a waterwheel as a backdrop.
From Juniper we head to Salt Springs. Another first-magnitude spring but this one is large, but shallow making it great for kids.
Enjoy looking for blue crabs when snorkeling as well as hiking the Salt Run 5-mile trail that takes you to Lake George.
Alexander Springs also in the Ocala Forest and roughly an hour's drive from Orlando. This spring is over 300 feet wide and the only spring in the forest you can scuba dive.
Note: For those that like to camp, you can do that in the forest. Florida black bears call this forest home so be aware at all times when camping and place your food in a place away from your tent. All smells will attract bears to your campsite including grills.
Silver Springs. I absolutely cannot leave this area without mentioning Silver Springs. You may have heard of this park.
This is the park where monkeys will fly from tree to tree overhead while manatees roam the river and alligators sun bathe on the river banks.
Launch your kayak or paddleboard from Silver Springs State Park and enjoy a leisure paddle along the winding river. Another very popular spot in summer.
Tip: Not one to paddle? Take one of the glass-bottom boat tours available throughout the day.
Rock Springs is located in Apopka near Orlando. This is a great place for beginners to kayak or paddle board. We launched from Kings Landing and kayaked up stream to the spring then back over to the Wekiwa River.
Prefer to swim? Kelly Park is a day entrance park for swimming, hiking, picnicking and more.
From there, visit nearby Wekiwa Springs State Park which is literally a short drive from Orlando. Trails and more to explore, but it is the spring itself that is the attraction.
Wekiwa is a 2nd magnitude spring in an open beautiful setting. No lifeguard on duty.
West Central and Northwest Florida
Before I wrap up this article, we absolutely have to talk about Weeki Wachee, Three Sisters Springs, Wakulla Springs, Rainbow Springs, and Crystal River.
Weeki Wachee Springs State Park has brought the Weeki Wachee River back to its glory days. But when you leave the state park boundaries, you will see a noticeable difference in the river and vegetation.
Crystal clear spring water makes it easy to see manatees, fish and gators. Stop in the park and check out the mermaids. This show has been in operation for 6 decades.
Rainbow Springs is located in Rainbow Springs State Park. This river is so unbelievable you really should visit it to see it for yourself.
This river is another I kayaked and have done so many more times. I never see the same things twice.
One of the largest springs in Florida it too is a first magnitude spring. Swimming, picnics, hiking and camping all available for you to enjoy.
Crystal River and Three Sisters Springs. Like the Rainbow River, Crystal River is also breathtaking.
Manatees flock to the Crystal River National Wildlife Refuge, when the river is cold. The springs are a constant 72 degrees making it the perfect escape from the cool water of the river.
The boardwalk is a great spot to see how many manatees actually squeeze into the spring run.
Another popular place but in this case it is also popular when the temps are cold as folks visit to see the manatees. You can even take a manatee tour. This is the info: Manatee Tours
And wrapping it up with Wakulla Springs. This spring is a bit north and outside the Florida state capital, Tallahassee. Another one we actually launched on the river and kayaked up to the springs.
Wakulla Springs State Park has swim platforms and a small beach for families to enjoy. Also, onsite is the lodge located in the park which has rooms you can rent and stay in the park.
Wakulla Springs is also the deepest freshwater spring in the state. Very pretty state park.
There are so many springs I have left off this list. Be sure to bookmark this page as I will need to come back and update. Then make your plans to visit these beautiful bodies of water in Florida with a Florida Springs Vacation.
Upcoming Trip?
I like to use Booking for booking not only my hotels, but my tickets and rental cars as well. Makes life so much easier with only having to log into one location for my information.
Be sure to grab my travel tips to save you time and money. You'll also be entered into the weekly drawings.
Register here: Get 100 Travel Tips EVERY traveler should know PLUS entered into the weekly drawing.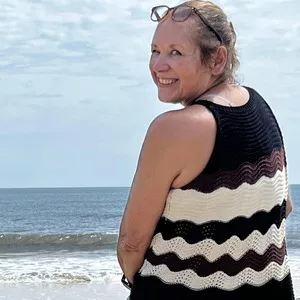 About Denise
Denise Sanger lives a life split between her love for fitness and her passion for travel particularly to the BEACH. Denise also has a love of marketing and lives in beautiful Suwannee County, Florida. You can find out more about Denise here: About Denise