Beautiful Barrier Islands In Florida Are Waiting For Your Visit
This article may contain affiliate links. Whenever you buy something through one of these links, I may earn a small commission without any cost to you. I really appreciate it as it supports this site and my family. Thank you!
Looking for a unique travel destination that offers beautiful scenery, plenty of activities, and a laid-back atmosphere? If so, then these beautiful barrier islands in Florida are definitely worth exploring.
These hidden gems, many reminiscent of Old Florida vibes, offer everything from stunning beaches and nature trails to quaint small towns and world-class fishing.
Whether you're looking for a romantic getaway, family fun getaway or an adventure-filled vacation, be sure to add a few or all of the Florida Islands below.
1197 Coastal Miles and 4,510 Florida Barrier Islands To Explore
Florida's barrier islands are an absolute must-see. Stretching along the Gulf of Mexico on one side and the Atlantic Ocean on the other, these barrier islands offer stunning views and unique animal habitats.
Thank you for reading this post. Don't forget to subscribe! This way you never miss an update, travel deals, discounts and more!! Subscribe to the right------>
Not only that, but they are extremely diverse. These islands provide both subtropical forests and salt marshes as well as sandy beaches making the islands the perfect place for nature lovers and wildlife viewing.
Nature enthusiasts are able to explore many animals such as gopher turtles, deer and shore birds on the island while also being able to see sea life including dolphins, sea turtles and even whales lately right offshore.
Get away from the high rises in the city and stroll along the miles of coastline beachcombing or take a break and bird watch in the wetlands. Florida's barrier islands offer breathtaking experiences that need to be explored.
How Are The Barrier Islands Formed?
Barrier islands are formed over a long period of time, through the process of sedimentation and erosion. This process occurs when waves and tides transport sand, rocks, and small particles from the shoreline out to sea.
As this material travels away from the mainland it cools and begins to settle on the ocean floor. This creates the foundation for what will become a barrier island.
Over time, more sediment accumulates on top of this layer of sand and rock, creating a mountain like top that eventually rises high enough above sea level to become an island.
These islands continue to grow in size as coastal zone currents and wave energy deposit sediments and shape their various coastlines.
In addition, barrier islands are shaped by storms including major storms with strong storm surges like Hurricane Ian that just hit the Sunshine State in 2022.
These storms may cause the islands to break apart or to shift location due to strong winds and heavy surf conditions.
The unique combination of geology, oceanography, and climate contribute greatly to the formation of these stunning coastal landscapes and barrier islands many right off the mainland coast.
What are the different types of barrier islands found in Florida
Florida is home to some of the unique and beautiful barrier islands in the world.
For example, Pine Island, offers a secluded stretch of land along the western coast featuring emerald green waters, lush mangroves, saltwater marshes and an abundance of wildlife.
Then there are the iconic Florida Keys. Comprised of nearly 1700 islands with plenty of opportunities for adventure.
And don't forget Anna Maria Island, located in Florida's central Gulf Coast. This island is famous for its expansive white sandy beaches and treasured shorelines.
No matter the island you choose to explore in the Sunshine State, there's something magical about each one that makes it truly special.
Let's explore these unique islands
Note: the first area we talk about below was hit quite hard by a hurricane in 2022. Please research before booking your island getaway.
Marco Island, Sanibel Island, Captiva Island and Siesta Key are a few of the most incredible barrier islands you could ever visit. Both are located in southwest Florida in the Gulf of Mexico.
These are also the best islands for those that love to beach comb and look for shells, sand dollars and other treasures.
This area of paradise offers a gleaming turquoise ocean, white sand beaches, and best of all, access to the untamed beauty of nature only found here in Florida.
For those that like to shop, listen to live music and other entertainment options, Siesta Key is just a few hours away by car from the cities of Sarasota and Tampa.
Enjoy the day then escape to amazing sunsets, pristine white sand beaches on the island.
These islands are part of Florida's unique barrier island system which helps to protect and conserve the coasts from erosion and sea level rises.
The islands also provide homes for many plant and animal species.
Top Barrier Islands You Will Want To Visit
Below are the top barrier islands in Florida you will want to be sure to visit. They are all unique in their own way and truly beautiful.
Note: As mentioned above, some of these islands did take direct hurricane hits.
Southwest Florida Coast, Central West Florida and Florida Panhandle Barrier Islands
Siesta Key, Marco Island, Captiva Island and Sanibel were all mentioned above. The islands listed below are also in the Gulf of Mexico:
Fort Myers Beach on Estero Island is a favorite destination for not only locals but snow birds as well. From this island you can kayak over to gorgeous Lover's Key.
Longboat Key is one of the most beautiful islands in the Florida Gulf. Relax, unwind and maybe take time to enjoy a picnic.
Little Gasparilla Island and Gasparilla Island State Park. Both are off the shore from Punta Gorda.
Egmont Key offers both Egmont Key State Park and National Wildlife Preserve waiting for you to explore. Located near the mouth of Tampa Bay.
Palm Island is located off the coast from Port Charlotte near Englewood. Beautiful Palm Island Resort is a great place for a getaway.
Anclote Key, near beautiful Caladesi State Park are both located offshore from Clearwater and St. Petersburg.
Honeymoon Island is north of Anclote Key and a short drive from Tampa. This island offers four miles of pristine beach to explore.
Anna Maria Island is the closest to Bradenton Beach. There are two bridges you can use to get over to this island.
Moving up along the panhandle, brings us first to 28-mile St. George island then Santa Rosa Island farther north. St. George Island is one I visit every year.
The miles of beaches are magnificent. Be sure to stop at the historic lighthouse which offers a view of the whole island when you reach the top.
Santa Rosa Island is a 40-mile-long barrier island near the Alabama border and Gulf Islands National Seashore.
Easy to get to from Pensacola. When in this area be sure to also visit Perdido Key and the historic Gulf Islands.
Barrier Islands on Florida's Atlantic Coast
The Florida Gulf side does not have a lock on gorgeous islands with white-sand beaches. On the East Coast, you will want to visit:
Florida Keys including the largest key which is Elliott Key as well as Key West, Key Largo and up near Miami Beach with Key Biscayne.
Key Biscayne offers historic Cape Florida Lighthouse which is a great place to not only see the island but the coastline.
Jupiter Island, located offshore in northeast Palm Beach County.
This island is in the southernmost portion of this county and was created when the Intracoastal Waterway was created in the late 1800s.
Fernandina Beach located on Amelia Island is in the northeast portion of the state and can e made as a day trip from either Jacksonville or Savannah. This island is also home to historic Fort Clinch.
Private Barrier Islands
In addition to those listed above on both sides of the state, there are several hidden islands and private islands.
Just because these are private, doesn't mean you can't visit them. In some cases, you can actually rent the whole island.
A few of these islands include:
Don Pedro Island is a 7-mile-long island off the coast of Port Charlotte and only accessible by boat.
Crescent Island near Sanibel as well as Melody Key near Marathon in the Florida Keys are both private islands.
Tips on how to enjoy The Islands
Summer is the perfect time to explore the outdoors and enjoy nature! There are many ways to make the most of your time, hiking on nature trails or soaking up the sun at beautiful sand dunes.
These activities can be exhilarating, especially when you get to experience wildlife in its natural habitat – birds soaring through the sky, sea turtles floating in the ocean, and a colorful array of wildflowers.
Whether you're taking pictures, collecting souvenirs from the beach, or learning about plants and animals, you will leave with warmth in your heart and a deeper appreciation for our natural world.
Nature has so much to offer – just remember to be respectful of your surroundings!
Ready to visit one of these islands?
Florida is full of beautiful islands that are perfect for a tourist destination. You can even rent a whole serene private island in some areas.
Spend time diving in the deep water near some islands or snorkeling in the shallow waters near others.
Long sandy beaches to explore many with secret hidden coves waiting for you to visit. Or many sit on the beach and watch the wave action as it hits the shore.
Wherever you choose to visit, beach communities offer plenty of barrier islands to explore. Many of these are a pet-friendly vacation paradise as well. Pack up the family and just go.
Upcoming Trip?
I like to use Booking for booking not only my hotels, but my tickets and rental cars as well. Makes life so much easier with only having to log into one location for my information.
Be sure to grab my travel tips to save you time and money. You'll also be entered into the weekly drawings.
Register here: Get 100 Travel Tips EVERY traveler should know PLUS entered into the weekly drawing.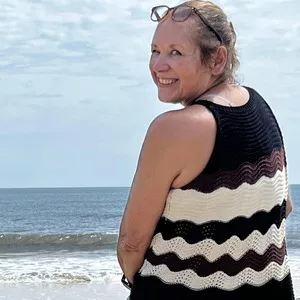 About Denise
Denise Sanger lives a life split between her love for fitness and her passion for travel particularly to the BEACH. Denise also has a love of marketing and lives in beautiful Suwannee County, Florida. You can find out more about Denise here: About Denise