Best Places For Snorkeling In Marathon Florida Keys
This article may contain affiliate links. Whenever you buy something through one of these links, I may earn a small commission without any cost to you. I really appreciate it as it supports this site and my family. Thank you!
A Guide To The Top Spots For Underwater Exploration
One of the best places for snorkeling is in Marathon, Florida Keys. With crystal clear waters and a diverse range of marine life, it is one of the best places to explore the beauty of the underwater world.
The Florida Keys are a short drive from Miami and the continental United States along the Overseas Highway. This makes it easy to add this as one of your day trips to some of the best snorkel locations in the world.
Whether you are a beginner or an experienced snorkeler, there are plenty of options to choose from. Marathon is in the middle keys.
If you are a beginner or truly want to relax and snorkel, I recommend a snorkeling tour. This is my top pick: Book Marathon Snorkeling Tour
Thank you for reading this post. Don't forget to subscribe! This way you never miss an update, travel deals, discounts and more!! Subscribe to the right------>
Where To Find The Best Snorkeling In Marathon Florida And Nearby Keys
Marathon and nearby islands in the Florida Keys offers some of the best snorkeling spots in the world as well as top of the list for water activities overall.
Here are some of the top snorkeling spots in and around Marathon Florida Keys:
John Pennekamp Coral Reef State Park
If you are driving, be sure to make a stop in Key Largo at John Pennekamp Coral Reef State Park. Pennekamp State Park has beautiful coral reefs and is one to add to your snorkeling trip in the Keys.
I have been to this snorkeling destination quite a few times, and it is definitely one you should make the time for as you head toward Marathon.
You will take a short boat ride from the State Park to the reef. The clear water makes it easy to see the vibrant sea life and beautiful underwater world.
Ready? Book your tour here: Snorkel Tour Marathon
Sombrero Beach
One of the most popular spots for snorkeling in Marathon is Sombrero Reef. It is located about 4 miles offshore and is home to a wide variety of fish, coral, and other sea creatures.
It is the third-largest barrier reef in the world. Be sure to look for the queen conchs that are in this area. These are large conch shells can grow up to 12 inches long and live 25 – 30 years.
You may also be lucky to see sea fans while snorkeling. Sea fans are beautiful and are in a rainbow of colors.
Sombrero Beach is definitely one of the best spots located in Marathon Florida Keys. It is a great place for snorkeling, as it offers crystal clear waters and a variety of marine life.
Visitors can expect to see colorful fish, sea turtles, and even the occasional stingray.
One of the best things about this reef is the shallow waters. It is roughly 2 feet to 30 feet of water. This makes it easy to enjoy. You will find Sombrero Beach at mile marker 50.
Beginners as well as veteran snorkelers will enjoy the beautiful ecosystem and views of various marine animals including sea turtles and spiny lobsters the Florida Keys is known for.  
Ready? Book your tour here: Snorkel Tour Marathon
You need to take one of the boat tours to get to the third-largest barrier reef as it is roughly six miles offshore. No worries.
The friendly crew will take care of you and make sure you have an amazing time. Definitely a perfect place for beginners as well as more experienced snorkelers and divers.
Another great option nearby is the Coffins Patch, a shallow reef system that is perfect for beginners. It is located just a few miles from Sombrero Reef and is known for its colorful coral and abundant marine life.
For those looking for a more adventurous experience, the Thunderbolt Wreck is a must-visit. This 188-foot shipwreck is now home to a thriving ecosystem of marine life, including barracuda, snapper, and grouper.
Bahia Honda State Park
Bahia Honda State Park is located on Big Pine Key roughly 20 minutes south of Marathon and another great spot.
It offers some of the clearest waters in the area, making it an ideal spot for snorkeling. Visitors can expect to see a variety of marine life, including tropical fish, sea turtles, and even barracudas.
Curry Hammock State Park
Curry Hammock State Park is a hidden gem located in Marathon Florida Keys. It is a great place for snorkeling, as it offers crystal clear waters and a variety of marine life.
Ready? Book your trip here: Marathon Snorkeling Trip
Visitors can expect to see colorful fish, sea turtles, and even the occasional nurse shark.
Alligator Reef
Alligator Reef is located off Matecumbe Key which is roughly halfway between Key Largo and Marathon. It is one of the best offshore spots to snorkel in North America.
There are several unidentified wrecks in this area as well as coral reefs to explore. The clearest water will be near the lighthouse.
Depending on your skill level, this is also a place for some of the best diving in the Keys.
Cheeca Rocks Sanctuary Preservation Area
If you are traveling with kids, this is one of the best places to take them snorkeling. The small, protected patch reefs are close to shore but still has some of the most beautiful tropical fish, vibrant coral and the beautiful Queen Conch for kids to easily see.
Be sure to monitor where you are in the Sanctuary Preservation Areas to be sure you are in a spot you can snorkel.
Fort Zachary Taylor State Park
Heading to the southernmost point of the United States, brings us to Key West. This is a fun spot to enjoy snorkeling as well as being one of Key West's favorite beaches.
Plenty of sandy areas to enjoy relaxing on the beach. Clear waters make it easy to spot bright tropical fish when snorkeling. 
Book your tour here: Marathon Key Snorkel Tour
Bring your paddle boards, kayaks, and spend the day enjoying this gorgeous Florida State Park. Enjoy a freshwater shower located near the restrooms after spending the day in the ocean.
Looe Key Reef
Also off the coast of Key West in South Florida is Looe Key Reef. Looe Key National Marine Sanctuary is where this essential reef is located.
It is home to more than 150 species of fish as well as moray eels, sharks, and rays.
Dry Tortugas National Park
Really not as close to Marathon as it is to Key West, but I did not want to leave this beautiful national park off the list.
Roughly 70 miles off the southernmost tip of Key West, you can grab your snorkel gear, hop on the ferry and have a great time snorkeling the clear waters.
Fort Jefferson National park is located in the Dry Tortugas. They have closed some areas to snorkeling while the moat is repaired. Be sure to snorkel in a designated swimming area.
​One of the great dive sites, be sure to book your ferry in advance as they do run out of room.
Equipment and Safety Tips
When snorkeling in Marathon Florida Keys, it's important to have the right equipment and follow safety guidelines to ensure a safe and enjoyable experience. Here are some tips:
Equipment
You really do not need a lot of equipment. If you have y our own gear, bring it. But if not, check with the snorkeling tour guide to see if you can rent equipment. Usually they what you need saving you from carrying gear especially if you are flying.
Mask: A good-fitting mask is essential for clear vision underwater. Make sure it fits snugly and doesn't leak.
Snorkel: A snorkel allows you to breathe while your face is in the water. Choose one that fits comfortably in your mouth and has a purge valve to clear any water that enters the tube.
Fins: Fins help you move through the water more efficiently and reduce fatigue. Choose fins that fit snugly and are comfortable to wear.
Rash Guard: A rash guard protects your skin from the sun and helps prevent chafing from your equipment.
Reef-safe sunscreen. This is something I make sure to not only have on a snorkel trip but any time I am at the beach.
Safety Tips
Snorkeling can be a safe and enjoyable activity, but it's important to follow these safety guidelines and never snorkel alone:
Never snorkel alone. Always have a buddy with you and keep an eye on each other.
Never stand on the soft corals. Coral is a living animal that sustains the marine life.
Check the weather and ocean conditions before going out. Avoid snorkeling in rough or choppy waters.
Stay within your comfort level and avoid pushing yourself too hard.
Don't touch or disturb marine life. Admire it from a distance.
Be aware of boats and other watercraft in the area. Wear a brightly colored snorkel vest to make yourself visible.
Know your limits and don't exceed them. If you feel tired or uncomfortable, return to shore.
I do want to mention a few other spots you might want to stop at. They are the Turtle Hospital and Curry Hammock State Park.
Are you ready to go? Marathon in the Florida Keys is a snorkeler's paradise. With crystal clear waters, diverse marine life, and a variety of snorkeling spots, it's no wonder why visitors flock to this area. 
Book your trip here: Marathon Key Snorkel Trip
Any given day, you will see something different while snorkeling. I strongly recommend booking your spots ahead of time especially if you will be taking a ferry.
Most companies allow you to book online using a credit card. There is additional information below.
Upcoming Trip?
I like to use Booking for booking not only my hotels, but my tickets and rental cars as well. Makes life so much easier with only having to log into one location for my information.
Be sure to grab my travel tips to save you time and money. You'll also be entered into the weekly drawings.
Register here: Get 100 Travel Tips EVERY traveler should know PLUS entered into the weekly drawing.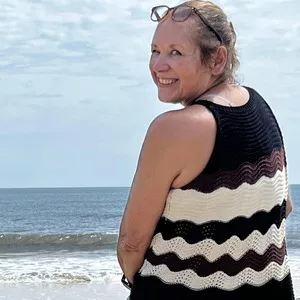 About Denise
Denise Sanger lives a life split between her love for fitness and her passion for travel particularly to the BEACH. Denise also has a love of marketing and lives in beautiful Suwannee County, Florida. You can find out more about Denise here: About Denise