Guide To The Best Beaches in Siesta Key Florida
This article may contain affiliate links. Whenever you buy something through one of these links, I may earn a small commission without any cost to you. I really appreciate it as it supports this site and my family. Thank you!
Looking for the best beaches in Siesta Key Florida? Discover the top spots for relaxation and fun with this comprehensive guide to Siesta Key's best beaches.
One of the best places in Florida and the United States for a wonderful beach vacation is Siesta Key. With crystal clear turquoise waters and soft, powdery sand, Siesta Key's beaches are some of the most beautiful of Florida beaches.
From family friendly spots with shallow water to secluded coves perfect for couples as a romantic getaway, this is the perfect place for everyone looking for a getaway.
This island is paradise. And many Siesta Public Beach locations offer beach wheelchairs a short walk from most beaches making them accessible for all.
Thank you for reading this post. Don't forget to subscribe! This way you never miss an update, travel deals, discounts and more!! Subscribe to the right------>
But with so many great beach options, where do you start? Let this guide be your go-to resource for discovering the best beaches with the whitest sand in Siesta Key.
Where is Siesta Key?
Panama City Beach is also known for white sandy beaches is Northwest on the Panhandle of the Gulf Coast. For those looking for a great spot more south of PCB and central St. Pete Beach, Siesta Key is your destination.
Locate in Sarasota County, the nearest airport to Siesta Key is Sarasota-Bradenton International Airport in downtown Sarasota. From the airport it is roughly a 25-minute short drive, and you are on the island.
If you plan to drive to Siesta Key, hop on either I-75 South if you are driving from north of this great place or I-75 North if you are arriving from the southern end of the Sunshine State.
Whichever way you come in, park the car because you really will not need it much. There is a free shuttle that the drivers survive on tips you can hop on and off as needed. Or rent a bike. The island is only 8 miles long.
What makes Siesta Key's beaches great?
Siesta Key's beaches are renowned for their soft, white quartz sand that stays cool even on the hottest days.
The sparkling turquoise waters of the Gulf of Mexico are perfect for swimming, snorkeling, and paddleboarding.
This beach was the top pick of Dr. Beach in the USA. The natural beauty of the island's beaches is also protected by strict regulations to preserve it.
Visitors can enjoy breathtaking sunsets, nature trails, and other outdoor activities such as volleyball courts or beach volleyball, nature lovers will love the many trails.
And for those that prefer to bike, you will find bike racks throughout the island. With so many options for relaxation and fun, it's no wonder why Siesta Key is a top destination in Florida.
Looking for a boat launch area? You will find several on this island as well as several marinas open to serve you.
How about entertainment? You will find live music, great food and beverages where you can grab a quick bite all nearby the vacation rentals. A great way to enjoy a Sunday evening is strolling and enjoying the sunset with dinner.
Let's talk about Siesta Key Beaches! Shell collectors love this island and the Great International Sand Challenge is held here each November making that a great time visit.
Siesta Beach: The jewel of Siesta Key.
As we explore the best beaches in Siesta Key, Florida, we are going to start with Siesta Beach. This is an award-winning beach that offers many features perfect for any beach goer.
With shallow waters, gradual slopes, and lifeguards on duty, nearby parking spaces, this beach is popular and the perfect choice for families with young children.
The beach also offers fun options such as volleyball and tennis courts, picnic areas with grills, public restrooms and concession stands.
Siesta Beach has ample parking spots and provides free trolley rides to other beaches on the island. Whether you are looking for a quiet spot to relax or to take part in outdoor activities, Siesta Key Public Beach is the perfect destination for all.
The Siesta Key public access point 12 is along Midnight Pass Road.
Turtle Beach: A peaceful escape.
If you're looking for a peaceful and quieter escape, Turtle Beach is on the southern tip of Siesta Key.
This beach has a more natural feel, and you will find fewer people as it is less crowded than other beaches on the island.
Keep your eyes open and improve your chance of finding sand dollars as you walk along the warm waters of this beach.
You can also enjoy activities like fishing or kayaking or just relax on the beach with a good book. This beach also offers stunning sunsets and chances to spot dolphins swimming by.
If you want to view the sea turtles, the best time to visit would be during the months of May through October. Be sure to watch out for turtle nests as this beach is a popular nesting ground for sea turtles.
Pack your own food and drinks as there are limited concession options available. Turtle Beach provides free parking but may fill up quickly during peak season, so get there early to secure your spot for a day of peace and tranquility.
Access to Turtle Beach is located at the south end of Siesta Key, beyond Stickney Point Road. This is where the bridge that connects the barrier island with the neighboring mainland is located.
If one of the fun things you have planned is to fish, this beach is a great option. At the south end of the island tucked behind Turtle Beach lies Blind Pass Lagoon, one of the best Siesta Key fishing spots.
Crescent Beach: Perfect for families and water sports enthusiasts.
Crescent Beach is a popular spot and one of the most beautiful beaches on the island for those who are looking for an action-packed day filled with water sports and beach activities. It is called the number one beach in the world.
The Travel Channel has rated this is a 5/5 for families as well as 5/5 for swimming and the sand. Definitely one of the best things about this location are the white sand beaches.
This beach is also great for families as there are picnic tables, grills, and playgrounds available for use. At the southern tip of Crescent Beach, you will find Point of Rocks, an area rich with coral formations and colorful marine life that is perfect for snorkeling or diving.
Additionally, there are several nearby restaurants and shops within walking distance. Crescent Beach provides a free parking lot, but it can become crowded during peak season, so it's best to arrive early to secure your spot.
I am seeing in some areas, this may be a private beach so check where you are staying. If you are not staying nearby, the 2 roads through Siesta Key with public access road to the beach are Midnight Pass Road and Beach Road. The Crescent Beach public access is along Midnight Pass Road.
Longboat Key, Lido Key Beach, and Anna Maria Island: Beautiful nearby beach options.
While Siesta Key offers some of the best beaches in Florida, there are other nearby options that are equally stunning.
Longboat Key, located just north of Siesta Key, offers a more secluded and private atmosphere with pristine beaches and clear blue waters.
Lido Key, located south of Siesta Key, is known for its white sandy beaches, nature trails, and great restaurants.
If you're looking to escape the crowds altogether, Anna Maria Island is another one of the top beaches in this area. It has calm water and is located off the north end of the island making it perfect for the whole family.
The island boasts serene beaches with crystal-clear water where you can enjoy activities like fishing, kayaking or simply soaking up the sun.
Where to stay Near The Best Beaches In Siesta Key Florida?
There are plenty of options for you near the best beaches in Siesta Key Florida. Choose between hotels, BNBs and some fantastic vacation rentals right on the beach.
For the top 10 hotels and resorts, I recommend checking here: Siesta Key Hotels & Resorts. I prefer to check the most recent reviews before booking.
However, my preference is always a vacation home or condo directly on the beach. I simply like having the space to myself as it provides more privacy. You can see availability here: Siesta Key Vacation Home Rentals.
Upcoming Trip?
I like to use Booking for booking not only my hotels, but my tickets and rental cars as well. Makes life so much easier with only having to log into one location for my information.
Be sure to grab my travel tips to save you time and money. You'll also be entered into the weekly drawings.
Register here: Get 100 Travel Tips EVERY traveler should know PLUS entered into the weekly drawing.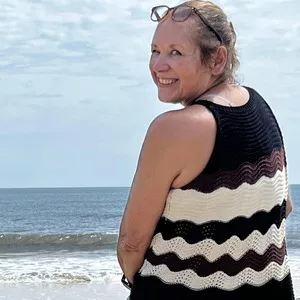 About Denise
Denise Sanger lives a life split between her love for fitness and her passion for travel particularly to the BEACH. Denise also has a love of marketing and lives in beautiful Suwannee County, Florida. You can find out more about Denise here: About Denise