Where To Find The Best Beaches In Florida
This article may contain affiliate links. Whenever you buy something through one of these links, I may earn a small commission without any cost to you. I really appreciate it as it supports this site and my family. Thank you!
Discover the best beaches in Florida! Find out which spots offer the clearest waters, finest sand and most fun activities to enjoy on vacation.
With miles of coastline and its tropical climate, Florida is a great destination for beach lovers. Whether you're looking for vibrant nightlife or a peaceful escape, there's sure to be a perfect beach in the Sunshine State for you.
From the Gulf of Mexico to the Atlantic Coast beaches, Florida is a leader when it comes to beautiful beaches. There is also something for everyone here.
Nature lovers will appreciate the beaches in our Florida State Parks where they can catch a glimpse of sea turtles and dolphins. Those that prefer a more active destination and water sports will love the Atlantic Ocean side of the state.
Thank you for reading this post. Don't forget to subscribe! This way you never miss an update, travel deals, discounts and more!! Subscribe to the right------>
At the end of this article, you will find links to ALL the beaches on both sides of the Sunshine State to help you plan your next beach getaway.
Here are some of the top picks for the best beaches in Florida listed by Gulf Coast or Atlantic Coast.
Best Beaches in Florida Gulf Coast
Pensacola Beach
Over on the Alabama and Florida border, you will find Pensacola Beach on a barrier island in Northwest Florida. Another gorgeous white sand beach with calm waters.
It is Pensacola's most popular beach with its white sand and clear emerald waters. Enjoy many fun water activities such as swimming, sunbathing, fishing, kayaking, and windsurfing.
Panama City Beach
Just over 100 miles north of Siesta Key lies Panama City Beach – another favorite spot for beach goers. With more than 27 miles of shoreline, there are plenty of beautiful places to set up camp and take in the scenery.
As well as stunning white-sand beaches, visitors can also experience a range of exciting activities such as soaring parasails, renting boats and catching some awesome waves.
There's also plenty to keep party goers amused, with live music events and renowned nightlife spots to check out.
For those that like to snorkel, you will want to hit Shell Island which is off the coast of PCB. The only way to get there is by boat but it's so worth it.
Grayton Beach State Park
One of the prettiest state parks in Florida. This great place is in Walton County and includes 2200 acres. This puts this state park at the top of the list for most beautiful beaches for many reasons,
Enjoy shallow water and nature trails. Perfect place for families with picnic tables, volleyball courts, and easy access and a short walk to the water from the parking lot. Perfect family vacation destination.
Santa Rosa Beach
Santa Rosa Beach is one of the most beautiful beaches in Florida. It is located in the northwest corner of the state as is Pensacola Beach and Panama City Beach but not as crowded.
Santa Rosa Beach is a great place to enjoy many things including swimming, sunbathing, fishing, and kayaking in the turquoise water.
There are also a number of shops and restaurants located near the beach making it easy to grab lunch and go. If you prefer fewer crowds, the best time to visit this beach is in October.
St. Petersburg Beach
St. Petersburg Beach is a world-famous beach in Florida for many reasons. The soft white sand and the clear blue waters make it a perfect place to relax and enjoy the sun.
One of the best Florida beaches on the West Central Gulf coast. Palm trees await you a short drive from Tampa/St. Pete Airport.
Clearwater Beach
Clearwater Beach is a favorite destination for many beach goers in Florida, with its crisp white sand and calm turquoise waters.
This beautiful stretch of beach provides an array of activities from kayaking tours to dolphin-watching voyages and jet skiing.
As the sun begins to set, hundreds of fishing boats come together to take their catch, providing a unique evening view. Clearwater Beach also offers stunning waterfront restaurants serving up unique seafood dishes while you watch the stunning sunsets over the horizon.
While you are in Clearwater, be sure to take a visit to the Clearwater Marine Aquarium. This amazing facility is dedicated to the rescue, rehabilitation and release of sick and injured marine animals.
You may remember the story of the dolphin, Winter, from the movies Dolphin Tale or Dolphin Tale 2. This is where she rehabbed and lived until she passed away a few years back. Her story continues to inspire many to also put animal welfare first.
Honeymoon Island State Park
Another great destination for nature lovers. Here you will see bald eagles, osprey, owls, gopher tortoises, raccoons and armadillos. It is also a fantastic destination for beachcombers and shelling.
Be sure to make time to take a walk on the nature center trail. This is another barrier island and no two days are the same as far as you will see. Be sure to allow enough time to really enjoy it.
Caladesi Island State Park
I have one more state park in this area to mention. Caladesi Island State Park is off the coast near Dunedin.
The beaches are pristine for a day relaxing. When you want to be a bit more active, paddle through the mangrove forest or take a walk on the nature trail. One of the best State Parks in Florida.
Siesta Key Beach
Siesta Key Beach and Siesta Beach are top choices for those looking for that perfect blend of sun and sand. They are easy to get to as well as they are roughly a 20 minute drive from downtown Sarasota.
The beaches features powdery white sand beaches, made up of quartz crystal, which is the softest found in any Florida beach and irresistible to walk on.
Plus, the clear water and countless water activities make it an ideal spot to spend your day in the sun.
From standup paddleboarding to kayaking, snorkeling to scuba diving, parasailing and more, you definitely will not run out of things to do.
This west coast beach does get crowded especially during winter months and spring break.
Fort Myers Beach
Fort Myers Beach is a small town located on the Gulf of Mexico in Southwest Florida, United States. The town is situated on Estero Island, a barrier island off the mainland. It is connected to the mainland by the Matanzas Pass Bridge.
White soft sand beaches, warm water and plenty of things to do makes this beach definitely worth visiting. Keep in mind, this area is still recovering from Hurricane Ian.
Best Beaches in Florida Atlantic Coast
Amelia Island and Fernandina Beach
Definitely one of my favorite weekend getaways as it's easy for me to get there in under two hours. One of the best things about these beaches are not only are they beautiful, but you can search for beach treasure like shark teeth as well.
Add in the historical significance of Fort Clinch, and history lovers will enjoy a beach vacation also. The beach area is easy to access from the Fort inside Fort Clinch State Park.
Love to fish? George Crady Bridge Fishing Pier State Park is easy to get to from anywhere on the island.
St. Augustine Beach
Another beach for history lovers. After spending the day exploring the history of St. Augustine, you'll be ready for a great time on St. Augustine Beach.
The sunrises are out of this world! About an hour south of Jacksonville, it makes it easy to fly in and enjoy a beach getaway.
Definitely the best place for those that like to have plenty of activities to enjoy on vacation.
Daytona Beach
Definitely the world's most famous beach. It is probably as equally known for its Daytona International Speedway, which hosts the Daytona 500 NASCAR race. Definitely want to time your visit if you are or are not a race fan.
I was in this town two times when it was EXTREMELY crowded, and you literally couldn't get a spot on the beach or in a restaurant. First was the Daytona 500 and the second was Biketoberfest.
Daytona Beach is also a popular spring break destination. If you love a party beach, you will want to visit at those times. If you prefer a less crowded, beach choose another time to go.
New Smyrna Beach
My new favorite destination on the East Coast. This beach destination is walkable. Park your car and don't get back in it until you're ready to leave.
This beach is beautiful! It also took a hit from the hurricanes this past year, but not as hard as they did on the West Coast. They are slowing rebuilding including the sand dunes and shoreline, but it is open and ready for you to visit.
Cocoa Beach
During a trip to Kennedy Space Center and Cape Canaveral, we made a stop in Cocoa Beach. I had been there previously on a business and always wanted to return.
If you haven't visited Kennedy Space Center and the Space Coast, you need to put it on your list. It is incredible to see in person.
This is such a fun beach town. Want to learn to surf? You can here! Plenty of options to surf or take lessons.
Vero Beach
This is one pretty beach, and it is also perfect for those that prefer a low-key beach vacation. It is also one of the best places to live in Florida is Vero Beach.
A beautiful city with great weather, fabulous beaches, and a relaxed lifestyle. The cost of living is affordable and there are plenty of things to do. It's a great place to raise a family or retire.
If you are looking for a retirement on the beach, this is where you should begin your search.
West Palm Beach
As we continue moving down the east coast, our next stop is West Palm Beach. Great weather, the beaches are pristine, and there is always something to do.
The city is home to a vibrant art scene, great restaurants, and a thriving nightlife. It is a more expensive area to vacation at versus other beach destinations.
If you are on a budget, I would look more to the Panhandle or Northeast beaches. You will find it much more affordable.
Delray Beach
Delray Beach is one of the most vibrant small cities in America and also located in Palm Beach County.
It's a place where you can see the sunrise over the Atlantic Ocean from the beach, enjoy fresh seafood at one of the many restaurants lining the streets, shop for antiques, or take a walk on the historic boardwalk all in one day.
Fort Lauderdale Beach
Another party beach if you like the nightlife is Fort Lauderdale. North of Miami Beach and South Beach, there are still plenty of fun things for you to enjoy.
Shopping on Las Olas Boulevard. Partying the night away in downtown Fort Lauderdale. Or enjoying a relaxing day on the beautiful beach. Fort Lauderdale has it all for an active beach getaway.
Miami Beach and South Beach
Party central in South Florida. Nightclubs. Top restaurants and bars. Shopping. Museums and more. You will find something perfect for you in Miami Beach.
North Beach is also another great destination when in Miami. Love sports? Tennis courts and great golf courses for those that want to break a sweat.
Key Biscayne, Biscayne National Park and Biscayne Bay
Key Biscayne and the surrounding area is a beautiful beach town located just south of Miami, Florida and really is the complete package.
Miami is home to many luxury resorts and vacation rental properties near Key Biscayne.
The beaches here are stunning, and there are plenty of activities to keep you busy, including swimming, sunbathing, fishing, and kayaking.
Add in Biscayne Bay and Biscayne National Park for nature lovers and this beach town is a winner for whomever you are on vacation with.
Florida Keys Beaches
If you are looking for an even more scenic way to enjoy the Florida sun, consider exploring The Florida Keys.
This collection of islands off the southernmost tip of the state offers some of the most spectacular beaches and unspoiled nature in the country.
From Key Largo to Key West, each island provides its own unique beach experience, from peaceful lagoons to pristine coral reefs and a plethora of turquoise waters.
Join experienced guides on snorkeling tours over the coral reef off the coast of Key Largo at John Pennekamp Coral Reef State Park for an experience you will never forget.
Or maybe kayaking is more your speed. Enjoy kayaking or a canoe trip through the mangrove forest inside this park.
Witness migrating shipwrecks on a scuba diving trip or try your hand at paddleboarding while admiring the sunset on the Gulf Side of the state.
Continue down the Overseas Highway to Bahia Honda State Park. This state park is located on Big Pine Key.
There are three beaches on this island for you to enjoy. Loggerhead Beach faces south and has shallow water and a picnic area perfect for families.
For those that like a bit more action, you will want to head south to Key West. Fantastic restaurants and nightlife are waiting for you after you spend a relaxing day on the beach.
You can also get to Dry Tortugas National Park by ferry from Key West. This is a great destination for history buffs and those that like to snorkel or scuba dive.
Best Beaches on Florida Barrier Islands
A few other barrier island beaches that should not be missed. One of the best islands to explore for natural beauty is Sanibel Island, known for its beachcombing and wildlife-viewing opportunities. Do not plan to visit though until their recovery from Hurricane Ian is complete.
It's joined by Marco Island in the Southwest and St. George Island near the Panhandle both offer a variety of activities from sunbathing in white sand to swimming and snorkeling in crystal-clear waters.
Escape the crowds by heading off the beaten track and seek out some of Florida's remote beaches, including Gasparilla Island, Comb Beach or Anna Maria island.
Upcoming Trip?
I like to use Booking for booking not only my hotels, but my tickets and rental cars as well. Makes life so much easier with only having to log into one location for my information.
Be sure to grab my travel tips to save you time and money. You'll also be entered into the weekly drawings.
Register here: Get 100 Travel Tips EVERY traveler should know PLUS entered into the weekly drawing.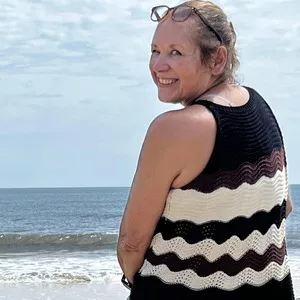 About Denise
Denise Sanger lives a life split between her love for fitness and her passion for travel particularly to the BEACH. Denise also has a love of marketing and lives in beautiful Suwannee County, Florida. You can find out more about Denise here: About Denise