Navarre Beach Florida Plan The Ultimate Getaway
This article may contain affiliate links. Whenever you buy something through one of these links, I may earn a small commission without any cost to you. I really appreciate it as it supports this site and my family. Thank you!
Navarre Beach, Florida is a slice of paradise for beach goers in search of the ultimate laid-back getaway. Truly Florida's most relaxing place as the sign that welcomes you ready.
Stunning beaches, abundant wildlife and wide range of activities. Navarre Beach has something to offer everyone looking for a relaxing day or a great place to see the natural beauty in this part of Florida offers.
Where is Navarre Beach located?
Navarre Beach is located on the Gulf of Mexico in Santa Rosa County. Navarre Beach is easily accessible from both Pensacola Beach and Fort Walton Beach, both of which are a short drive around 25 miles away.
Also conveniently located close to major airports in the area such as Northwest Florida Beaches International Airport (ECP), Pensacola International Airport (PNS) and Destin-Fort Walton Beach Airport (VPS).
Thank you for reading this post. Don't forget to subscribe! This way you never miss an update, travel deals, discounts and more!! Subscribe to the right------>
This beach is the perfect place for beach-goers looking to escape the crowds and enjoy a peaceful retreat where you can spend the day on the beach then relax in a hot tub in the evening. 
This beach town also offers easy access to nearby attractions such as Gulf Islands National Seashore, Big Lagoon State Park, Navarre Beach Marine Park, Navarre Beach Pier and Santa Rosa Sound.
When Is The Best Time To Visit?
Navarre Beach offers beautiful year-round weather, but the best time to visit Navarre varies depending on what type of traveler you are. 
For beach lovers, the best time to visit the beautiful beaches in Navarre Beach is between March and June where you can enjoy warm water temps and bright sunny skies.
Are you a nature-lovers? The best time for you to visit would be between October and January.
Temperatures are cooler and visitors can stay cool while exploring Navarre's many parks, trails and state reserves.
Exploring Navarre Beach
Ready to explore Florida's most relaxing place? You have found the perfect spot on the Florida Panhandle Emerald Coast.
Whether you are on a family vacation, are nature lovers or on a romantic getaway, there truly is something for everyone in this perfect location right here in the United States.
Below are the stops for the best places you will want to see during your visit
Gulf Breeze Zoo.
For those looking to explore Navarre's wildlife, there's no better place than The Gulf Breeze Zoo. This zoo is open every day in the year.
Home to over 900 animals, many of which are endangered species. Visitors can learn about Navarre's diverse wildlife while getting up close and personal with some of its inhabitants.
Navarre Beach Fishing Pier
One of the most popular spots and best things you can do if you love to fish is visit is the Navarre Fishing Pier.
This is the longest fishing pier in Florida. Fish off the pier and while you enjoy magnificent views of Santa Rosa Sound.
Navarre Beach Marine Science Station
Enjoy a one-of-a-kind experience for the whole family. You will learn about local marine life including sea turtles and conservation efforts.
Participate in educational programs that enable you to connect with nature and experience the beauty of Navarre Beach as well as the ecosystem of the Gulf Coast.
Gulf Islands National Seashore
Gulf Islands National Seashore is a highlight of Navarre Beach Florida, offering miles of national seashores and shoreline.
Enjoy diverse landscapes including views of coastal dunes and wetlands teeming with native plants and wildlife that you will not see anywhere else except along Florida's Gulf Coast.
Santa Rosa Island
This island is a barrier island that is also home to Navarre Beach State Park. One of the most popular spot for camping, swimming, and shelling on the Florida's Panhandle.
Navarre Beaches
If you have been waiting for me to talk about the beaches, your wait is over. These are some of the most beautiful white-sand beaches you will ever step foot on in the Florida Panhandle.
These Gulf Beaches offer clear waters, beautiful views and miles of pristine white shoreline. The white sand beaches invite you to slip off your flip-flops and dig your toes into the sand.
The Navarre Beach area offers a parking lot a short walk to the beach. Convenient access points are beach staff works hard to keep the area clean and safe for visitors.
The white sandy beaches are the perfect way to relax. You will see sand dunes lining the pristine beaches.
Pack a lunch! There are several pavilions with picnic tables you can eat then quickly get back to relaxing.
Where to stay?
There are many options for accommodations for your Navarre beach vacation.
From picking out a beach house or condo in one of the high rises to a hotel in the heart of Navarre Beach, you will find the perfect place to hang your beach towel.
There are also plenty of hotels to choose from including Marriott Navarre Beach, Hampton and others. Prefer to camp? Check out the Navarre Beach Camping Resort with a private beach to enjoy.
I personally prefer to stay in a home especially when on vacation but even more so on a summer vacation. I want to get onto the beach as quickly as possible.
There are many real estate options for Navarre Beach rentals including vacation homes, condos and even a modern treehouse you can rent!
Okaloosa Island
This island is a short distance away in Fort Walton and also offers options for condos and beach homes.
Where to eat?
Hungry? You will find great options for eating or enjoying a beach cocktail while taking in the views of this beautiful place.
One of my favorites is the popular restaurant Shark Bite. Love their burritos! Other great options are Scooter's Fish House for seafood or the Slippery Mermaid Sushi Bar.
Live music? You can find that at Juana's Pagodas. This fun beach bar is located right on the sand.
When you are truly ready to get away from it all, plan a visit to this best kept secret. Fun for the entire family on vacation, sun seekers or for those that prefer outdoor activities. You will find what you are looking for right here in Navarre Beach.
Upcoming Trip?
I like to use Booking for booking not only my hotels, but my tickets and rental cars as well. Makes life so much easier with only having to log into one location for my information.
Be sure to grab my travel tips to save you time and money. You'll also be entered into the weekly drawings.
Register here: Get 100 Travel Tips EVERY traveler should know PLUS entered into the weekly drawing.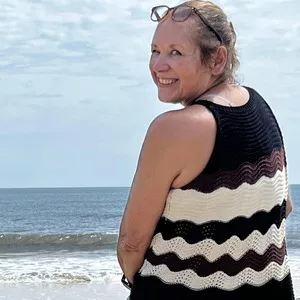 About Denise
Denise Sanger lives a life split between her love for fitness and her passion for travel particularly to the BEACH. Denise also has a love of marketing and lives in beautiful Suwannee County, Florida. You can find out more about Denise here: About Denise