Easy Apple Cider Hot Toddy For Fall
This article may contain affiliate links. Whenever you buy something through one of these links, I may earn a small commission without any cost to you. I really appreciate it as it supports this site and my family. Thank you!
The funniest thing is I actually have avoided hot toddies for literally decades. I have to say though this apple cider hot toddy for fall has made me a convert!
Growing up, as kids, when we would have a chest cold, dad would make us a what he called a hot toddy. He would wrap a scarf around our neck as we would drink it.
So my perception all these many, many years later has been hot toddy equals being sick. Well I was wrong.
The easy Apple Cider Hot Toddy recipe below is delicious! It is a fantastic fall evening sipping cocktail even here in Florida. And it puts you into the fall spirit.
Thank you for reading this post. Don't forget to subscribe! This way you never miss an update, travel deals, discounts and more!! Subscribe to the right------>
At the bottom of this article, I have placed other fantastic fall cocktails for you to try but now, let's make an Apple Cider Hot Toddy!
Easy Apple Cider Hot Toddy Ingredients
First, you will need a pot. I know. We're not supposed to be cooking! We're making cocktails. But you need to warm up the apple cider.
8 ounces Apple Cider
1 shot or 1.5 ounces Brandy, whiskey, or bourbon. Choice here but I prefer brandy to bourbon for my hot toddy. Could go back to my Blackberry Brandy days to stay warm during cold Cleveland winters. You choose your favorite. You can even choose a nice spiced rum. Use whatever YOU like to drink.
1 tablespoon honey. Tip: Local honey is better if you suffer from seasonal allergies.
2 teaspoons fresh squeezed lemon juice.
And that's it. Four ingredients. We can do this!
Easy Apple Cider Hot Toddy Recipe
Remember that pot I mentioned? Get it out and put it on the burner and pour in the apple cider. Heat up but do not bring to a boil.
Pull the apple cider off the burner and add to your pot, the brandy/whiskey/bourbon, honey, and lemon juice.
Stir until honey is dissolved then pour your toasty toddy into a mug. Garnish with a cinnamon stick, anise stars or slice of apple or lemon.
Now wrap that beach blanket around you and enjoy a night on the beach.
And that is it. Pretty simple right? Let me know how you like it and any changes you may make. Salute!
Upcoming Trip?
I like to use Booking for booking not only my hotels, but my tickets and rental cars as well. Makes life so much easier with only having to log into one location for my information.
Be sure to grab my travel tips to save you time and money. You'll also be entered into the weekly drawings.
Register here: Get 100 Travel Tips EVERY traveler should know PLUS entered into the weekly drawing.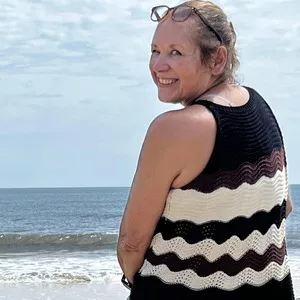 About Denise
Denise Sanger lives a life split between her love for fitness and her passion for travel particularly to the BEACH. Denise also has a love of marketing and lives in beautiful Suwannee County, Florida. You can find out more about Denise here: About Denise