Top 10 Must Have beach bags for Your vacation this year.
This article may contain affiliate links. Whenever you buy something through one of these links, I may earn a small commission without any cost to you. I really appreciate it as it supports this site and my family. Thank you!
Updated 2023.
I have been going to the beach for a long time. Decades. And every time I go, I have a beach bag. Today I probably have more than 10 beach bags in my closet. I can't toss them!
Some of my beach bags did not last as long which was okay. I didn't spend a lot of money on them.
On the flip side, other beach bags were fantastic for when my daughters were small because I could basically carry the kitchen sink and still have room left over for snacks.
Thank you for reading this post. Don't forget to subscribe! This way you never miss an update, travel deals, discounts and more!! Subscribe to the right------>
At this time in my life, beach trips or any trips really, are usually the hubby and me. I also travel with my brother and his wife and my BFFS.
Occasionally family and other friends joins us, but there is nothing quite like getting up in the morning, looking at each other and saying "let's head to the beach." It's the best thing about living in Florida. And taking Florida Beach Vacations
List 10 beach bags must have for a beach vacation this year!
Cooler Beach Bags.
Best investment ever. I am so happy the day I invested in a good beach bag with a cooler inside it. Keeps our water and other beverages cool on the beach. Mine also has an insulated pocket where you can keep your snacks cool as well.
Oversized beach bag.
Every mom, dad, grandma and more needs this bag especially with kids. An oversized beach bag is perfect to carry all your beach essentials like sunscreen, towels, sandals and more.
Convertible beach bag.
One word. Versatile. A convertible beach bag can be worn as a shoulder carry-all or carried by hand on days when you don't need to pack too much.
Clutch beach bag.
Sometimes you do not want to carry a huge bag to the beach. Maybe you're only going for a short time. A clutch beach bag is an ideal choice for beach days with minimal items to carry. Slip what you need into the bag like your sunscreen, wallet and phone. Then go!
Tote beach bags.
The beach bag everyone is familiar with. Not my top choice. The reason being everything seems to always fall to the bottom of my bag. But I'm listing it because I have friends that swear by their tote bags. Choose fun colors and prints. And be sure it has enough space to store all your beach necessities.
Backpack beach bags.
Now this one is my new favorite. For the longest time, I stayed away from backpacks. Now I'm wondering what took me so long to try one. Love it and it's so easy to carry. Look for a beach backpack that features multiple compartments inside, so you can keep everything organized while on the go. This best thing about a backpack beach bag is it prevents you from having to juggle multiple bags while still providing plenty of storage space.
Waterproof beach bags.
This is another must have for me. To be honest? I always have a waterproof beach bag in my larger bag. Keep all your beach items safe and dry with a waterproof beach bag that's designed to protect against sand, water and other beach elements. Not only do I use this bag at the beach, I take it kayaking and boating as well. This bag SAVED my phone and more when I capsized my kayak on the river.
Drawstring beach bags.
A drawstring beach bag is perfect for those times when you need something easy to carry and lightweight. This type of beach bag also has storage but not as much as the Oversized Beach Bag.
Transparent beach bags.
I do have one, but I am going to be completely honest with you. I rarely use it. Likewise, I just don't like people seeing what's in my bag. If that doesn't bother you, grab this beach bag for days when you don't need to bring too much and want to display your beach vibe to the world.
Woven beach bag.
For a more classic beach look or for an evening out for dinner or at the Tiki Bar, opt for a dressier woven beach bag that features straw or seagrass material. Effortless way to ramp up your outfit without much thought. Grab and go.
This is my number one beach bag. Isn't she pretty? This is my straw beach bag.
Isn't is PRETTY? It makes me happy just to look at it. I'll be honest, this beach tote generally does not go to the beach with me. This is my on the go beach tote.
Whether you're planning a staycation at the beach or an island getaway, these 10 beach bags are sure to make your summer vacation even more enjoyable.
So get beach-ready and start packing your beach bag with all the essentials today!
Upcoming Trip?
I like to use Booking for booking not only my hotels, but my tickets and rental cars as well. Makes life so much easier with only having to log into one location for my information.
Be sure to grab my travel tips to save you time and money. You'll also be entered into the weekly drawings.
Register here: Get 100 Travel Tips EVERY traveler should know PLUS entered into the weekly drawing.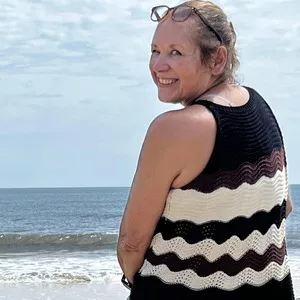 About Denise
Denise Sanger lives a life split between her love for fitness and her passion for travel particularly to the BEACH. Denise also has a love of marketing and lives in beautiful Suwannee County, Florida. You can find out more about Denise here: About Denise