Traveling To Florida During Hurricane Season: Essential Tips & Advice
This article may contain affiliate links. Whenever you buy something through one of these links, I may earn a small commission without any cost to you. I really appreciate it as it supports this site and my family. Thank you!
Planning a trip to Florida during hurricane season might be a cause for concern, but with the right preparation and understanding of the risks, it doesn't have to be a dealbreaker.
I'm probably going to take a lot of heat for saying it's okay to visit Florida during hurricane season. Lately it seems like everyone is looking for a reason to get upset and attack.
But here's the thing. I understand that Florida survives on tourism. It's a fact.
Yes, after a hurricane towns need to rebuild. But what people tend to forget is that tourism dollars allows that to happen.
Thank you for reading this post. Don't forget to subscribe! This way you never miss an update, travel deals, discounts and more!! Subscribe to the right------>
It may take a few years, but every single town, large or small including the one I lived in South Florida that took a direct hit in 2005, will reopen.
Bottom line? The sooner, the better for the town because that town needs those tourism dollars.
Hurricane season officially runs from June 1st to November 30th, but the peak months for activity are usually August and September.
While these storms can be unpredictable, we've gathered some information and tips to help ensure your vacation is both enjoyable and safe.
As we all know, Florida is a sought-after destination for its beautiful beaches, world-class theme parks, and warm, sunny weather.
But during hurricane season, the Sunshine State can experience sudden and severe weather changes, which can sometimes lead to evacuations and disruptions in travel plans.
Staying informed and following local advisories, we can greatly reduce the risks associated with traveling during this time and still enjoy our Florida vacation.
The following will you help as you plan. You can jump to any section by using the links in the table of contents.
Also at the bottom of this article, I've added additional links for information that may also help.
Tips And Advice
It's crucial to keep in mind that not every hurricane season is the same. The frequency and intensity of storms can vary drastically from year to year.
By being aware of these risks and making smart decisions, we can minimize any potential vacation disruptions while still experiencing the beauty, excitement, and allure of Florida during hurricane season.
When Is Hurricane Season in Florida?
Hurricane season in Florida typically runs from June 1 through November 30 each year. While it's possible for hurricanes to form outside these months, they are rare.
During this time, Florida is most susceptible to hurricanes and tropical storms, with peak activity occurring between mid-August and late October.
As we all know, hurricanes can be unpredictable, and their paths are at times hard to forecast. While it's impossible to completely avoid the risk, we can give you some general information to help you plan your trip to Florida.
For example, August and September typically have the highest hurricane activity, while June and November are less active.
During the hurricane season, it's important for us to stay informed about the weather. We recommend monitoring weather forecasts closely and staying updated on any advisories or alerts from the National Hurricane Center.
Keep an eye on where Jim Cantore is at. This way, we can make informed decisions about our travel plans if necessary.
We should also be prepared to adjust our plans when traveling to Florida during hurricane season.
This might include purchasing travel insurance, making sure our accommodations have flexible cancellation policies, and having an emergency plan in place in case of a storm.
Despite the risks, Florida remains a popular travel destination during hurricane season.
By being aware of the potential for hurricanes and taking the necessary precautions, we can still enjoy everything Florida has to offer while minimizing our risks.
Safety of Travelling to Florida
During Hurricane Season
As avid travelers, we understand the excitement and allure of visiting the Sunshine State. However, during hurricane season, which typically lasts from June 1 to November 30, it's essential to take some necessary precautions.
First and foremost, we recommend keeping a close eye on weather reports and advisories, allowing for enough time to make changes to our travel plans if needed.
In addition to monitoring the weather, we always make sure to pack an emergency kit, just in case. Items we include are:
Non-perishable food
Bottled water
Flashlights
Extra batteries
Portable phone chargers
First-aid kit
Additionally, when booking accommodations during this time, it's vital for us to choose locations that have robust hurricane protection measures in place, such as hurricane-proof windows or on-site generators.
After a Hurricane
In the aftermath of a hurricane, traveling to Florida might still be an option for us, as long as we make necessary adjustments and stay informed.
We usually wait for official statements from authorities about the safety of affected areas and follow their recommendations.
Moreover, it's crucial for us to be aware that infrastructure, such as roads, bridges, and public transportation, might be compromised.
As a result, we always plan alternative routes or modes of transportation to reach our desired destinations.
If we decide to volunteer or provide aid to affected communities during this time, we make sure to coordinate with reputable organizations like the Red Cross or local relief agencies.
Being aware of potential dangers and having a well-thought-out plan will help ensure an enjoyable and safe visit.
Florida Regions and Hurricanes
Safest Part of Florida
When traveling during hurricane season, knowing the safest parts of Florida can help us make informed decisions.
Generally, the safest region to be in during hurricane season is the Central Florida area, more specifically, cities like Orlando or Kissimmee. BUT that doesn't mean they won't be hit by a hurricane.
These cities are further inland, which reduces their exposure to direct hurricane impacts such as storm surges, high winds, and flooding.
To put things into perspective, here's a brief list of safer cities in Central Florida:
Orlando: Known for its theme parks and tourist attractions, it generally experiences milder effects from hurricanes.
Kissimmee: Located near Orlando, it provides a similar level of safety from these natural disasters.
Lake City: Closer to the northern part of Florida and away from the coasts, it has a lower risk of hurricane impacts.
Parts of Florida with Most Hurricanes
On the other hand, there are regions in Florida that experience a higher frequency of hurricanes. The areas most affected by hurricanes are the coastal regions both on the Gulf of Mexico and the Atlantic Ocean side.
Here are some of the areas that are more prone to experiencing hurricane impacts:
Florida Panhandle: Situated along the Gulf of Mexico, cities like Panama City and Pensacola have a higher risk of hurricanes.
South Florida: Cities like Miami, Fort Lauderdale, and West Palm Beach on the Atlantic coast also face higher risks due to their coastal locations.
Remember, no matter where we are in Florida during hurricane season, it's essential to stay updated on the weather forecast and follow any evacuation orders if necessary.
Hurricane Timing and Impact
Month with Most Hurricanes
We might notice that hurricane season in Florida officially begins on June 1st and ends on November 30th. Nevertheless, the month with the most hurricane activity is typically September.
During this time, we should be prepared for the possibility of hurricanes and tropical storms affecting our travel plans.
Effects on Beaches
Hurricane season can have a significant impact on Florida's beaches. High winds, storm surges, and heavy rains can cause beach erosion, damage to beach facilities, and even temporary closures.
Additionally, we may experience rip currents and hazardous swimming conditions during this time.
We should be aware that local authorities might issue warnings or advisories on beach safety. It is crucial for us to pay attention to these updates and act accordingly to ensure our own safety.
While traveling to Florida during hurricane season, we should consider adjusting our plans if necessary and always remain informed about the latest weather forecast and local advisories.
By doing so, we can still have a great time exploring Florida while staying safe during this unpredictable time.
Helpful Travel Links
Upcoming Trip?
I like to use Booking for booking not only my hotels, but my tickets and rental cars as well. Makes life so much easier with only having to log into one location for my information.
Be sure to grab my travel tips to save you time and money. You'll also be entered into the weekly drawings.
Register here: Get 100 Travel Tips EVERY traveler should know PLUS entered into the weekly drawing.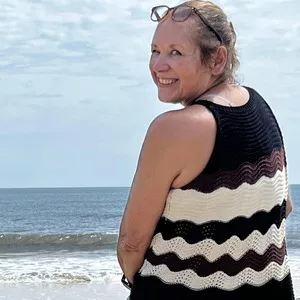 About Denise
Denise Sanger lives a life split between her love for fitness and her passion for travel particularly to the BEACH. Denise also has a love of marketing and lives in beautiful Suwannee County, Florida. You can find out more about Denise here: About Denise