Keaton Beach Florida. Take A Trip Back In Time.
This article may contain affiliate links. Whenever you buy something through one of these links, I may earn a small commission without any cost to you. I really appreciate it as it supports this site and my family. Thank you!
UPDATED! Take a trip back in time to a calmer, more relaxed beach on Florida's west coast. Beautiful Keaton Beach Florida is a Beach Lover's beach less traveled.
Keaton Beach, Florida is located in the southern part of Taylor County. When I visit Steinhatchee, we simply continue through town and head up SR 51 that meanders up the coastline.
Way back when I first moved to North Florida, I was actually searching for the closest beach to where I live in the Sunshine State.
Turned out it is Keaton Beach, so I decided to take a ride over. The brief video below was taken years ago but this town still looks the same.
Thank you for reading this post. Don't forget to subscribe! This way you never miss an update, travel deals, discounts and more!! Subscribe to the right------>
Roughly an hour scenic drive up SR 51 from my town, or 20 minutes or so from Steinhatchee will place you in the heart of Keaton Beach.
Be sure to also stop at Hagen's Cove will be after Steinhatchee. Watch for the signs. Beautiful park which is very popular during scalloping season and one of my top kayaking spots.
Yes Keaton Beach was recently on the news for the shark bite. That was roughly 5 miles offshore.
Keaton Beach itself may not have a lot to choose from as far as restaurants and other shops, but it's proximity to Steinhatchee takes care of that issue.
Steinhatchee has several restaurants, gift shops, marinas, bait shops along with rental cottages and a mini resort.
If you're an avid fisherman this is definitely an area you'll want to take a look at for a vacation or even an extended holiday weekend. Scalloping season leaves the area pretty packed but before or after are fantastic times to book a visit.
Kayaking, hiking, boating and other activities folks often overlook when booking a vacation on the Gulf.
But if you're looking for a truly relaxing outdoor or fishing vacation, this is a gem you'll want to put on your list.
True old Florida fishing town vibes and laid back style. Your best options for accommodations are VRBO as there are very few hotels, BNB's etc. in the area. Or stay at the resort in Steinhatchee. Check more options: Keaton Beach Rentals
Depending on what you like to do on vacation, this may be a day stop to check this beach as well as Hagen's Cove and Steinhatchee off your list. But if fishing is your thing, book a week because this is where you will find some of the best fishing in Florida. And the sunsets are amazing!
Upcoming Trip?
I like to use Booking for booking not only my hotels, but my tickets and rental cars as well. Makes life so much easier with only having to log into one location for my information.
Be sure to grab my travel tips to save you time and money. You'll also be entered into the weekly drawings.
Register here: Get 100 Travel Tips EVERY traveler should know PLUS entered into the weekly drawing.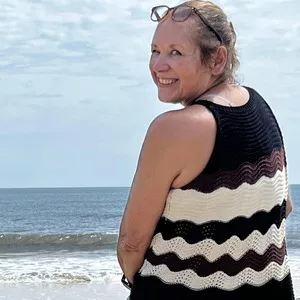 About Denise
Denise Sanger lives a life split between her love for fitness and her passion for travel particularly to the BEACH. Denise also has a love of marketing and lives in beautiful Suwannee County, Florida. You can find out more about Denise here: About Denise