Jax Holiday Light Displays Including Jacksonville Zoo Christmas Lights
This article may contain affiliate links. Whenever you buy something through one of these links, I may earn a small commission without any cost to you. I really appreciate it as it supports this site and my family. Thank you!
Here we go. Right into the holiday season. And what's better than the music and twinkling lights that come along with it? The Jacksonville Zoo Christmas Lights display tour is always on my must-see list.
I'm a little bit confused right now because I am not seeing this event on the Jacksonville Zoo calendar. The annual zoolights is a magical journey of the artistry of lights inside a beautiful backdrop with holiday music playing in the background.
The holiday lights are definitely center stage though, so I hope they will be offering it this year as well. I will be coming back to update this article after I confirm.
There are several fantastic places to see the holiday throughout Jacksonville and Jacksonville Beach that I will also list below.
Thank you for reading this post. Don't forget to subscribe! This way you never miss an update, travel deals, discounts and more!! Subscribe to the right------>
First Zoolights Jacksonville Zoo Christmas lights. It's described as a fantastical holiday light experience and I think that's the perfect description. Creative imagery from LED lights gives you a luminous winter wonderland the whole family will enjoy.
Presented by Community First Credit Union, moving animal silhouettes, vibrant hues of color, and live entertainment make this holiday light display the perfect Instagram-worthy backdrops.
Enjoy listening to your favorite holiday tunes, and sipping a hot chocolate as you explore the unique view of zoolights.
Keep an eye out for Santa & Mrs. Claus and the lit Christmas tree. The Jacksonville FL zoo is located at 370 Zoo Parkway.
Be sure to ride the wildlife carousel, which is included with your admission. It includes 34 hand-designed and painted animals.
Other Jacksonville Holiday Lights Display
This city comes alive during the holidays. Almost as if it has taken a long winter's nap but during summer. The more I explore Jax, the more I love it.
One of the best holiday light displays I have seen in the city is on the beach. Jacksonville Beach has Deck the Chairs each holiday season. Located near the Seawalk Pavilion, visitors can enjoy this light display from Thanksgiving weekend through the New Year.
A few other locations near the beach that usually have Christmas lights are Atlantic Beach and Neptune Beach. Atlantic Beach started as one house with a Christmas display. It is now lots of houses and one of the best walking areas to see lights.
Dazzling Nights returns to the Jacksonville Arboretum also on Thanksgiving weekend. Enjoy walking through the many light displays set up in the botanical gardens.
Next on this year's list is Girvin Road Christmas Lights. Blackhawk Bluff Subdivision, a great neighborhood, offers a drive-through light display. Turn the car radio to Christmas tunes as you enjoy the Blackhawk Bluff neighborhood light display by its residents.
Jax illuminations also offers a drive-through display of lights at the Morocco Shrine Center. This is unconfirmed also as of this writing, but I will update as more information is received.
And let's not forget Riverwalk. The annual Jacksonville Light Boat Parade is also held on Thanksgiving weekend. Locals and those visiting from out of town equally love this boat parade.
Nearby Holiday Lights Displays
And a few more I have to mention are not in the city of Jacksonville but nearby. Starting with Ponte Vedra Beach. Several residents deck out their homes with the wonder of the holidays displays.
Take a slow drive and check out the displays. Usually there are some great lawn displays as well easy to see from the road.
St Augustine rounds out the list for this year. The annual Night of Lights includes more than 30 million lights. This is the 30th annual nights of lights to be held in the historic district.
Enjoy the many themed areas throughout the city then stop at a local restaurant for a quick bite or adult beverages. One of my favorite cities to visit during the holiday season.
The following links will help you plan your holiday trip to Jacksonville and northeast Florida:
Upcoming Trip?
I like to use Booking for booking not only my hotels, but my tickets and rental cars as well. Makes life so much easier with only having to log into one location for my information.
Be sure to grab my travel tips to save you time and money. You'll also be entered into the weekly drawings.
Register here: Get 100 Travel Tips EVERY traveler should know PLUS entered into the weekly drawing.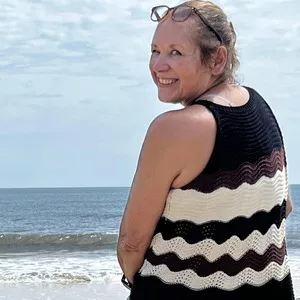 About Denise
Denise Sanger lives a life split between her love for fitness and her passion for travel particularly to the BEACH. Denise also has a love of marketing and lives in beautiful Suwannee County, Florida. You can find out more about Denise here: About Denise