Snow On The Beach Martini
This article may contain affiliate links. Whenever you buy something through one of these links, I may earn a small commission without any cost to you. I really appreciate it as it supports this site and my family. Thank you!
Is there anything better than being in Florida when the weather is frightful up north? Being in Florida with a Snow On The Beach Martini works for me!
Living in Florida for close to 30 years now, I've adjusted to not having snow at Christmas. But in my defense, the only time I liked snow in Ohio was on Christmas Eve and Christmas Day.
It could away after that. Unfortunately for me, the snow often did not go away until April. And that is how I came to live in Florida. Well not really but it sounded good.
As we move closer to Christmas this year, quite a bit of the USA is getting slammed with snow. In Florida, we have had a few pretty cold days as well.
Thank you for reading this post. Don't forget to subscribe! This way you never miss an update, travel deals, discounts and more!! Subscribe to the right------>
So this week's beach cocktail is Snow On The Beach Martini. The first time I had one, it was called a snowflake martini.
I have heard it called the Jack Frost Cocktail as well. Just depends on where you are when you enjoy one. Jack Frost cocktail is often frozen, so you have that as an option as well.
It is quite easy to make and delicious! The easy-to-follow recipe is below. Let me know what you think!
Snow On The Beach Martina also called Snowflake Martini
Ingredients
2.25 ounces Rum (I prefer white rum) You can also swap out for Vodka
0.75 ounces Blue Curaçao
3 ounces pineapple juice
2 tablespoons Cream of Coconut
Honey and Coconut Flakes
Honestly? The part that takes the longest is getting the coconut flakes on the rim of the glass. What I do is put the rim into a saucer with natural honey.
Then I press the rim of the glass into the coconut flakes followed by more pressing with my fingers. You can use any simple syrup but after trial and error, I found the honey worked the best for me.
Pour the rest of the ingredients into a shaker cup with scoop or cup of ice. Shake and serve in the martini glass, tumbler or hurricane glass rimmed with the coconut flakes.
Not only festive, the color! Takes you instantly on a Caribbean beach vacation. And it's delicious too.
Looking for more of your favorite beach cocktails? You'll find them here: Beach Cocktails
This beach cocktail is now part of our holiday traditions for Christmas. Enjoy!
Upcoming Trip?
I like to use Booking for booking not only my hotels, but my tickets and rental cars as well. Makes life so much easier with only having to log into one location for my information.
Be sure to grab my travel tips to save you time and money. You'll also be entered into the weekly drawings.
Register here: Get 100 Travel Tips EVERY traveler should know PLUS entered into the weekly drawing.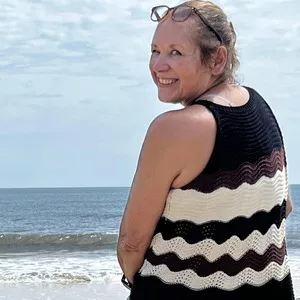 About Denise
Denise Sanger lives a life split between her love for fitness and her passion for travel particularly to the BEACH. Denise also has a love of marketing and lives in beautiful Suwannee County, Florida. You can find out more about Denise here: About Denise