Easy Loopy Vodka Recipes You Will Love
This article may contain affiliate links. Whenever you buy something through one of these links, I may earn a small commission without any cost to you. I really appreciate it as it supports this site and my family. Thank you!
The first time someone said do you know any Loopy Vodka Recipes, I looked at them like what is that? Now that I know though, I love Three Olives Loopy Vodka.
When my friend first told me about Three Olives Loopy Vodka, she said it's like drinking Fruit Loop cereal. I'll be honest that stumped me.
Way back in the "day" when we were kids, that was a favorite cereal of my daughters on Saturday mornings when there was no school along with a few others. But did I want to drink it? How much sugar is in Three Olives Vodka I wondered?
This vodka is wheat, gluten, lactose-free and vegan. Quadruple distilled from winter wheat in England. And Loopy tastes indeed like a bowl of fruit loops in a shot glass. Or should I say a fruit loop shot?
Thank you for reading this post. Don't forget to subscribe! This way you never miss an update, travel deals, discounts and more!! Subscribe to the right------>
I can almost hear Toucan Sam squawking follow your nose. It always knows.
The difference between this and other vodkas? When it is distilled more than three times, it is purer with a crisp, clean taste. Something Vodka enthusiasts love.
Made from natural flavors, when you smell this vodka, you will catch the citrus aroma of lime and lemon oils. First the lime, then you will smell various fruity flavors like orange and cherry then finish with lemon. Sounds like Skittles, doesn't it?
Back to talking about the sugar content. Anything that reminds you of Fruit Loop HAS to have a lot of calories and sugar right? 
You can also make your own Loopy Vodka at home using this recipe:
Loopy Vodka Recipe or Fruit Loops Vodka Made At Home
1.5 cups Fruit Loops
1.5 cups Orange Juice
Put both into a glass container you can seal. Let it sit for three days. Pour through a strainer to remove any leftover cereal bits. Enjoy!
Three Olives Loopy Vodka

There are 70 calories in a shot of Three Olives Loopy Vodka and 2 grams of carbs/sugar. Not as bad as I was expecting, so I was ready to try a few of these delicious cocktails on a hot summer day which we seem to be getting quite a few of this year. 
Three Olives Vodka is available in several flavors and should be in your neighborhood liquor store. 
I think the best way to make any cocktail including a Loopy Vodka Cocktail is to keep it as simple as possible. We tend to really complicate things much more than need to.
You can also make a classic cocktail from this Vodka such as Screwdriver with orange juice. If you like pineapple, this Vodka also pairs very well with pineapple juice or try your favorite fruit juices and garnish with fresh fruit.
It is also delicious in a Lemon Drop martini in a martini glass with a lemon twist. For special occasions, try one of the recipes below. Beach lovers will enjoy mixing Loopy Vodka with their favorite tropical fruit flavors too.
Loopy Vodka Cocktails
These are the cocktail recipes I liked the most from this tropical fruit vodka that tastes exactly like Froot Loops. I tend to go with simple ingredients easy to find. Let me know what you think.
Loopy Sour. Super easy. 1 shot Loopy flavored Vodka, Cranberry Juice to taste, and a splash of fresh squeezed sweet lime juice. Pour over ice in a rocks glass.
Loopy Lemonade: Another easy one. 1 shot Loopy Vodka and premade lemonade. I do like Crystal Light Lemonade because it is zero sugar unlike sweet drinks made with other lemonade.
You can also make lemonade from scratch with freshly squeezed lemon wedges, 3 packets of sugar, sweet & sour mix then fill to the top of the glass with 7-up or a splash of lemon-lime soda.
Pour everything into a cocktail shaker and shake, shake, shake! Pour over ice. Rim the glass with sugar if you'd like. This is a very refreshing drink in the summer.
Loopy Bubble Gum Cocktail: Bubble gum in a cocktail glass! Keeping it VERY simple, mix equal parts of the following ingredients Loopy Vodka with Bubble Vodka, a splash of lemon-lime soda, and finish with a splash of lime if you'd like. Pour over ice cubes.
Loopy Blood Orange Moscow Mule: 1 shot Loopy Vodka, 1/2 shot Gran Marnier, 3-ounce blood orange juice, juice from 1/2 lime, 3-ounce ginger beer. Pour vodka, Gran Marnier, blood orange juice, and lime juice into a copper mug filled with ice. Top with ginger beer and garnish with a lime slice.
Fruit Loop Vodka Popsicle Using Loopy Vodka: 1 shot Loopy Vodka, 2 cups pineapple juice and 1/4 cup Grenadine. Pour into popsicle molds and freeze overnight.
If you increase the vodka, these may not freeze, but you can experiment and try a different Vodka popsicle recipe or maybe mix Loopy Vodka with your favorite fruit juices and freeze it into a fruity cocktail. Make sure kids do not get a hold of these Vodka popsicles.
Fruit Loop Shot: What better way to end this article than with a Fruit Loop Shot? 1/2 ounce Loopy Vodka, 1/2 ounce Rumchata (similar to Baileys Irish Cream) sugar syrup like you would use in coffee, fruit loops, and ice.
Put the ice, Loopy Vodka, and Rumchata into a shaker cup and shake. Crush fruit loops onto a plate. On another plate, pour your sugar syrup.
Dip the rim of shot glass into the sugar syrup then into the crushed fruit loops. Strain from your shaker cup into the shot glass. So good!
And there you have it! Below are a few more cocktail recipes you may enjoy at the beach or at home. Salute!
More Beach Cocktail Recipes to try
​
Upcoming Trip?
I like to use Booking for booking not only my hotels, but my tickets and rental cars as well. Makes life so much easier with only having to log into one location for my information.
Be sure to grab my travel tips to save you time and money. You'll also be entered into the weekly drawings.
Register here: Get 100 Travel Tips EVERY traveler should know PLUS entered into the weekly drawing.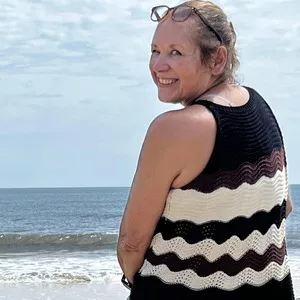 About Denise
Denise Sanger lives a life split between her love for fitness and her passion for travel particularly to the BEACH. Denise also has a love of marketing and lives in beautiful Suwannee County, Florida. You can find out more about Denise here: About Denise