Salty Dog Beach Cocktail: Make It With 3 Ingredients
This article may contain affiliate links. Whenever you buy something through one of these links, I may earn a small commission without any cost to you. I really appreciate it as it supports this site and my family. Thank you!
Well, I didn't think it was possible, but I have found another favorite beach cocktail. It's the Salty Dog Beach Cocktail.
After a fun weekend in Panama City Beach trying a few new cocktails, I really liked this one. But the bartender made it with vodka not gin as it was originally made.
It is refreshing without being overly sweet which is why I like it. I do want to mention though, I use top shelf liquors and for this I made it at home with Grey Goose.
Well or the cheaper options just are not as clean as the more pure top shelf Vodkas. This goes the same for all cocktails and ingredients. I would rather spend a few dollars more for a better tasting result.
Thank you for reading this post. Don't forget to subscribe! This way you never miss an update, travel deals, discounts and more!! Subscribe to the right------>
Now if you like gin which is how this beach cocktail was originally, the rule still applies. The better quality gin you use, the better the cocktail will taste.
I enjoyed this cocktail mid-afternoon on the balcony of our rental home looking at the Gulf waves rolling into shore. Relaxing and refreshing at the same time.
Ready? Here you go. This is how to make a Salty Dog Beach Cocktail. And yes, there are only 3 ingredients.
Salty Dog Beach Cocktail Ingredients
1 shot (1.5 ounces) Vodka. I use Grey Goose. This can be swapped out for gin if that is what you prefer.
Fresh squeezed grapefruit juice. I chose Ruby Red. You will need 4 ounces; possibly more to taste.
Salt for the rim. I opted for sea salt as it was what I had in my pantry.
For the salt, place it on a saucer or other small plate. You can add grapefruit zest to the sea salt. Mix it with your fingers.
Dampen the rim of your cocktail glass, and press into the salt to line the rim. Tip use a grapefruit slice as the garnish BUT use it first to dampen the rim of your glass.
Add ice to your cocktail glass, pour in Vodka (or Gin). Then pour in your fresh grapefruit juice.
Stir with a spoon. In this case, it's stirred not shaken. Garnish with a grapefruit slice. Enjoy your cocktail.
Now you can also use coriander pepper in with the salt to ramp it up a bit. In the middle of a hot day, I opted not to.
That is it. I have also put links to my other favorite beach cocktails below. Salute!
Other Delicious Beach Cocktail Recipes:
Upcoming Trip?
I like to use Booking for booking not only my hotels, but my tickets and rental cars as well. Makes life so much easier with only having to log into one location for my information.
Be sure to grab my travel tips to save you time and money. You'll also be entered into the weekly drawings.
Register here: Get 100 Travel Tips EVERY traveler should know PLUS entered into the weekly drawing.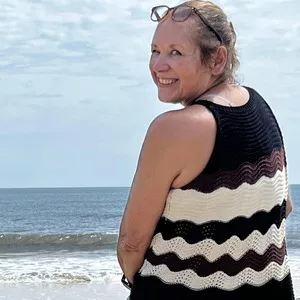 About Denise
Denise Sanger lives a life split between her love for fitness and her passion for travel particularly to the BEACH. Denise also has a love of marketing and lives in beautiful Suwannee County, Florida. You can find out more about Denise here: About Denise