How to Make the Perfect Rum Punch Cocktail
This article may contain affiliate links. Whenever you buy something through one of these links, I may earn a small commission without any cost to you. I really appreciate it as it supports this site and my family. Thank you!
Honestly? I don't think anything says beach vacation better than a Rum Punch Cocktail.
Luscious. Delicious. And potent if you are aware of the amount of rum often in these beach cocktails.
The first time I enjoyed a Rum Punch Cocktail was actually on a cruise to the Bahamas. Fitting right?
This punch has been around for centuries. There are many ingredients depending on the recipe you follow, but they all have rum and fruit juice.
Thank you for reading this post. Don't forget to subscribe! This way you never miss an update, travel deals, discounts and more!! Subscribe to the right------>
Below I have put other rum beach cocktails to try.
History of the Rum Punch Cocktail
The Rum Punch Cocktail can be traced back to the Caribbean. The reason? That is where rum production was a major industry.
As early as the 17th century, sailors and pirates were consuming rum mixed with various ingredients to create a refreshing and potent drink.
Some recipes call for the addition of spices, such as cinnamon or nutmeg. Other recipes use tropical fruits like pineapple or mango.
Today depending on where you are when you order a Rum Punch, will determine how it is made. In Jamaica, where rum is a staple, the Rum Punch Cocktail is typically made with dark rum, lime juice, simple syrup, and nutmeg.
Over in Barbados, where the cocktail is the national drink, it is made with white rum, lime juice, sugar, water, and bitters.
Below is my favorite recipe for this delicious make me want to sit on the beach cocktail. Start with this then try other additions until you find your favorite recipe.
Ingredients in a Rum Punch Cocktail
Rum. Of course right? As in RUM punch. Most use a light rum. I use both – light and dark rum. The dark rum adds a richer flavor. Use what you like best.
Fruit Juices. I use pineapple, orange, and lime juice.
Grenadine.
How To Make A Rum Punch Cocktail
It is quite simple to make this cocktail. Ready? This recipe will make six cocktails.
1 cup orange juice
1 cup pineapple juice
1/4 cup lime juice
1/2 cup Grenadine
1/4 cup EACH light rum and dark rum
Now the hard part. Pour it ALL into a pitcher and stir. Add ice then pour into glasses. That is it. Not so bad right?
If you made quite a bit and are not serving 6 at one time, add the ice to the glass instead of into the pitcher. That will keep it from getting watered down.
Garnish the glasses with a slice of orange and a cherry, a lime twist, or an umbrella to really make it feel like you are on vacation.
Experiment! Try different juices, add spices like nutmeg, cinnamon or others. You may create your own perfect Rum Cocktail. Salute!
Upcoming Trip?
I like to use Booking for booking not only my hotels, but my tickets and rental cars as well. Makes life so much easier with only having to log into one location for my information.
Be sure to grab my travel tips to save you time and money. You'll also be entered into the weekly drawings.
Register here: Get 100 Travel Tips EVERY traveler should know PLUS entered into the weekly drawing.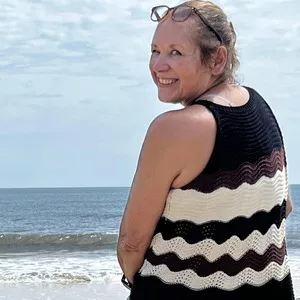 About Denise
Denise Sanger lives a life split between her love for fitness and her passion for travel particularly to the BEACH. Denise also has a love of marketing and lives in beautiful Suwannee County, Florida. You can find out more about Denise here: About Denise